Alok Vaid-Menon has always been a performer.
"When I'm doing my performance art, I am using my body as a way to communicate meaning, and that's what I did in order to survive growing up in Texas, because it would have been potentially lethal for people to know my gender," they told NBC News. "I think that that's why I always say that trans people are such great artists, because we've had to watch and witness the world with the type of delicacy that a lot of other people haven't."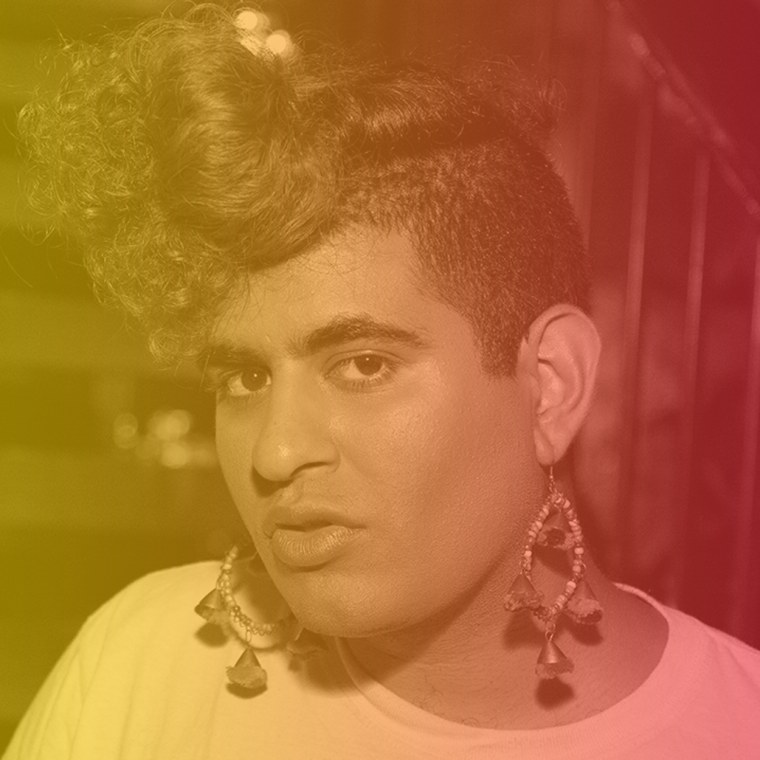 But now the performance artist and writer is only interested in performing on stages. In life, out in the world, they are themselves and want people to see beyond the identities of the multi-hyphenate and just see a person. In fact, they want that for all trans and gender-nonconforming people.
"Essentially I think heteronormativity would have us believe that all of queer people are the same and heterosexual and cis people are complex, nuanced and diverse. I still feel like we speak about queer people as a monolith," they explained. "What I'm really trying to push in my work is afford to the practicality and complexity and wondrousness that you would to a cis, straight person, and I am trying to encourage queer and trans people to make that demand."
"What I've noticed is that when it comes to trans people, and in particular trans-feminine people like me, oftentimes the only way that we matter to mainstream society is if we are fabulous and entertaining," they said.
Vaid-Menon does this through their writing, performance art, event curation and public speaking. After publishing a poetry book about the queer experience, titled "FEMME IN PUBLIC," in 2017, Vaid-Menon used their platform as a launching pad.
"Since then I've kind of used that as a catalyst to tour all across the world," they said.
While Vaid-Menon has gone around the world speaking about their experiences and the issues facing trans and gender-nonconforming people, their craft has also evolved as a result.
"I'm not just doing poetry. I'm doing comedy, I'm doing storytelling, and it's really wonderful that so many people are showing up for me as a political trans performance artist," they explained.
The driving force of a lot of Vaid-Menon's work is creating safe spaces for trans and gender-nonconforming people when they perform, create shows or curate events.
"I think oftentimes when people think about safety they just think about the positive energy that we're bringing into the space. But, also, I understand safety is also a space for our politics and for our analysis, because so often the way that trans people are accepted in a space is if we keep quiet. I often say they're more comfortable with us lip-syncing than they are with us speaking."
One of those safe spaces is going to be a pride party Vaid-Menon is putting together in their hometown of College Station, Texas. After leaving at 18, they are returning for their 10-year high school reunion and having a party at the local gay bar. They are partnering with local organizations and having local drag queens and trans performers from across Texas.
"Part of the reason I wanted to do this now is especially thinking about 50 years after Stonewall, I still feel like the movement is really concentrated in the West and the East Coast and in urban centers," they shared, "I want to challenge that, and actually say there are LGBTQ people everywhere, and what I really want to see our movement start to do is to invest in rural areas that actually need this infrastructure and support."
Fans of "FEMME IN PUBLIC" can expect more from Vaid-Menon. The writer has just finished another book, which will be out next year, and they are working on a third this summer.
Vaid-Menon said one of the reasons they continue to speak out publicly is because we're in "a state of emergency" for the LGBTQ community.
"Every day I receive messages from trans and gender-nonconforming people of color all across the world about physical harassment, police violence, homelessness poverty, lack of family acceptance, mental health, suicide. There's so much violence and it's actually feels like it's getting worse," they said.
"I feel a sense of obligation to reflect the reality of my community. One of constant trauma and violence and fear, but also one of everyday triumphs and brilliance," they concluded.