LGBTQ advocate Toby Jenkins served for 16 years as a Baptist minister but couldn't "pray the gay away." He also didn't want to leave his home in Tulsa, Oklahoma. Instead, he stayed in America's heartland and became one its proudest gay rights advocates.
"The way I see it, I'm going to keep fighting until they realize I've died behind my desk, or I dropped dead in the middle of a [pride] parade," said Jenkins, now executive director of the LGBTQ advocacy group Oklahomans for Equality.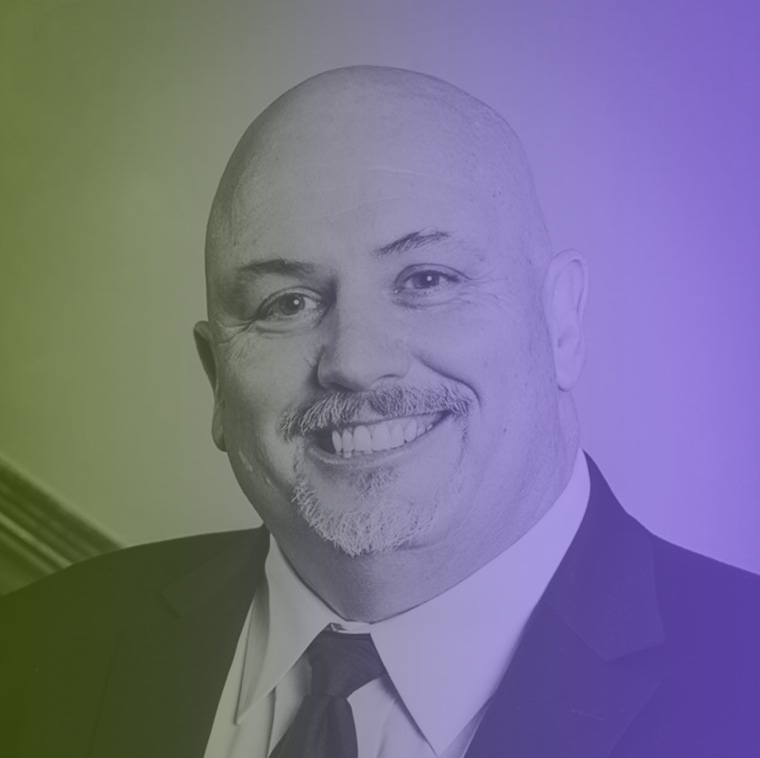 Jenkins, 59, came out when he was in his mid-30s. He tearfully recalled his decision to leave the church, being disowned by his siblings, and losing his job with the Tulsa County District Courts, where he'd worked for 15 years.
But he found a new family in Oklahomans for Equality, where he volunteered as a festival and parade organizer in the 1990s. The organization made him board president in 2006. Two years later, he took the helm as executive director.
"From that moment on, the organization that I serve today had my allegiance and my loyalty," Jenkins told NBC News.
Oklahomans for Equality, located on Tulsa's "Pride Street," is one of a few organizations in the state that serves LGBTQ people. Jenkins said many of its 69,000 constituents drive 90 miles or more to access programs. He said they see the nonprofit, which was founded in 1980, as a haven in a state that has no LGBTQ protections.
Under Jenkins' leadership, the organization has created a number of programs that serve marginalized LGBTQ people.
"The thing I've been the proudest of is the programming we've developed for transgender persons, for gender-nonconforming youth, for older LGBTQ adults, for people who are indigenous first-nation, Native American folks, for people of color who identify as queer, and for the programs we've developed for the disabled and those who have developmentally delayed challenges or are somewhere on the autism spectrum," he said.
Jenkins said he strives to maintain unity among the diverse LGBTQ population he serves, while advocating for laws that would help shield them from violence and discrimination.
He said the fight for LGBTQ rights is not fought in the White House, state capitals or in court houses.
"The battle is fought in one-to-one relationships with people caring for people in spite of what public policy is, regardless of who's sitting on the bench, regardless of who's sitting at the executive level," Jenkins said.
What does Pride mean to you?
"Being able to be public about who I am in private."
This year, we're celebrating Stonewall 50 — the 50th anniversary of the 1969 Stonewall uprising. Where would you like to see the LGBTQ community when we're celebrating Stonewall 75?
"I would love in 25 years for public policy to reflect our best values as a country. All of those things that the Constitution promises us — life, liberty, and the pursuit of happiness. That is, 25 more years, that would be reflected in public policy, from coast to coast, border to border."