The archbishop of Chicago has removed a Roman Catholic priest as head of a city church after he burned a rainbow banner with a group of parishioners this month.
Cardinal Blase Cupich announced the Rev. Paul Kalchik's removal in a recent letter to parishioners and staff at the Resurrection Parish in Chicago's Avondale neighborhood.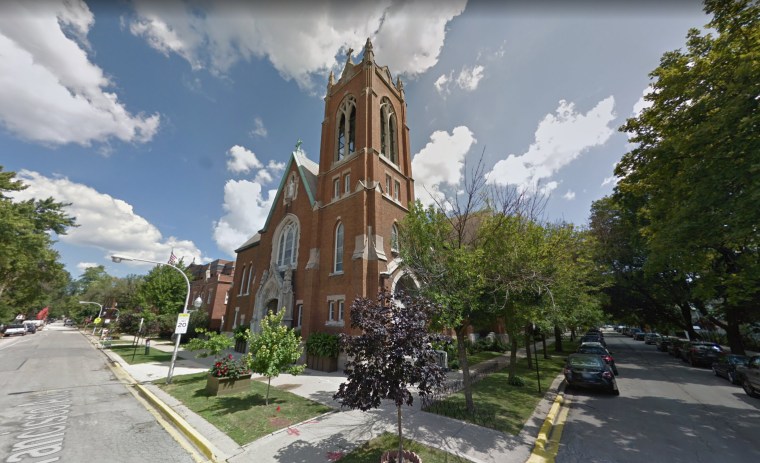 "I act out of concern for Fr. Kalchik's welfare and that of the people of Resurrection Parish," the letter, signed Sept. 21, stated. "I have a responsibility to be supportive of our priests when they have difficulties, but I also have a duty to ensure that those who serve our faithful are fully able to minister to them in the way the Church expects."
Cupich said Kalchik, 56, who has been at Resurrection Parish for 11 years, needed "time away from the parish to receive pastoral support."
Kalchik and members of his congregation burned the rainbow banner, a symbol of LGBTQ pride that had once been displayed prominently in their church, on Sept. 15, despite being told by the archdiocese of Chicago not to proceed.
"We did so in a private way, a quiet way, so as not to bring the ire of the gay community down upon this parish," Kalchik said in a lengthy interview with NBC News last week. "It's our full right to destroy it, and we did so privately, because the archdiocese was breathing on our back."
"We put an end to a depiction of our Lord's cross that was profane," he added, noting the banner had a cross and a rainbow intertwined. To use the image of the cross as anything other than a "reminder of our Lord's passion and death," he said, "is what we consider a sacrilege."
Kalchik said he and his parishioners did not burn the banner in front of the church, as they initially intended, rather they did so in a "quiet way," saying a "prayer of exorcism" over it.
"It was cut into seven pieces, so it was burned over stages in the same fire pit that we used for the Easter vigil mass," Kalchik explained. He then said he's "quite literal" when it comes to what the Bible says in Leviticus, Corinthians and Ephesians about homosexuality. Leviticus 20:13, according to the King James Bible, states: "If a man also lie with mankind, as he lieth with a woman, both of them have committed an abomination: They shall surely be put to death."
Despite his actions and stated views toward homosexuality, Kalchik told The Chicago Tribune on Friday that he's not anti-gay and said he is "about as much of a gay basher as Mother Teresa."
An archdiocese spokeswoman told the paper Saturday that Kalchik's removal was not "directly due" to the rainbow banner's destruction and had been "in the works."