The lesbian, gay, bisexual, transgender and queer community, along with their allies, turned up the music for a protest dance party outside Trump Tower on 5th Avenue in New York City Sunday night. Following a rollback in federal protections for the trans community, protesters sang and danced to show their support for those impacted.
"You can't miss this. You need some joy in resistance, and I feel that getting out in the street and being with community refills your tank," said Liz Dalton, a Manhattan-based writer and teacher who brought along her wig-wearing dog.
A large swath of people decked out in rainbow flags, bright colors and glitter danced to a live DJ's set across the street from Trump Tower, where first lady Melania Trump and first son Barron spend most of their week. The organizers were inspired by a dance rally that happened in January outside Vice President Mike Pence's D.C. home. Mr. Pence has been criticized for his policy record on LGBTQ issues.
"A dance was a different way of protesting. A celebration of the community outside of the house of somebody who hates everything it stands for," co-organizer Dana Kline told NBC Out.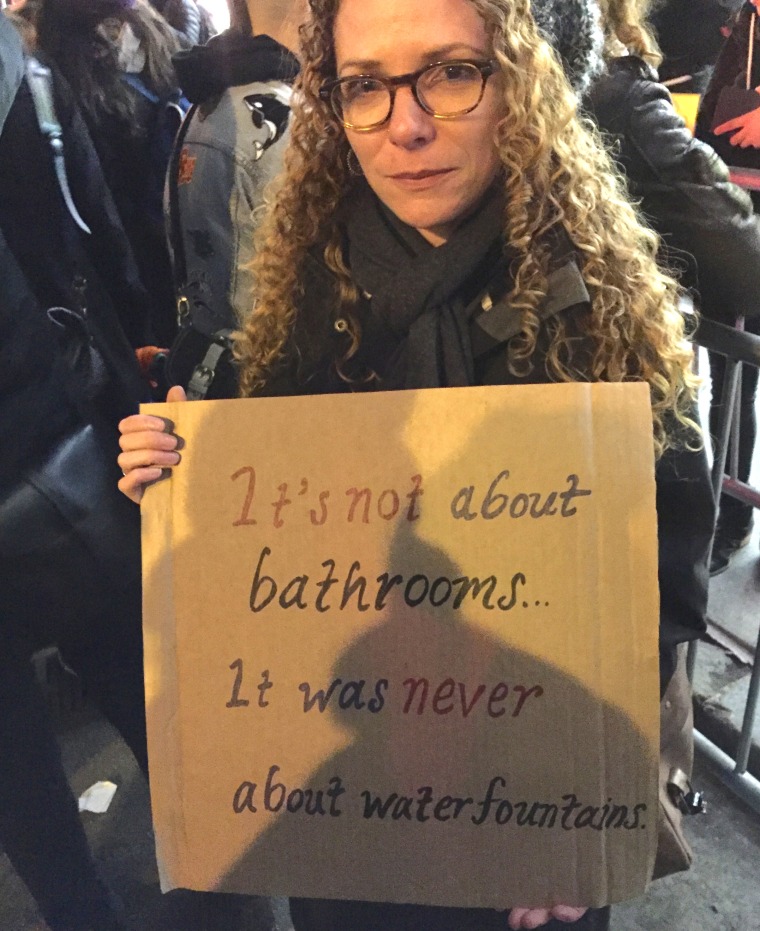 Several protestors at the event said they were angered and scared by the decision Wednesday to rescind guidance that outlined protections for transgender students in public schools. The guidance issued by the Obama administration last year instructed schools to allow students to use facilities that align with their affirmed gender identities. The Trump administration's move to rescind this guidance was considered a major blow to the transgender community and a reversal of President Trump's vow in January to protect the rights of LGBTQ Americans.
"I, like a lot of people, have felt really depressed about the way things are going," said protester Jackie MacLeod. "Going out to a protest, seeing other people and feeling that solidarity helps. We can show we're not happy, and we're not going away"
Co-organizer Didi Feuer said the event intended to represent the voices of all feeling marginalized by President Trump's administration. "We're trying to make this as inclusive as possible," Feuer said. Feuer and Kline told NBC Out they ensured their event was accessible to disabled individuals as well.
The event even included a handful of President Trump's supporters, who all donned "Make America Great Again" hats while standing along the edges of the crowd and filming their heated interactions with protesters.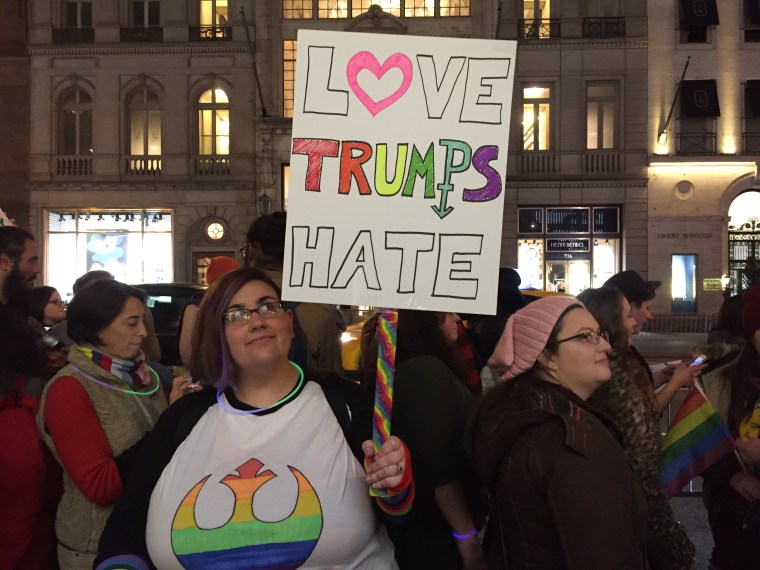 Anti-Trump protestor Mel, who declined to provide a last name, traveled from Long Island with a friend to attend the dance and demonstrate support. "It's a good chance for us to remind each other we are not alone."
Attendee Cassiani, who also declined to provide her last name, said rallies help combat the loneliness she has experienced due to the current political climate. "It's wonderful to take something that's so intrinsic in the the gay community, like dancing, and make it into a protest," she said.
"I hope the protest is going to be a uniting force in an original way," Feuer said. "What the administration is not seeing is that there's a power in that."