A four-day sting operation at several parks in Florida's Volusia County resulted in the arrest of 17 men for lewd activity and one for battery. But some, including LGBTQ civil rights group Lambda Legal, are raising concerns over how police and local media have handled the arrests.
In a released statement on the sting, which was dubbed "Operation Park Hopper," the Volusia County Sheriff's Office said their actions came in response to complaints about lewd activity in local parks.
The information released by police also included the first and last names of the arrested men, their ages, their home addresses, a video of one man's arrest and an account of a 75-year-old man's interaction with an undercover deputy.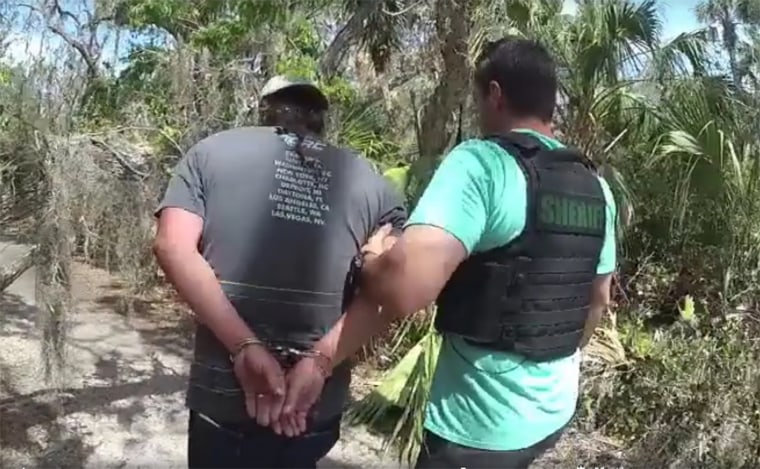 "Evidently, [the man] thought he was safe because he was on the east side of the county, in Ormond Beach," the statement said of the 75-year-old. "He was wrong. Moments after he walked to a picnic shelter at the park with the stranger, pulled out his penis and started masturbating in plain view, [he] found himself in handcuffs and on the way to jail—charged with indecent exposure and committing an unnatural and lascivious act."
The statement then elaborated upon the arrests, saying the men would "approach undercover deputies, strike up a conversation, steer the talk to sex and then start doing more than just talking about it."
An indecent exposure conviction is considered a first-degree misdemeanor in Florida and punishable by up to one year in prison, a fine of $1,000 or both. A conviction of an "unnatural and lascivious act" is considered a second-degree misdemeanor and is punishable by up to 60 days in jail and a $500 fine.
While discussing the circumstances surrounding the Operation Park Hopper arrests laid out in the statement, Lambda Legal Director of Constitutional Litigation Susan Sommer told NBC Out "entrapment is definitely a law enforcement tool used against gay men."
"You'd need more information on the setup and the circumstances in this particular instance, but it's completely common to learn that law enforcement have entrapped men into alleged violations of sexual misconduct laws," Sommer explained.
She pointed to a sting operation in New York that she said had "eerie similarities" to the Volusia County arrests.
"They round up gay men and then do this really horrendous public shaming where they print their mug shots and their names and their ages and the towns where they live," Sommer said. "And they use the same kind of rhetoric that I saw quoted [in the Volusia County Sheriff's Office statement]."
Sommer also pointed out that publishing the names, mug shots and addresses of men arrested in sting operations like these can have dire consequences.
"Men have employers who suddenly suspend or fire them, places where they live try to drum them out, news cameras and vans are staked outside their homes and they're shunned," Sommer said. "It causes people to be suicidal. It far exceeds any kind of police response to any other alleged nuisance activity."
"The government can certainly outlaw public sex, but it must take care to enforce such bans within constitutional limits," said Slate's Mark Joseph Stern, a gay journalist who has written on gay sex stings in the past. "When law enforcement officers target gay men for no apparent reason other than their sexual orientation, they run the risk of running afoul of basic equal protection principles."
Stern pointed to a previous case in Long Beach, Calif., where a court threw out the conviction of a gay man who had been arrested for cruising, because it was ruled that the police department had acted on unconstitutional "animus toward homosexuals."
"Put simply, it is not at all clear that the Volusia County Sheriff remained within constitutional boundaries in his zeal to arrest, imprison and humiliate these men," Stern added.
Most of the men arrested in Operation Park Hopper were middle-aged or older, which Sommer speculated could be indicative of generational differences between older and younger gay men.
"Older men were more closeted, because they grew up and came of age in an era that was even more oppressive, when sodomy laws were still enforced," she said. "This wasn't a community that could be open or flourish in the light of day. There were no gathering places, so men would have to find each other in these kinds of venues. The internet and Facebook and apps have made it much easier for people who are tapped into that to meet each other."
After being provided with an information packet by the Volusia County Sheriff's Office, several local news outlets published the names, home addresses, arrest locations and mug shots of the 18 men charged in the sting operation. One of the men can be seen crying in his photo.
"Because of the significance of the operation and the number of arrests, the decision was made to announce the results at a news conference," Gary Davidson, a spokesman for the Volusia County Sheriff's Office, told NBC Out via email. "When we have a news conference, we always compile an information packet for the media with all of the relevant information."
Davidson also pointed out that the information his department provided to the media, including the defendants' home addresses, is a matter of public record and contained in the charging affidavits. He said his office compiled and distributed the information "for the convenience of media outlets covering the news conference."
Sommer said media outlets ought to exercise caution before publishing personal and possibly sensitive information.
"I think the media needs to act responsibly and not publish pictures and names and not participate in something that could fuel vigilante behavior," Sommer said. "The harm you could do to someone's life far outweighs any public interest or value in doing so."
During the Operation Park Hopper news conference, Volusia County Sheriff Mike Chitwood said the arrests were meant to send a message.
"These types of activities impact the quality of life of our citizens," he said. "It's important that we set the tone that our parks and trails are safe for families and children."