Ava DuVernay's show "Queen Sugar" has been critically acclaimed as one of the best dramas on TV. She brings complex characters and nuanced stories to all her projects and is willing to push us to think bigger about the diversity of the black experience in America.
On Wednesday, viewers of the Oprah Winfrey Network (OWN) show got to watch the debut of Toine Wilkins, a transgender police officer and high school friend of the show's principle character, Ralph Angel. Actor Brian Michael Smith, who used this character as his vehicle to come out as transgender, has been acting professionally for the last five years and hadn't disclosed his gender identity until this moment.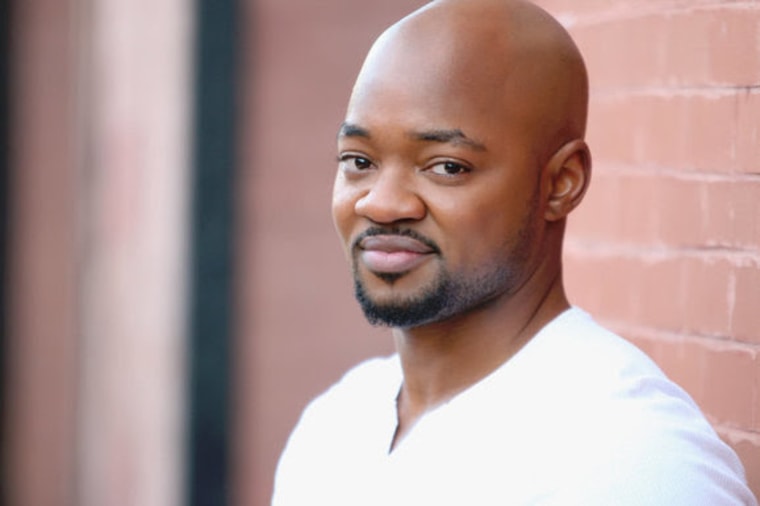 Smith has appeared on "Girls," "Blue Bloods," "Law and Order" and in a Toyota commercial as cisgender (non-transgender) male characters. Many transgender actors in Hollywood have been pushing for trans folks to also be cast in non-trans roles, and Smith sets the example that they can do just that -- and do it well.
NBC Out contributor and transgender advocate Tiq Milan had a chance to chat with Smith about his budding acting career, his coming out and being a model of possibility.
Do you consider this your big debut?
Brian Michael Smith: In a lot of ways I do. I've had really good experiences with my career so far. I started training professionally about six years ago, really learning the craft and being really dedicated to making a profession out of my desire to act, and I feel like this is one of the first roles that is really hitting my interests as an artist and as a person.
Tell us a bit about your acting career thus far.
I've been acting since I was a child doing church plays and stuff like that. When I got to high school and college, I was more involved in athletics then I was in acting. At that time, I was trying to figure out what my identity was and roles became more gendered, it was a little bit more challenging for me to stay with the acting. I started to learn more behind the scenes stuff and was working with young people for two or three years. Then I decided that I had to move to New York or LA and really make a go out of this in any way, shape or form. Then in 2011, I was teaching filmmaking and telling these young kids to pursue their dreams but I wasn't doing the same thing. I couldn't do that. I had to practice what I preached.
I started out by trying to get a series of background roles when I moved to New York in 2008. It blew my mind how they would just be filming in the streets. I was walking home from work one day, and I had to walk through a film set to get my house, and I thought, "This is amazing. This is what I came here to do." I asked the people on set a bunch of questions: How to do background work? How to do this or that. I thought it would be really good to learn how to be on set by doing background work. So while I was taking classes, I had the opportunity to be on sets watch the interactions between the directors and the actors and pick up what I could there. As I got more training, I worked my way up the food chain over the last few years. I learned more and more about the industry and was able to attract better roles. So I've been doing TV since 2012.
This is the first time you've played a trans character and are subsequently coming out as transgender. Why now?
When I first started to act, I needed to figure out how I could get good at it. I'd been doing it since I was younger, and was out there and performing, but I really wasn't having the real experiences, so I was trying to figure out what would it take for me to do that. When I got into my training, I realized that you really had to bring all of yourself to your roles. And you have to create the roles with your experience to inform what you're doing. I was really working from an incomplete version of myself. I was leaning into the parts that were comfortable for me: roles around moving from one town to another or dating and things like that. Things I was comfortable with, I was able to do. It wasn't that there was any shame or anything like that, I just wasn't ready to explore that in my work. But the more time I spent doing the acting training and doing a lot of self-investigation and through therapy, I became more comfortable with my entire self as a person.
In my personal life I felt a little bit more complete and accepting of my entire experience, and I wanted to do the same thing in my work. There were a lot experiences I had during my transition and post transition, and I feel that I learned a lot, and I wanted to share that through my work as an artist. I felt that because of the amount of time that I've been training and the experiences I've been able to collect, I'm at a place as a performer that I could truly bring these things to work. Also, because of the work that you've been doing and Laverne Cox and GLAAD have been doing, there are more roles that have trans people in them that are better written and rooted in authenticity. This is definitely the time.
This is true. The culture is changing. The fact that we have a black transman writing for NBC and is interviewing a black transman actor says a lot.
Exactly. I worked with young people at the LGBT Center [in New York City], and I just saw how important it was for young LGBT people, no matter where they were in their experience, to see what is down the road for them. It's really important to me to be visible in my work.
Did you ever feel like coming out as trans was going to pigeon hole you to being the "trans actor" as oppose to an actor who is trans?
I definitely think so. I think every actor has that concern of being typecast no matter what their background. I don't want to be just the black actor, I don't want to just be the funny guy, so that was definitely something that was on my mind. I decided that whatever I did, I wasn't going to limit myself. I wanted to play characters that were going to make me better and really challenge me to raise my skill level up or that were just interesting to me personally. I want to be the best actor I can be, and I want to be the most creative actor I can be. I want to take on roles that will move the chain to where I finally want to go.
There was some concern, but there weren't a lot of transmale roles when I started out anyway, so it really didn't come up. Then as more trans roles started to come, I started to look at them like "This is kind of interesting" or "This isn't really rooted in truth," and "They probably didn't consult with a transperson before they wrote this." I was really trying to be cautious about it, because it was something I was interested in, but I wanted to make sure that it resonated with me, and it would have a positive impact on trans and non-trans people alike.
What's on your vision board?
Toine, almost word for word, was on my vision board. I've been saying for a long time that I wanted to work with Ava [DuVernay]. Even though she was not directing my episode, I'm on that path to working with her. Ava just brought on an incredible team of actors to work with … Being able to work on a project like this that I believed in, that had strong storytelling and really interesting characters that are talking about real issues that are happening in the world and affecting our community, I loved that. This is the kind of work I've been interested in.
What's your dream role?
My dream role would be something similar. I'd like to work with Denzel [Washington] at some point. I know I'd learn so much from being around him. I want to be a part of a well-written, ensemble-based TV show that I could work on each week with amazing directors, and I'd get to bring attention to some of the issues facing black men, transmen, people working with young folks or someone starting a family. Things like that.
What advice would you give to young actors?
For any actor coming up please, please please train! You're going to learn so much about yourself, and the direction you want to go with your art. If you want to be famous or known, there are ways to do that, but if you want to really act, the best thing you can do is to really train and stay around people who are really rooted in the craft. Also, take good care of yourself while you're doing it. It's a very self-reflective art. You're the instrument you're going to use, so the more you learn about yourself, the better you're going to be. The next thing would be to follow your own compass while you do that. There's a lot of stuff out there so it's important to ask yourself, "What am I trying to say with my work?" Lastly, don't ever let someone tell you what you can and can't do, particularly for trans actors.
Tiq Milan speaks and writes about intersectional leadership, transgender rights and racial justice. For more information about Tiq and links to his work, visit tiqmilan.com.
Follow NBC Out on Twitter, Facebook and Instagram
CORRECTION (July 16, 3:55 PM ET): An earlier version of this article misspelled the name of the creator and co-executive producer of "Queen Sugar." It is Ava DuVernay, not Ave Duvernay.