More than a decade after the original "Queer Eye for the Straight Guy" ended its groundbreaking run on Bravo, the "Queer Eye" reboot on Netflix has won over a new generation of fans by sharing "hip tips" and "emotionally charged makeovers." But the series' stars say it's about much more than culture and style — it's about love, learning and acceptance.
"We all want the same thing at the end of the day," Antoni Porowski, the show's food and wine expert told NBC News. "We want to show up for our loved ones, we want to be good workers, we want to excel at whatever it is that we're passionate about."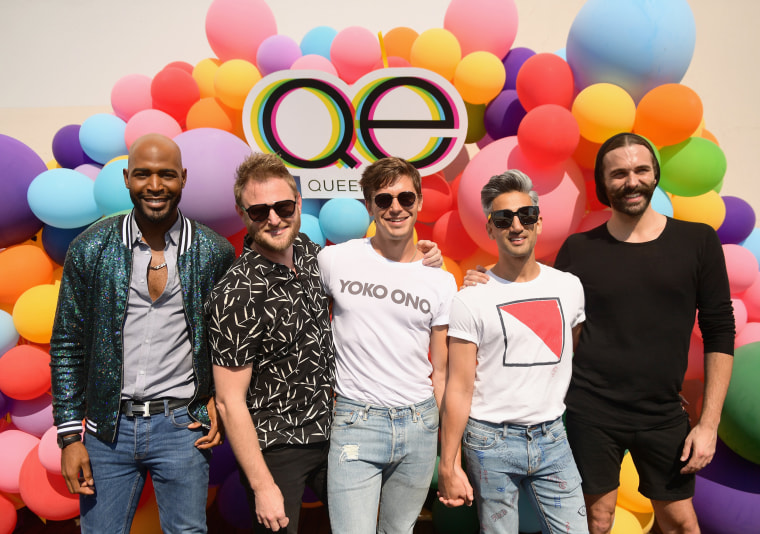 Porowski said the diversity of the show's "Fab Five" stars and those they help during each episode, have contributed to the success of the critically acclaimed reboot.
"You only learn, and you only become a better person the more different cultural backgrounds and heritages and ethnicities you know," Porowski explained. "Diversity, I think is, is something that I've been around my whole life, and when it's not there, I miss it. It teaches us about different … things to eat, languages, it touches on fashion, grooming techniques — it can only be a good thing, in my mind."
Throughout the series, the "Queer Eye" cast members — all of whom identify as LGBTQ — have used their influence and platform to discuss lesbian, gay, bisexual, transgender and queer issues. But Tan France, the series' fashion expert, also said the show has enabled him and the other "Fab Five" guys to learn as well.
In an episode of season two, the "Queer Eye" cast had an opportunity to work with a transgender person, Skyler, and both France and Porowski, who recently sat down for an interview with NBC News, said it was a learning experience for them.
"I felt embarrassed not knowing up until that point what somebody like Skyler may have gone through," France said. "I also thought, I don't want to embarrass myself on international television saying, 'I don't really understand this.' I'm so going to let go of that, and just wanted to be honest and say, 'I don't know, and I'm not going to assume anything, you tell me, you guide me.'"
Porowski echoed Tan, saying working with Skyler taught him a lifelong lesson.
"I wanted to go in and just be inquisitive, and do it in a gentle, caring, respectful way, and the amount that I got to learn from Skyler about the trans community as a result of coming in with humility, is a lesson that I'm going to take on in all of my affairs going forward in life," he said.
"Listening is so important, and just because we're hosts on a show, doesn't mean that we have to go in there and just preach whatever our culinary or fashion gospel is," Porowski added. "Sometimes it's about sitting down and just asking questions and be like, 'I'm embarrassed to say, that I don't know.'"
After two successful seasons earlier this year, the critically acclaimed show has been renewed for a third season, which is slated to premiere on Netflix in 2019.