For Heezy Yang, watching "Desperate Housewives" with his mother in South Korea may have made his coming out to her a bit easier. "We watched lots of American TV series growing up," Yang told NBC OUT. "So my mom was exposed to gay culture, and when I came out to her she was fine."
Yang, who has spent his entire life living in Seoul, now spends much of his time incorporating his queer identity into his artwork and activism. And while many challenges still exist for the LGBTQ community in South Korea, the story of Yang and his mother may reflect a growing trend toward more acceptance for sexual and gender minorities in the culturally conservative Asian country.
Although Yang himself doesn't like labels, he has learned to embrace the reputation he has built for himself as one of the most visible queer artists in Seoul. In fact, the young artist is literally bringing his latest street performance, "Unjustifiable," to some of the city's busiest streets and pedestrian thoroughfares.
"I do 'Unjustifiable' to bring awareness of LGBTQ homeless youth, or LGBTQ youth who are in need of help in general," Yang said. The performance itself isn't big or splashy. In fact, many times people walk by without even acknowledging him. But in some ways, that's the point.
"I wanted to tell people that there are people abandoned, just like animals," Yang said. "People are abandoned too. And the reason is their sexuality."
In the performance, Yang sits in a large cardboard box alongside a row of smaller cardboard boxes. In each smaller cardboard box is a stuffed animal with a sign indicating why they have been abandoned. One sign states, "They have too many pets." Another sign says, "They don't want a one-eyed rabbit." Yang himself is holding a sign, and on his it simply states, "Because I'm gay."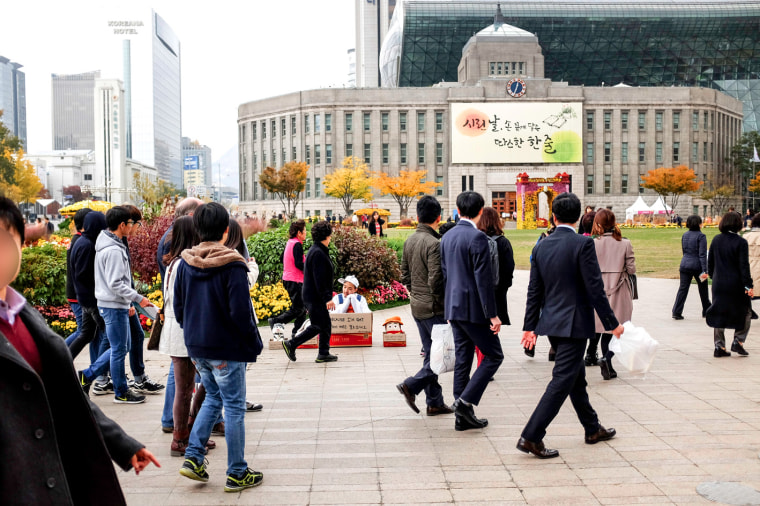 Yang was inspired to do the performance after learning of the work done by a friend at a local shelter for homeless LGBTQ youth. "Because of Korean law the kids cannot stay at the shelter without their parents' permission," Yang said. "Which is obviously messed up because they were kicked out by their parents in the first place."
Yang began to get noticed for his performance not only because of the unusual optics of seeing a grown man sitting in a cardboard box surrounded by stuffed animals, but also because identifying as openly gay in such a public setting can still be a challenge for many in South Korea.
"The life of a [sexual and gender] minority in Korea is still difficult," said Candy Yun, who works at the Korean Sexual-Minority Culture and Rights Center, one of the largest LGBTQ organizations in South Korea. "But as a result of the sexual and gender minority movement of the last two decades, there have been more organizations than ever before and an increasing number of people are living out."
But Yun said legal and institutional protections for LGBTQ individuals in South Korea are still lacking. As an example, Yun points to the requirement that transgender individuals undergo gender reassignment surgery and sterilization before having their preferred gender legally recognized by the government. Yun also noted that according to South Korean military law, homosexual acts between soldiers are still punishable by up to two years in prison.
Yun said that because no education related to sexual and gender minorities exists in schools, discrimination is still prevalent for those coming out in classrooms and work environments across South Korea.
As a result, in what is being seen as a growing need to fight this discrimination, support groups like PFLAG Korea are starting to form in the country. Much like PFLAG chapters in the United States, PFLAG Korea serves as a support network and meet-up for parents of LGBTQ children.
Beyond holding monthly meetings, the organization has published a guidebook for parents and participates in a wide range of public events. At the Korean Queer Culture Festival this past June, parents at PFLAG Korea gave out hugs to festival participants for more than three hours.
"LGBTQ teenagers in South Korea have a very serious rate of suicide attempts at 47 percent," a PFLAG Korea representative told NBC OUT. "And the opposition to LGBTQ rights in South Korea is always preventing attempts [by supporters] to add the phrase, 'Do not discriminate on the basis of sexual orientation,' to local government or student human rights ordinances."
But the organization is hoping that recent trends showing a growing recognition of gender and sexual minorities in South Korea will continue toward more acceptance for the LGBTQ community. They point to a Pew Research Center Poll conducted in 2013, showing South Korea had some of the most significant change when it came to societal views on whether homosexuality should be accepted or rejected by society.
PFLAG Korea attributes part of this change to the younger generation of South Koreans who are becoming more open, as well as the emergence of LGBTQ clubs and organizations on college campuses. "The young generation is actively participating in the sexual minority rights movement," a PFLAG Korea representative said.
Heezy Yang can see this change happening firsthand and said he will continue to perform "Unjustifiable" as long as he sees a need. "I think it is an important time as a queer person in Korea," Yang said. "Change is happening and we have to fight and bring awareness, and I think I can do that with my art. And I'll do it until I get sick of it or they don't need me anymore."