LGBTQ youths plan to demonstrate in all 50 states and Washington, D.C., on Friday in what they believe will be one of the largest youth-led protests in history. 
The protests and classroom walkouts are part of a coordinated "March for Queer and Trans Youth Autonomy" on Transgender Day of Visibility, which is an annual awareness day dedicated to celebrating the accomplishments of trans people while still acknowledging the violence and discrimination they continue to face. 
The events, organized by Queer Youth Assemble, a nonprofit that serves LGBTQ people under 25, are a response to the wave of state legislation introduced by Republican lawmakers over the last three years that seeks to limit what sports teams transgender students can play on at school, restrict minors' access to transition-related care and prohibit the instruction of LGBTQ-related topics in schools. 
The organizers of the events have one central message: Instead of talking about queer youths, talk to them. 
"We're so used to being talked about all the time, but we're never included in those conversations," said Alia Cusolito, co-president of Queer Youth Assemble and one of the primary organizers of the march in Washington, D.C., which will start at 3 p.m. ET at Union Station.
Cusolito, 17, uses gender-neutral pronouns and is a junior at Old Rochester Regional High School in Mattapoisett, Massachusetts, on the state's southern coast. By leaving out LGBTQ youths' voices, they said, lawmakers are spreading false narratives that lesbian, gay, bisexual, transgender and queer people are dangerous. 
"But the real truth is that what we want is to be able to live safely and happily," they said. "We have no ulterior motives. We just want to be able to live and have everyone be supported and safe in the world."
So far this year, state lawmakers have filed more than 400 bills targeting LGBTQ people — with more than half of those targeting trans people — according to the American Civil Liberties Union and a separate group of researchers who are tracking the flow of legislation. In the last three years, 19 states have banned transgender students from playing school sports on the teams that align with their gender identity, according to the Movement Advancement Project, and, in the last two years, 11 states have banned transition-related medical care for minors.
The "March for Queer and Trans Youth Autonomy" has a list of demands on its website. Among them, organizers want lawmakers to codify updates to Title IX, the federal law that prohibits sex-based discrimination in publicly funded education programs, so that it specifically protects against discrimination based on sexual orientation and gender identity.
The march also calls "for an end to all state sponsored misinformation on transitioning and gender-affirming healthcare," and organizers "ask for teachers, parents, and peers to maintain confidentiality in regards to others' gender, sexuality, and other aspects of our identities." An increasing number of states and school districts have considered and passed policies that would require school staff to notify parents if a student asks to use a different name or pronouns, for example — a requirement that advocates call "forced outing."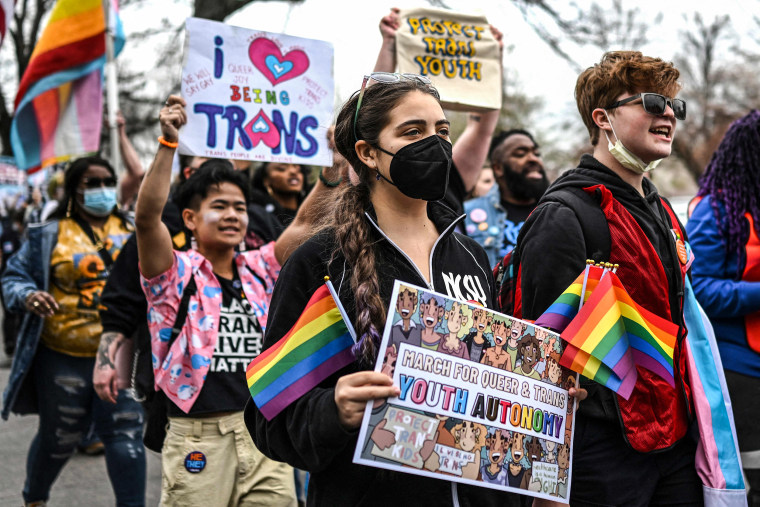 LGBTQ youths have said the legislation has negatively affected their health and well-being. A January survey by The Trevor Project, an LGBTQ youth suicide prevention and crisis intervention organization, found that 86% of transgender and nonbinary youths said recent debates around bills targeting transgender rights have negatively affected their mental health. Another Trevor Project survey, conducted in the fall, found that nearly 20% of trans and nonbinary youth attempted suicide in the past year.
Kristi Khan, who lives in western Kansas, near the Colorado border, will be joining a march in Wichita on Friday and will be thinking of her trans son, Kai, who died by suicide just over a year ago. Kai loved music, and he was an incredible artist, his mom said. He was studying phlebotomy at Barton Community College, and he was interested in becoming a nurse.
After his death, Khan started a TikTok account where she shared her and Kai's story.
"I've had so many transgender youth reach out to me and tell me, 'I wish I had a parent like you,' and, 'You've given me hope. I've been there. I felt like your son,'" Khan said. "So that's what my driving force is now. I don't want to see any other kids feel like that is their only solution and feel like nobody's there."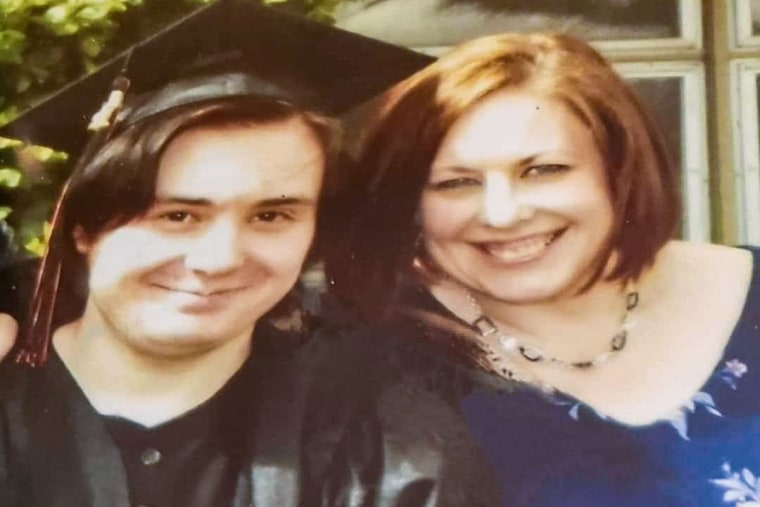 The Trevor Project found in 2019 that LGBTQ youth who had at least one accepting adult were 40% less likely to report a suicide attempt in the previous year, and, in 2020, it found that LGBTQ youths who had at least one LGBTQ-affirming space had 35% reduced odds of reporting a suicide attempt in the prior year, with LGBTQ-affirming schools having the strongest association with reduced suicide attempts.
Esmée Silverman, the other co-president of Queer Youth Assemble, who uses "they" and "she" pronouns, said they first became an advocate as a freshman in high school, after they contemplated suicide and were coming to terms with their gender identity. 
"I did not feel like I deserved a place in this world," said Silverman, now 21 and a sophomore at Reed College in Portland, Oregon, where they are studying religion. All of that changed the second they walked into their school's gender-sexuality alliance, or GSA, a club for LGBTQ students, they said. 
"They gave me my life back," Silverman said. "It showed me that I'm not alone. It showed me that I will always have community; it showed me that I have a home."
That's part of what they hope the march provides for other queer youths: a sense of community and unity under the shared goals of safety, autonomy and joy.
Samira Burnside, 16, said she and her father would drive 13 hours from their home in Tampa, Florida, to Washington, D.C., on Friday so she could speak at the march. She said she wanted a chance to use her voice after watching the Florida Board of Medicine debate and ultimately pass a ban on gender-affirming care for minors who weren't already receiving it.
Burnside, who is transgender, said the day before the policy became effective earlier this month, the doctor she saw for hormone therapy pre-emptively decided to stop seeing her. She said she "had to scramble" to find another provider because she feared if she wasn't already under a doctor's care, then she wouldn't be eligible to continue hormone therapy under the rule. She ended up getting an appointment with a provider at 9 p.m., hours before the rule took effect at midnight. 
Burnside has two messages that she plans to share at the march. First, she said, "Trans people are people, and we are here, and we are willing to fight for our rights."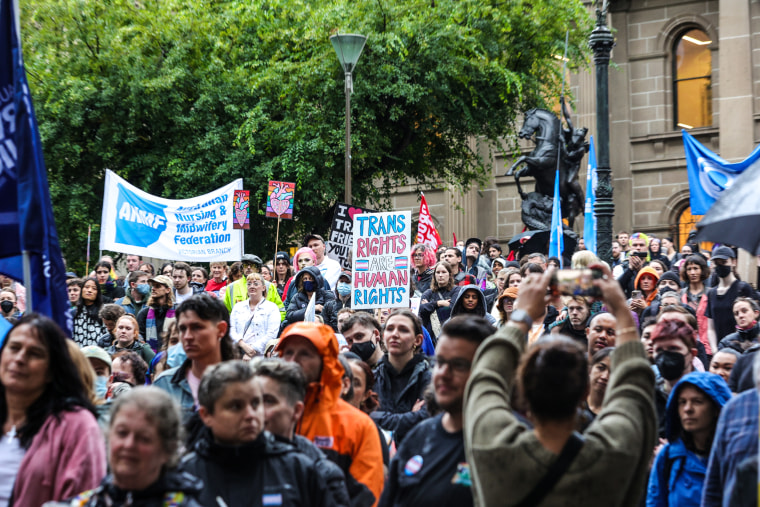 The second, she said, is for Democratic lawmakers: "I want them to know that we won't keep supporting them unless they act like representatives and represent us, because we're under attack, and we need allies that actually do things for us." (According to the 2022 NBC News Exit Poll, Democrats won the support of 84% of self-identified LGBTQ voters, compared to just 14% who supported Republicans.)
Ultimately, Silverman said, the march's simplest goal is to start conversations.
"We want legislators to treat us fairly," they said. "We want to have conversations with people who do not agree with us. That is the way forward — to have conversations, to emphasize love and compassion, and to ultimately make these personal connections that will transcend any and all identity boundaries."
If you or someone you know is in crisis, call 988 to reach the Suicide and Crisis Lifeline. You can also call the network, previously known as the National Suicide Prevention Lifeline, at 800-273-8255, text HOME to 741741 or visit SpeakingOfSuicide.com/resources for additional resources.