Rain Dove, a nonbinary model and LGBTQ activist, admitted Sunday to selling the tabloid site TMZ incriminating private text messages from Asia Argento, in which the Italian actress and one-time #MeToo leader appears to admit to unknowingly having sex with a minor.
The admission came in a lengthy video posted to YouTube, over a year after TMZ published the messages on its website in August 2018. In the video, Dove also admitted to falsely claiming to have graduated from the University of California, Berkeley, and being a firefighter.
"I got $10,000 from TMZ," Dove, who uses they/them pronouns, said in the video around the 49-minute mark. "I asked for advice from my closest friends, some of which are very powerful and wonderful people and very connected in the industry, and they said just do it."
In a conversation with NBC News on Monday, Dove — who at the time of the TMZ transaction was dating actress Rose McGowan, a close friend of Argento's who was also on the front lines of the #MeToo movement — said Dove turned to TMZ after several unsuccessful attempts to report the text messages to law enforcement. Dove claimed it was not until TMZ published the messages that the authorities looked into Argento's texts.
Dove had previously denied giving the messages to TMZ. Asked to explain why Dove accepted money in exchange for the text messages in which an adult allegedly admitted to sex with a minor, Dove told NBC News they did so in case they would "need a lawyer to protect myself" from libel lawsuits.
Argento, who like McGowan was among the first people to accuse disgraced Hollywood mogul Harvey Weinstein of sexual assault, told The New York Times last August that she "never had any sexual relationship" with the minor named in the messages. Last year, Argento threatened legal action against McGowan over aspects of the allegations, and Argento told NBC News she filed a police report against Dove in Italy for fraud and deception.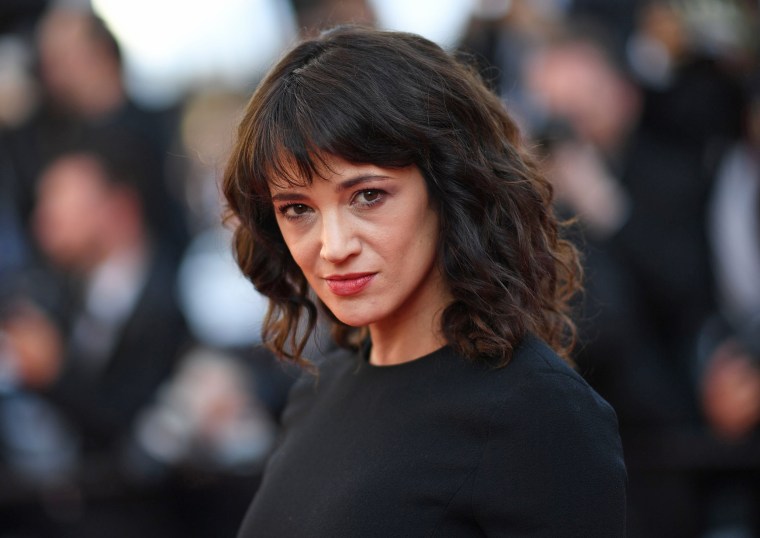 Following the release of the YouTube confession, she told NBC News it was the first time she heard Dove admit to sharing the texts with TMZ, which she claimed were edited by Dove "to make me appear like a predator," a claim Dove denies. Argento, who was the girlfriend of celebrity chef Anthony Bourdain at the time of his death last year, also said she's "still very fragile and frightened" of Dove and "what they are capable of."
'Secrets and lies'
Prior to their involvement in the Argento controversy, Dove — who is sometimes referred to as Rain Dove Dubilewski, though it is unclear whether that is their real surname — made a name as a gender-nonconforming model and staunch LGBTQ advocate. A 2015 Buzzfeed headline called Dove the "androgynous model of your dreams," and that same year a Miami Herald headline asserted that Dove was "transforming the fashion industry." Dove was profiled by NBC News in August 2016 for "challenging gender norms" in the fashion industry.
Aside from Dove's work as a model and their queer activism, media coverage has at times mentioned other aspects of their bio, including a bachelor's degree from the University of California, Berkeley, in genetic engineering and their work as a firefighter. However, in Sunday's hourlong video, Dove admitted that these, like their denials of selling TMZ the text messages from Argento, were also falsehoods.
"I wanted to create this video to just put everything out on the table, everything that I have done or have said that may not be fair or right or may have hurt people," Dove said, calling the video a "one-stop shop" to finding out the truth. "I would like to say that's not the person that I am, but the person I am is who I am because of that part of my life."
In the video, entitled "Exposing Myself: Sharing Secrets and Lies," Dove admitted they never obtained a bachelor's degree from Berkeley in genetic engineering, a claim made in their bio on several occasions. Instead, Dove said they said they went to nearby Berkeley City College.
Dove also admitted to never working as a firefighter, a claim made in multiple interviews, including a 2017 Yahoo story titled "Meet Rain Dove: The firefighter turned model who embraces being genderless," and during a 2017 Ted Talk which has more than 300,000 views.
Instead of firefighting, Dove worked as a wildfire prevention officer whose role never involved interacting with flames, according to Mark Wertheimer, the chief operating officer of Rocky Mountain Youth Corps in Colorado, where Dove previously claimed to have fought fires. Dove also admitted to never volunteering as a firefighter during last year's deadly Camp Fire in Paradise, California, despite previously claiming on social media to have "signed up for Fire relief efforts on a saw team near Paradise."
While Dove still maintains they volunteered in a cleanup capacity, the Paradise Fire Department, with whom Dove previously claimed to have volunteered, said it has no record of Dove volunteering there at all.
In Sunday's video and in a subsequent conversation with NBC News, Dove claimed the YouTube confessional was a planned "purge" heading into the New Year. However, the video was posted to social media two days after NBC News reached out to Dove to verify two alleged transphobic encounters they claimed on social media and in interviews to have had over the past 18 months, and to fact-check several aspects of Dove's past, including their UC Berkeley and firefighter claims.
Alleged transphobic encounters
While Dove clarified several past falsehoods and misrepresentations in their YouTube confessional and in conversations with NBC News — from lying about winning an international poetry contest in high school to the Argento texts — they still maintain that two alleged transphobic encounters, including one that could be described as a hate crime, were not fabrications. However, repeated attempts by NBC News to verify the encounters have been unsuccessful.
The most recent incident allegedly happened via Instagram earlier this month and was shared to Dove's social media accounts Dec. 2, where it subsequently went viral. The incident involves an Instagram message exchange between Dove and the irate mom of a gender-nonconforming youth named Sammy.
In the messages, the parent spews transphobic hate at Dove, accusing them of being a "pervert" and infecting their own daughter with "mental problems," and Dove responds by praising the mother for caring about their daughter and being so involved. By the end of the exchange — which Dove shared with their combined 500,000 Instagram and Facebook followers — the mom has a change of heart and accepts her child's decision to transition.
Following Dove's now-viral encounter with Sammy's mom, news outlets and social media influencers applauded Dove's "patience" and "compassion." Out magazine published the headline "Rain Dove Just Gave a Master Class In Responding to Transphobia," and Daily Mail posted a story titled "Gender-fluid model Rain Dove praised for patient response to an angry stranger."
After a number of people on social media started to question the existence of Sammy's mom — whose profile photo was a stock image that could be found when searching "angry old woman" on Google — Dove offered to provide evidence of the parent's existence to verified news outlets. But Dove refused multiple requests by NBC News to take them up on the offer.
This was not the first time NBC News has been unable to verify claims made by Dove regarding an anti-LGBTQ encounter with a stranger. Last November, Dove claimed they were pepper-sprayed by a transphobic mother in a women's bathroom at Asheville High School in North Carolina, and that the assailant then found Dove on social media following the incident to say she'd "do it again."
The two then proceeded to have a conversation via Instagram that ended with the mother having a change of heart. The social media post in which Dove shared their exchange went viral and garnered widespread media attention.
When NBC News sought to report on the incident in 2018, Dove claimed in a recorded phone interview that things like this "happen a lot" and said they've been pepper-sprayed "a few times" and tasered "a couple of times" while using public restrooms due to their androgynous appearance.
When asked how the woman who pepper-sprayed Dove at Asheville High School was able to find out Dove's name in order to contact them on social media, Dove said "after the incident" the parent "ended up having to file a report for the whole experience, and they followed up."
"They got my name officially, I think, through that premises," Dove added, saying the parent informed Dove that "they checked up on me afterwards to see what the police had done with me."
However, both the Asheville Police Department and Asheville High School denied ever receiving a report about the incident. As for the alleged attacker who had a change of heart, Dove provided NBC News with a name and an email address for her, but the person whom NBC News emailed refused to speak on the phone, and the name Dove provided was not the name of a parent at Asheville High School, according to school administrators. In fact, public records show there's no one by that name living in the state of North Carolina.
When confronted earlier this week about the lack of a recorded report in Asheville, Dove claimed that no report had ever been filed regarding the incident and said they may have misspoken if they mentioned the existence of a report last year.
In a final conversation with NBC News on Monday, Dove maintained the two anti-LGBTQ incidents did occur but was unable to provide any additional information to corroborate the allegations. But Dove said they can't confirm Sammy's mom is who she claims to be, adding, "Sometimes you don't know if the person is real or not."
"It's the internet," Dove said. "I do take it with a grain of salt."