The midterm elections are less than a month away, and a record number of LGBTQ political candidates will be on the ballot on Nov. 6. With the lion's share of them running as Democrats, how they fare will serve as a litmus test for where the country stands after two years of a Trump presidency — and several of their races are integral to Democratic hopes of winning control of Congress.
A "RAINBOW WAVE"
More than 430 openly lesbian, gay, bisexual, transgender and queer candidates ran for office across the U.S. this year, and at least 244 of them won their primary races, according to the Victory Institute, a group that works to increase the number of LGBTQ people in public office.
"A wave of enthusiasm among Democratic primary voters for openly LGBTQ candidates has unleashed a Rainbow Wave that can transform the U.S. Congress and our governors' mansions come November," Victory Institute and Victory Fund President and CEO Annise Parker, the former mayor of Houston, said in a statement. "It represents an evolution in American politics — with voters choosing out LGBTQ candidates as the solution to the divisiveness and dysfunction we see in Washington and in many of our state capitals."
According to research by the Victory Institute, 21 openly LGBTQ candidates won Democratic primaries for the House and Senate — a 24 percent increase compared to 2016, and a 320 percent increase compared to 2010 — and a record four LGBTQ candidates for governor won their primaries.
Parker said the struggles and experiences of LGBTQ candidates "provide a unique perspective that makes them authentic, values-driven leaders, and it is resonating."
"LGBTQ candidates join women, people of color, immigrants and Muslims who are running this cycle to lead the change we demand to see in our politics," Parker added.
A PARTISAN SPIKE
Of the 25 LGBTQ people who will be on the ballot next month in congressional and gubernatorial races, not one is running as a Republican. This is the first time since 2010 that the GOP has not fielded any openly LGBTQ congressional or gubernatorial candidates in a general election, according to the Victory Institute.
Parker attributes this "one-sided" spike in out candidates to the "anti-LGBTQ policies pursued by the White House" and "extreme-right state legislatures."
"Instead of a Rainbow Wave that should be celebrated by all Americans who believe in the wisdom of a truly representative government, we have a historic moment that is almost entirely partisan," Parker lamented. "This story will not change until the party of Lincoln rejects the divisive rhetoric and policies too many of its leaders rely on."
CONGRESSIONAL RACES
Despite still being a small minority of Democratic candidates, LGBTQ political hopefuls are running in hotly contested districts, and their victories could push Democrats over the line for control of Congress.
Republicans currently have a 51-49 majority in the Senate. Two openly LGBTQ candidates for senator — one an incumbent — will be on the ballot next month, and their races are tight.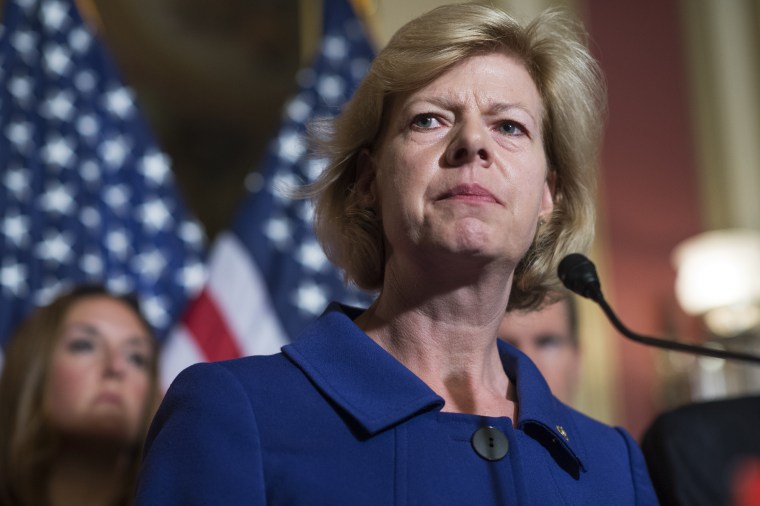 One of those candidates is Sen. Tammy Baldwin, a Democrat who is running for re-election in Wisconsin. The first openly LGBTQ person to serve in the Senate, she is currently the only Democrat to hold a statewide office in Wisconsin. Her re-election and those of other incumbent Democrats in "toss up" races in Indiana, Missouri, Minnesota and West Virginia are vital if the Democrats hope to shift the balance in the Senate.
Democrats have their eye on flipping Republican Sen. Jeff Flake's seat in Arizona. Should their nominee, Rep. Kyrsten Sinema, win Flake's senate seat, she would be the first openly bisexual individual elected to the Senate.
Republicans have a 235-193 majority in the House (with seven vacancies due to retirement or death). The Democrats need to hold five contested seats and pick up 23 overall in order to take control of the House, and they hope LGBTQ candidates can help them do so.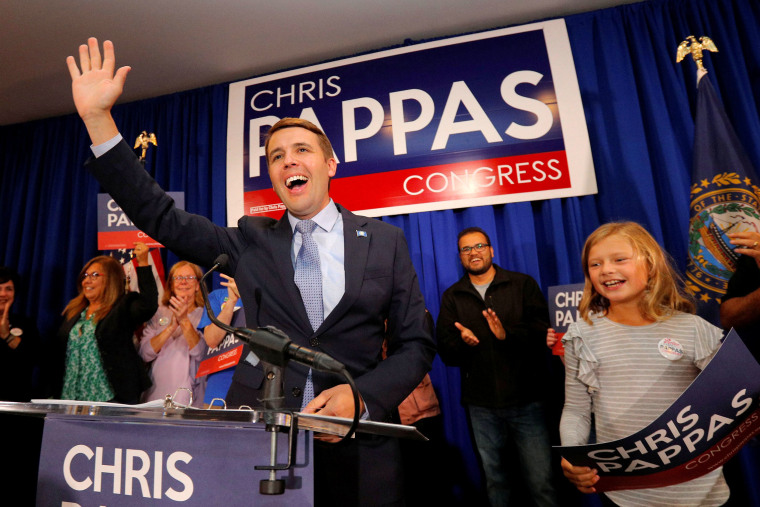 Chris Pappas is one of those candidates. He is running to represent New Hampshire's 1st Congressional District, a district Trump won by 2 percentage points. The seat, now held by retiring Democrat Carol Shea-Porter, is one of the 16 Democrats must defend in order to take the House in November. If Pappas does win, he'll become the first openly gay person to represent New Hampshire in Congress.
"It's great that there are so many people of diverse backgrounds running for Congress across the country," Pappas told NBC News. "After this election, we are going to have a Congress that looks more like America."
Pappas admits his campaign has "a lot of work to do" to win the swing district. He said part of their strategy is to target a "broad-based coalition" that includes not just progressives but also independents and Republicans who are "disturbed with what they see coming out of Washington."
"Donald Trump may be president, but this country doesn't belong to him," Pappas said. "This is a very diverse country that thrives when we look out for one another."
Democrats are looking to flip a number of districts, including several in red states like Florida, Kansas and Texas.
Lauren Baer is the "best chance of an LGBT candidate winning Florida," according to Terry Fleming, president of the Florida LGBTA Democratic Caucus. He said he's "optimistic" about flipping the state's 18th Congressional District, and recent polling puts Baer within a few points of her Republican opponent.
Baer, a former senior policy adviser at the State Department, told NBC News the race is "going to be close," but said she's "feeling confident, energized and ready to take back the district."
"I am optimistic that we are going to see Democratic victories up and down the ballot this cycle," Baer added. "I am also very clear-eyed that the Democrats need to keep fighting every day between now and Election Day."
She said the lesson she took away from the November 2016 election was "take absolutely nothing for granted."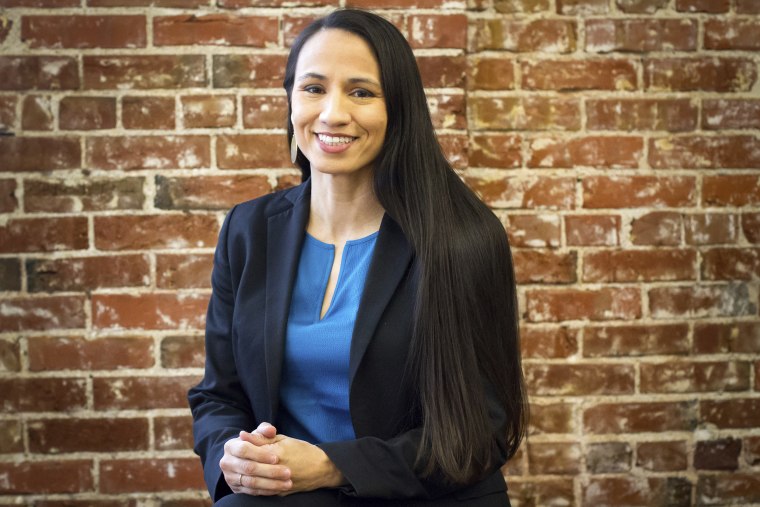 Democrats also have reason to be optimistic in Kansas. Last week, the GOP pulled funding for Republican Kevin Yoder, indicating Democrat Sharice Davids could pick up the seat and represent Kansas in Congress. If she wins, she'd be the first openly LGBTQ member of Congress from Kansas and the first female Native American elected to Congress, according to the Victory Institute.
Out candidates Angie Craig of Minnesota and Katie Hill of California are also looking strong in their congressional races, according to the Cook Political Report.
However, Andrew Reynolds, a political science professor at UNC-Chapel Hill and author of "The Children of Harvey Milk: How LGBTQ Politicians Changed the World," said that even the most competitive candidates such as Davids, Craig and Hill will struggle in November if the Democrats do not perform well overall.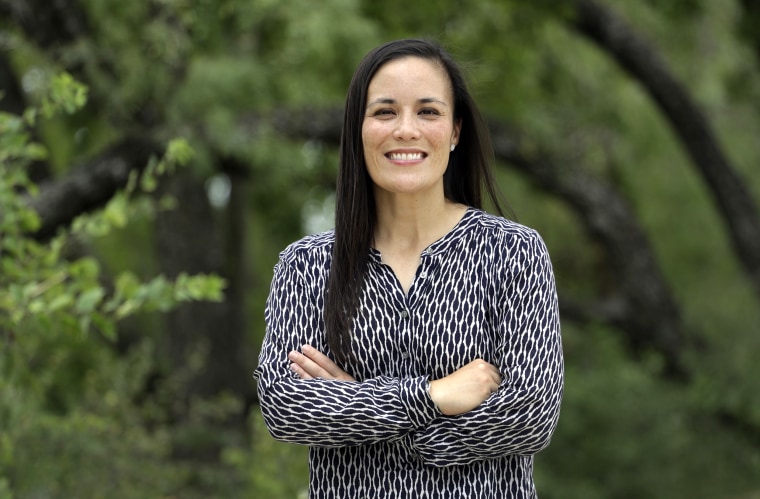 Gina Ortiz Jones is one of 55 LGBTQ candidates who ran for office in Texas this election cycle, though not all of them made it past the primaries. Ortiz Jones, an Air Force veteran, is hoping to unseat Republican Rep. Will Hurd in the general election to represent the state's 23rd District.
"We know the votes are there, and we are working hard to turn them out," she told NBC News. "Voters know what's at stake: Their health care is on the ballot, gun laws are on the ballot, our American values are on the ballot."
Ortiz Jones, who is polling behind Hurd, said the political wave she's most concerned with is the "public-service wave."
"I want to work across the aisle on the issues that matter most," she said, "and ensuring that all of our communities are heard."
Reynolds said if Ortiz Jones, an out lesbian and Filipina-American, can win a congressional seat in a Republican district in Texas, it would be "a huge deal."
"That would be an indicator of a significant change in the needle of politics," Reynolds said.
GUBERNATORIAL RACES
The four LGBTQ candidates running for governor represent nearly every letter in the acronym.
Oregon Gov. Kate Brown, a bisexual Democrat who in 2016 became the first openly LGBTQ person to be elected governor, is in a tight race against Republican Knute Buehler.
The other gubernatorial candidates include Lupe Valdez, a lesbian Latina running in Texas; Christine Hallquist, a transgender woman running in Vermont; and U.S. Rep. Jared Polis, a gay man running in Colorado.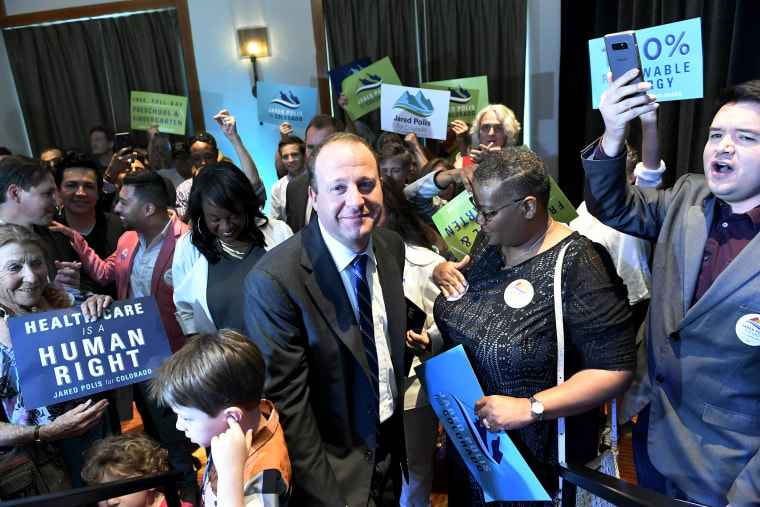 While Polis leads his Republican challenger, Walker Stapleton, in the polls, Valdez trails Republican incumbent Greg Abbott by a wide margin. Vermont's polls have been mixed — showing everything from a tight race to a landslide victory for the Republican incumbent, Phil Scott.
When looking at all statewide elections, however, there is reason to temper optimism about the "rainbow wave," according to Reynolds. He warned that we may not see enough LGBTQ officials elected on the state level to replace the ones leaving office this year, thus producing a stagnation or even slight decline in the overall numbers.
"The whole rainbow wave is a little bit of a false narrative," Reynolds said. "Candidates are running but not always being put in places where they can always win and jump those hurdles."
WAVE OR RIPPLE?
Currently, there are 577 known openly LGBTQ officials across the U.S. — just 0.1 percent of elected officials nationwide, according to the latest report released by the Victory Institute. This figure includes one governor, seven members of Congress and 36 mayors across the U.S.
To achieve proportionate representation, according to the report, America's estimated 11 million LGBTQ adults (roughly 4.5 percent of the adult population), would need to hold nearly 23,000 more public offices, a 4,000 percent increase.
With an estimated 244 openly LGBTQ people expected on the ballot next next month, proportionate representation is far off, but advocates hope this year's record number of out political candidates is just the beginning of a long-term trend.
As for this year's midterm elections, Reynolds said it may be more like a rainbow "ripple, not a wave."