The massacre in Las Vegas marks a grim milestone: It is now the deadliest mass shooting in modern U.S. history.
The shooting Sunday, in which at least 58 people were killed and more than 500 injured when a gunman opened fire on a music festival, eclipsed the 2016 Pulse nightclub massacre in Orlando, Florida, where 49 were killed and dozens injured.
With their tragedy not even 16 months behind them, Pulse survivors and other members of the Orlando community affected by the shooting offered their condolences and sympathies to the Las Vegas survivors, as well as their immediate reactions to this latest mass shooting.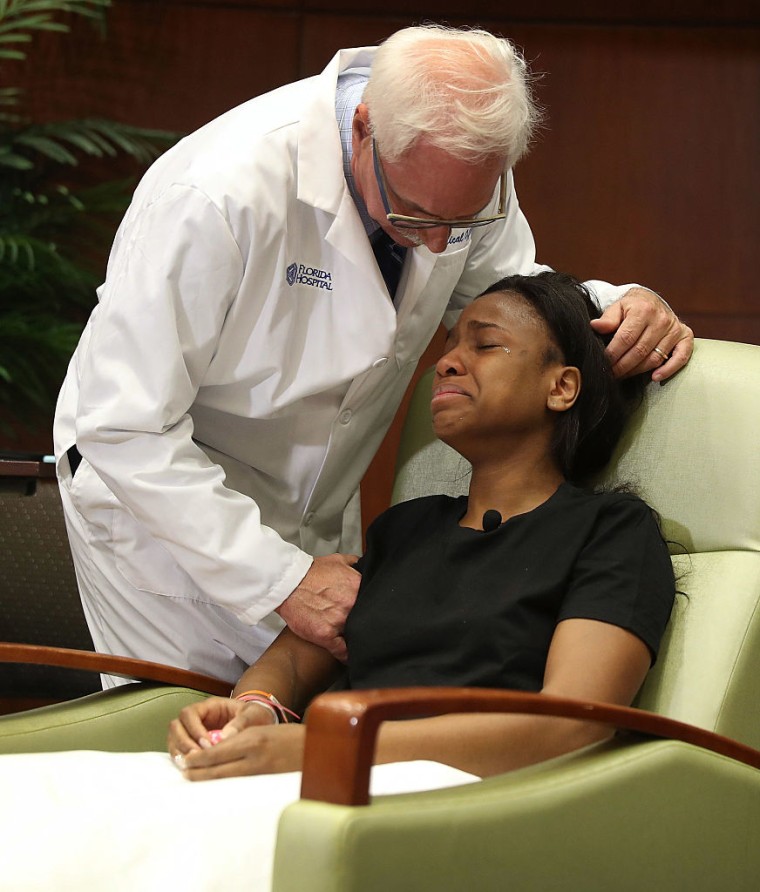 "My first reaction was to cry," Patience Carter, a Pulse survivor whose femur was shattered during the shooting, told NBC News. "I cried because I actually believed that this world could change for the better, and that hope was shattered."
Carter, who recently won first runner-up in August's Miss Black America contest, said while life continues after a tragedy like this, those who experience a nightmare like a mass shooting need as much support as they can get.
"Survivors are going to need love from all corners," she said. "We need to rally around them, hug them, love them and pray for them. There's an unexplainable dark pit you fall into after a tragedy that makes you blame yourself. This needs to be addressed right away, because the guilt of thinking there's something else you could have done will eat you away."
Brandon Wolf was also at Pulse on the night of the shooting. He said he woke up Sunday to multiple notifications on his phone about the Las Vegas shooting. When he realized what had happened, he felt a familiar fear come over him.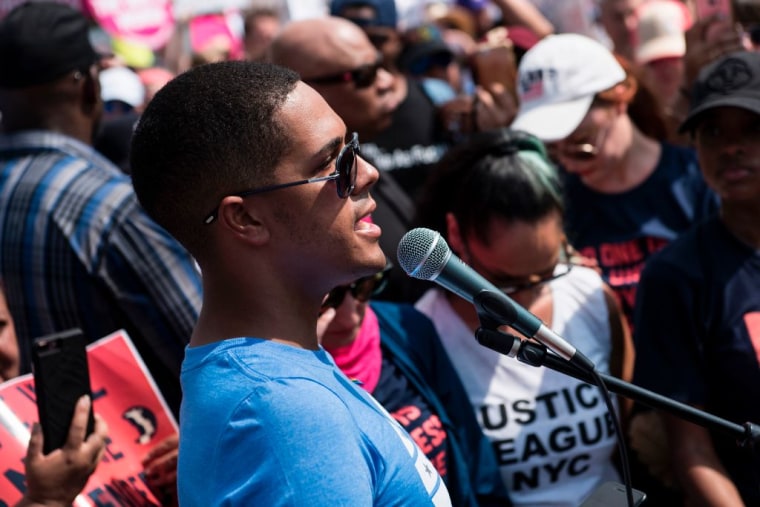 "The word that jumped into my mind was, 'again.' It was eerily familiar," Wolf told NBC News. "For folks in the Pulse community, as well as others impacted by gun violence, this is the reality we live in. Every day, we wake from nightmares of gunshots. Only today, we couldn't wake up. I relived the same fear and heartache I felt 16 months ago."
Pulse nightclub owner Barbara Poma extended her condolences to the victims of the Las Vegas shooting and said more must be done to prevent more deaths.
"Finding words to convey the depth of horror we are all witnessing in Las Vegas is just impossible," Poma said in a statement. "It is just unimaginable that another mass shooting of even greater scope than that of Pulse Nightclub could occur again in this country, but indeed, it has. We must work harder to stop these crimes that destroy human life. We pray for those whose lives were taken, as well as for the wounded and the hundreds who will forever be affected by this monumental tragedy."
The Center Orlando, the city's LGBTQ community center, was one of the organizations that provided resources to people affected in the local community in the immediate aftermath of the Pulse shooting. Following the Las Vegas shooting, a spokesperson for the organization said it "stands side-by-side with Las Vegas in this very trying time."
"We know what they are going through, and we have our arms wrapped around them in solidarity," the spokesperson, Terry DeCarlo said. "The Center has activated our LGBT Hotline and have mobilized counselors to be here at The Center for anyone in our immediate metro Orlando community who has been affected by the tragic news this morning."
Susan Forbes, vice president of marketing and communications at OneBlood Orlando, a blood bank that collected donations and delivered them to Orlando hospitals after the shooting, said she jumped into action when she saw the news out of Las Vegas.
"As soon as we saw this taking place, the first thing we did was reach out to the blood center in Las Vegas, and we are in the process of shipping blood to them to help," she said. "In an instant, something like this, a horrific scene unfolds and blood donors are playing a huge role in helping save those patients' lives."
"It's hard not to think about Pulse," she continued. "It wasn't even a year and a half ago. But don't wait for the tragedy before you donate. We don't know what tomorrow holds. It's vital that blood supply is on hand. It's the blood that's on hand that's going to help save people, every day and everywhere."
Related: Two Survivors of Orlando Attack Reunited to Tell Their Stories
Gays Against Guns, an advocacy group that formed in direct response to the Pulse nightclub shooting, said politicians aren't doing enough to prevent more shootings.
"This is a pain we know very well. There have been many mass shootings since Pulse, and we've seen this play out where an incident like this happens and politicians who gladly take checks from the NRA engage ritualistically on this surface display of grief, and nothing happens," John Becker, a spokesperson for the organization's D.C. chapter, said. "Over 30,000 Americans die every year as a result of gun violence, because we have prioritized unfettered access to murder weapons over human lives."
Wolf called on all Americans to come together and work on a solution to prevent further mass shootings like the ones we've seen in Orlando and Las Vegas.
"This country has an ailment," he said. "We are afflicted with hatred and violence. And if we don't want our own neighbors to be next, it's high time we set aside our differences and started to solve the problem."