The grisly murder of Christa Leigh Steele-Knudslien marked the first reported homicide of a transgender person in 2018. The Jan. 5 incident follows a deadly pattern in 2017, which saw at least 28 transgender people killed by violent means, according to the Human Rights Campaign.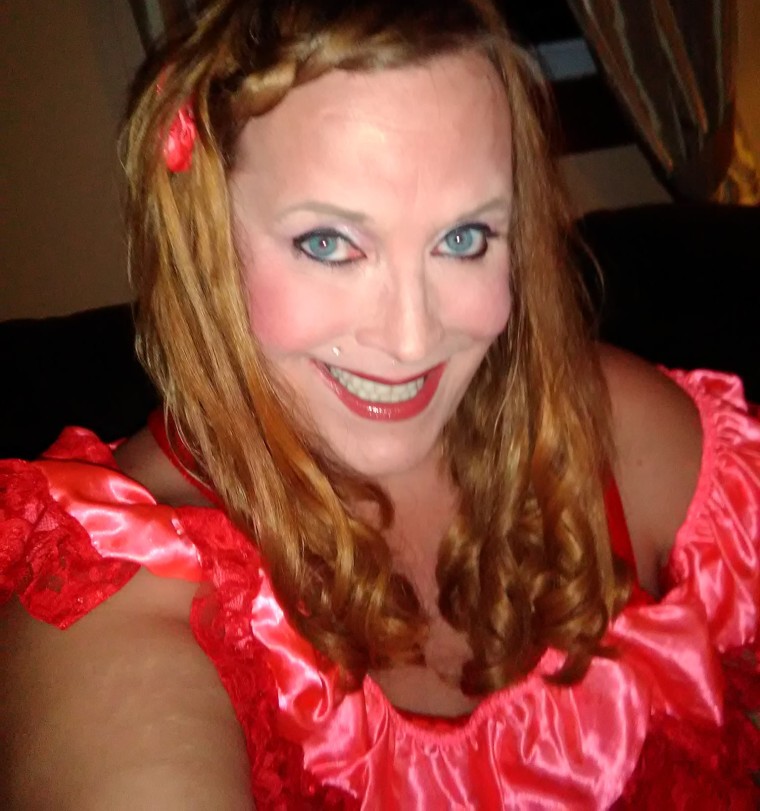 Police say Steele-Knudslien, 42, was found stabbed and beaten to death in the home she shared with her spouse, Mark Steele-Knudslien, in North Adams, Massachusetts. Her husband was charged with her murder and pled not guilty on Monday, but according to police, he had previously admitted to killing her after an argument.
While transphobic violence from strangers accounts for many of the murders of transgender women, Steele-Knudslien's death underscores another issue the community faces: domestic abuse and intimate partner violence (IPV).
"A lot of the murders that have happened over the last few years have been domestic violence or intimate partner violence," Mara Keisling, executive director of the National Center for Transgender Equality told NBC News. "Unless we understand that, we can't really help or address it."
Loree Cook-Daniels, the policy and program director at FORGE, a Milwaukee-based national transgender advocacy group, said, "We don't have complete data ... but based on what we do have, we think up to half of the murders of trans people are murders by either partners or dates."
A 2015 report by the Williams Institute at UCLA School of Law, titled "Intimate Partner Violence and Sexual Abuse Among LGBT People," cited previous studies that found between 30 and 50 percent of transgender people had experienced IPV in their lifetime. A 2014 study cited by the report, which found 31 percent of trans people experienced IPV, found 20 percent of cisgender (or non-transgender) people had experienced this type of violence.
According to the CDC's 2010 National Intimate Partner and Sexual Violence Survey, approximately 33 percent of all women and 25 percent of all men in the U.S. have been physically abused by an intimate partner.
VIOLENCE AT THE INTERSECTION
Intimate partner violence often happens to LGBTQ people at the intersections of race and income, according to a report published by the Anti-Violence Project, which recorded 15 incidents of IPV-related homicides of LGBTQ people in 2016. Of the 15 victims, 60 percent were people of color, and 20 percent were either transgender or non-binary. All of the trans and non-binary victims were people of color.
Of the 28 known transgender people killed due to fatal violence in 2017, according to HRC, 24 of them were people of color, and 22 were trans women of color.
"While the details of these cases differ, it is clear that fatal violence disproportionately affects transgender women of color, and that the intersections of racism, sexism, homophobia and transphobia conspire to deprive them of employment, housing, healthcare and other necessities, barriers that make them vulnerable," HRC stated in a recent report.
These murders are just "the tip of the iceberg" when it comes to violence against transgender women, according to Keisling. She said other types of intimate partner violence against trans people are often overlooked and noted trans women of color are disproportionately impacted.
"It is definitely a trans thing, but it's also a person of color thing, because young people people of color and trans people are all disrespected and much more susceptible to violence," she explained.
BARRIERS TO HELP
Advocates say transgender survivors of intimate partner violence face greater obstacles in accessing resources, such as shelters and mental health services.
Jennifer Wahr, an LGBTQ counselor and advocate at the Elizabeth Freeman Center in Berkshire, Massachusetts, a local anti-domestic violence organization in the community where Steele-Knudslien lived, told NBC News transgender women often encounter discrimination at abuse shelters.
"The first issue is that often trans individuals are portrayed as perpetrators who are coming into the bathroom to abuse a child," Wahr said. "Trans individuals are in fact more likely to be the victims than the perpetrators, and the [Steele-Knudslien] case emphasizes that."
Cook-Daniels echoed Wahr, saying there are often misconceptions about trans people, women in particular, who are seeking help.
"What we have with trans women is some people think they were raised as men, and therefore dangerous and not really women, so they fall into the 'perpetrator' category," she said. "So when they're victimized, sometimes they're not allowed in."
Wahr said shelters should work to be inclusive by clearly stating they accept LGBTQ people and by providing relevant educational information.
"We have made it clear that our shelter for survivors of domestic violence is open to individuals of all gender identities and sexual orientations," she said. "We [also] provide education that violence doesn't discriminate, and that [while] violence is still highly gendered — and people who are femme or female-identified are at higher risk of becoming victims or survivors of abuse — violence against men still does happen."
She said it's important to "break down the stigma around men or masculine-identified people sharing their own stories of abuse."
Janis Broderick, executive director of the Elizabeth Freeman Center, said Steele-Knudslien's murder is a sobering reminder that "trans and gender-nonconforming people face extraordinary levels of violence, and that sometimes they experience this violence at the hands of the people closest to them."
"This cannot go on," she said in a statement. "Now more than ever, affirming services for LGBTQ survivors of violence are a vital need in our communities."