In 1972, a petite but determined mother from Queens, New York, marched alongside her gay son in the New York City pride parade. She hoisted a sign that read ""Parents of Gays: Unite in Support for Our Children."
Before a roaring crowd, Jeanne Manford, an elementary school teacher, became the first mom to publicly support her gay child, according to Liz Owen, director of the communications for PFLAG, the nation's first and largest organization for LGBTQ people and their families and friends.
"She really is the mother of the LGBTQ ally movement," Owen told NBC News. "She is the mom who made it OK to love your LGBTQ kid."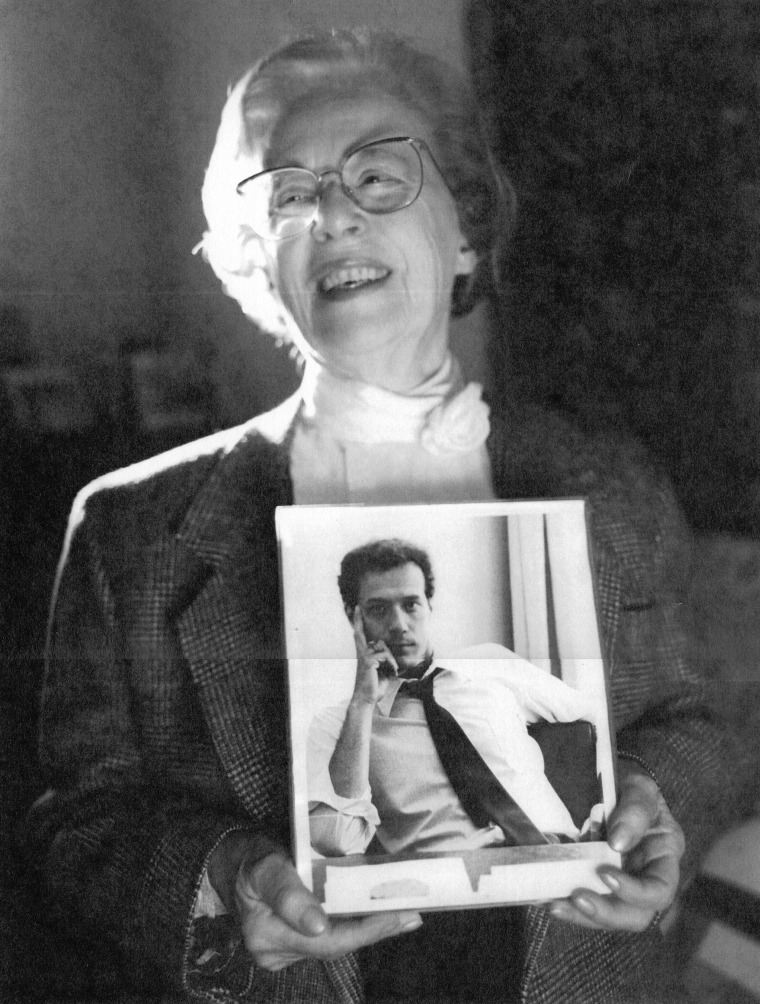 In 1973, Manford went on to found PFLAG, which originally stood for Parents and Friends of Lesbians and Gays. The first meeting, held in the basement of a New York City church, welcomed 20 people, according to Owen. Word began to spread, and parents whose children had come out to them were coming to meetings desperate for support. The organization would eventually grow to over 400 chapters and 200,000 members nationally.
On TV, Americans were soon seeing parents marching alongside their gay children in pride parades, many of them mothers waving their own signs, according to historian Lillian Faderman, author of "The Gay Revolution."
"It went all over the country to small towns," Faderman said, "and parents understood that was their responsibility to come out in favor of their gay kids."
Judy Shepard, who along with Jeanne Manford is one of the most revered mothers in the LGBTQ equality movement, has had to fight for her son posthumously.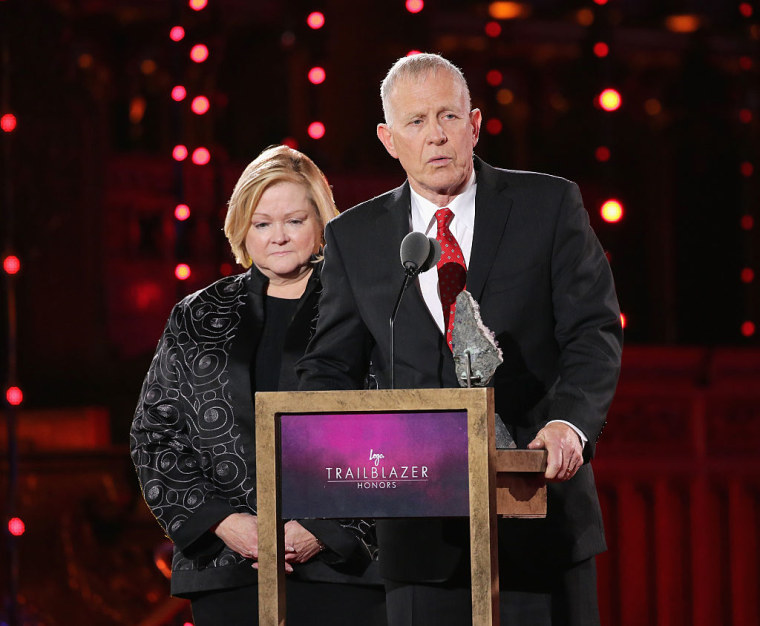 After her son Matthew was murdered in a homophobic attack on the outskirts of Laramie, Wyoming, in 1998, Shepard and her husband, Dennis, started the Matthew Shepard Foundation, an advocacy organization that successfully lobbied for federal hate crime legislation. The Matthew Shepard and James Byrd, Jr. Hate Crimes Prevention Act, signed by former President Barack Obama in 2009, expanded the power of the U.S. Department of Justice to investigate and prosecute hate crimes that targeted victims based on their sexual orientation or gender identity.
Shepard, who speaks regularly at events across the country, said LGBTQ people often tell her she inspired their own mothers to accept them. But Shepard said many still fear their mother's rejection.
"It was the disappointment and the fear that who they are now is not what mom would approve of or love," Shepard said. "I think it's so crushing when that happens."
LONGING FOR ACCEPTANCE
Many LGBTQ youth still fear rejection from their parents. About 40 percent of homeless youth are LGBTQ, with family rejection being the most-cited reason why they don't have homes, according to True Colors United, an organization that advocates for homeless LGBTQ youth. And even LGBTQ adults face rejection.
Amber Cantorna, 34, a lesbian who lives in Denver, Colorado, said she hasn't celebrated Mother's Day with her mom in five years. She said her conservative Christian family disowned after she announced her engagement to another woman.
"Everything about it was devastating, because I was very close to my family growing up," said Cantorna, who chronicled her coming out experience in her book "Unashamed: A Coming Out Guide for LGBTQ Christians."
According to a recent report in the Journal of Adolescent Health, LGBTQ youth ages 12 to 14 are much more likely to die by suicide than their heterosexual peers. Data show that parents of lesbian, gay, bisexual, transgender and queer kids play a large role in the mental health of their children. LGBTQ youth whose families accept their gender identity and sexual orientation are nearly 50 percent less likely to make a suicide attempt compared to those whose families are unsupportive, according to a report published in 2010 in the Journal of Child and Adolescent Psychiatric Nursing.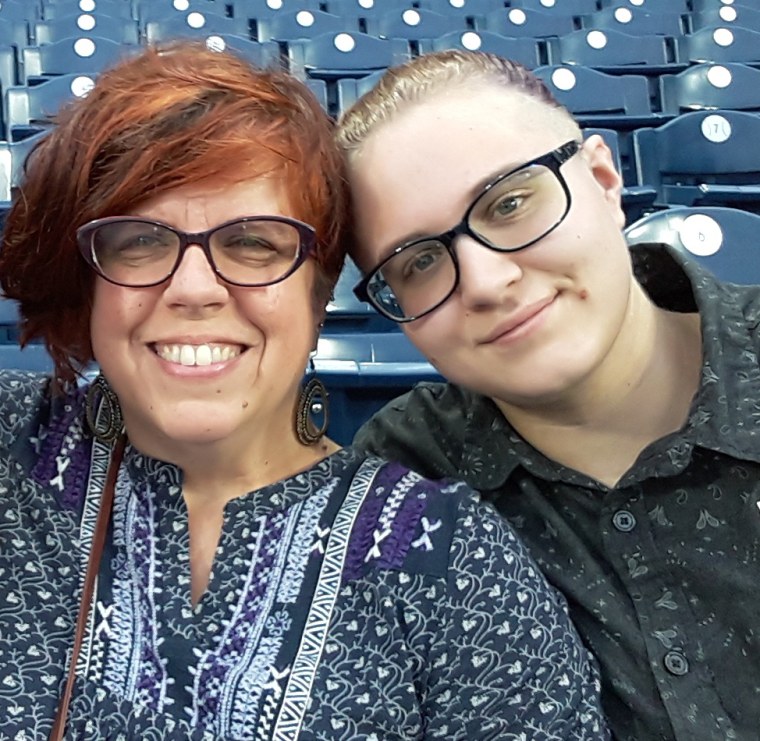 AJ Kingsbury, 22, who is nonbinary and uses they/them pronouns, said their mother's acceptance helped them through severe depression.
"For me to have both parents, but especially my mom on my side, that's definitely a big part of the reasons why I'm alive," said Kingsbury, whose mom, Cynthia Robinson, is a reverend at New Ark United Church of Christ in Newark, Delaware.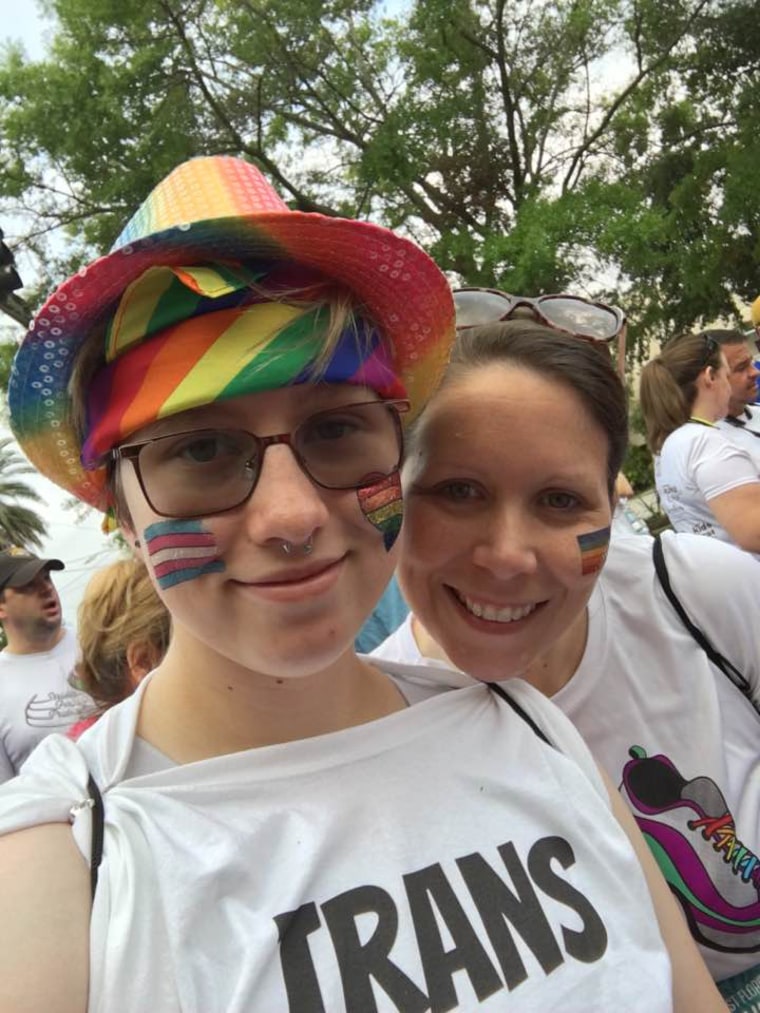 Drew Adams, an 18-year-old transgender man in Jacksonville, Florida, said his mother, Erica Kasper, fought by his side when school officials barred him from using the boy's bathroom. The mother-son pair brought the case to federal court, which they won in July 2018. The school district appealed the decision to the 11th U.S. Circuit Court of Appeals.
"I really don't know where I would be without my mom," Adams told NBC News. "I don't know how well adjusted I would be if I didn't have a supportive family, and if my mom wasn't my biggest ally."
CONTINUING MANFORD'S LEGACY
Across the U.S., thousands of moms have picked up the torch that Manford ignited in 1972 — connecting through social media, forming coalitions and nonprofits, speaking at events, marching in parades, standing in at weddings, and embroiling themselves in political activism.
Liz Dyer, an administrative assistant who lives in the Dallas-Fort Worth area, said she struggled after her son, Nick, came out as gay in 2007. She started a support blog and, eventually, a Facebook group to connect with other moms who also needed support.
"My hope was that every mother would become whole-heartedly affirming and would be able to celebrate their LGBTQ kid," said Dyer, who founded the Mama Bears Facebook group in 2014. "It has grown into so much more than I ever imagined."
Dyer's group has coalesced from 150 to a force of 5,000 moms, and has 50 regional groups across the U.S., according to Dyer.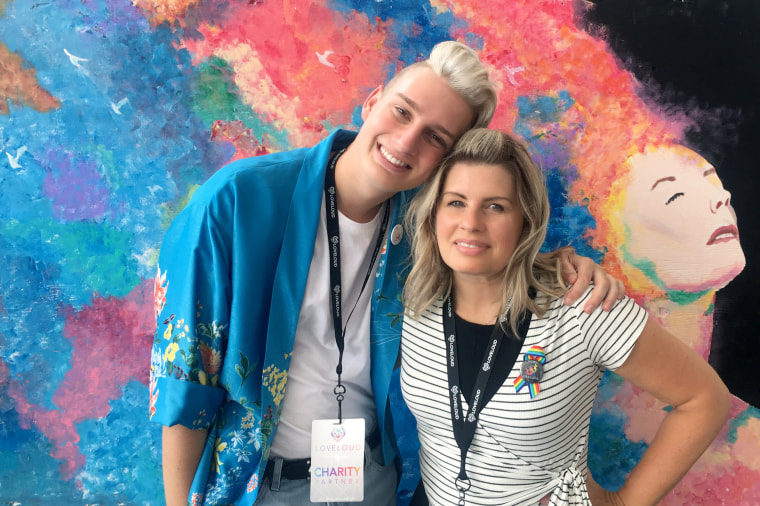 Wendy VonSosen, 48, a Mormon mom in the San Francisco Bay Area, said she also struggled when her son Erik told her that he was gay at the age of 13.
"I went in my bathroom and cried," recalled VonSosen, "because being raised as Mormon, we were taught that being gay was a sin and it was a choice and it was a really, really terrible thing, and so I didn't really know how to process it or what to tell him or how to parent a gay kid."
Desperate for support, VonSosen joined a group for Mormon mothers with LGBTQ children on Facebook called Mama Dragons. The group, founded in 2014 by a woman named Gina Crivello, has grown to over 3,000 moms, and adds about 25 to 50 new members each week from all different faiths, according to VonSosen.
"I think we attract a lot of moms that are already supportive and affirming and that's great because it helps our new moms," said VonSosen, who took helm as president this year, "but our goal is to reach those moms who might not be as affirming and they're not as accepting as they could possibly be for their kids."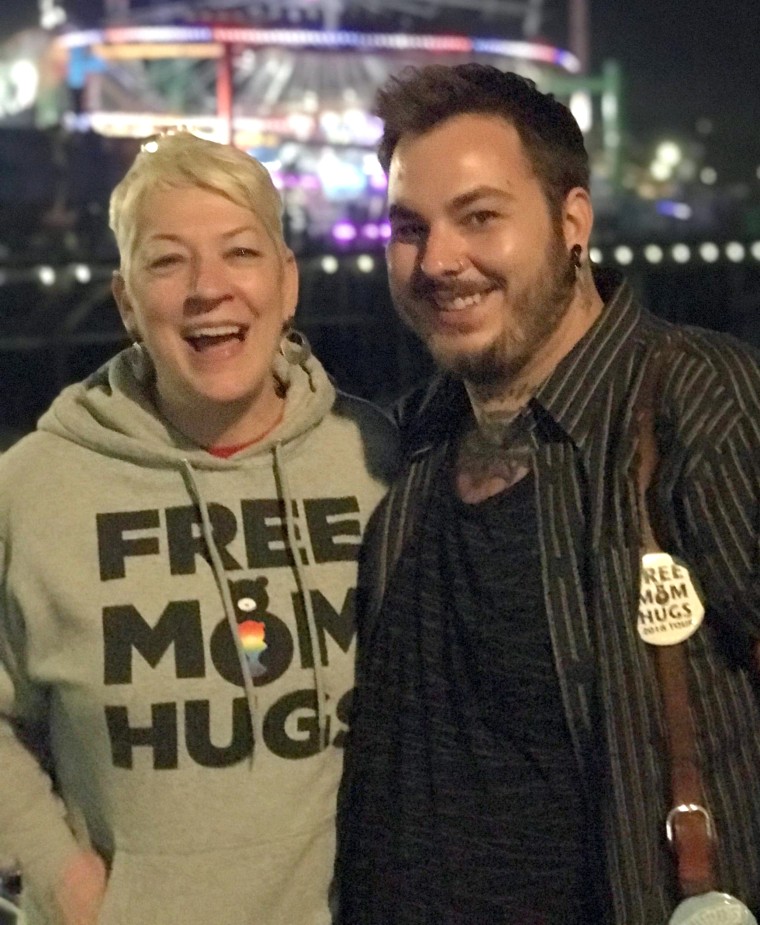 Sara Cunningham, 55, said she was devastated when her son, Parker, told her he was gay in 2014. But the Oklahoma City mom, who comes from a conservative Christian background, said her outlook slowly evolved as she began to educate herself. That year, she discovered the Mama Bears on Facebook.
"I was just blown away by the resources available in this group, the support, and ultimately, just getting educated, finding my voice, and becoming empowered," remembered Cunningham, who went on to found her own nonprofit, "Free Mom Hugs," in 2014. The group, famous for giving out free hugs at pride parades and standing in at weddings for LGBTQ couples, has grown to 48 chapters nationwide and 54,000 Facebook followers.
'SHE WAS THE BRIDGE'
The ally movement Jeanne Manford sparked helped lobby for legislation that advanced gay rights, according to Owen.
"Any time there has been a passage of legislation around LGBTQ equality or civil rights, you will find a PFLAGer in the mix," she added.
This included passage of the the Matthew Shepard and James Byrd, Jr. Hate Crimes Prevention Act in 2009, the fall of "don't ask, don't tell" in 2011 and the legalization of same-sex marriage across the U.S. in 2015.
In the years before her death in 2013, Manford witnessed a surge of parents embracing their LGBTQ children. In 1985, almost 90 percent of American adults said having a gay child would upset them — by 2015, that number dropped below 40 percent, according to the Pew Research Center.
In 1992, Manford's son Morty, a popular gay activist, died of AIDS-related complications at the age of 41. His sister, Suzanne Swan, said her mother was devastated by his death, but she continued to march and advocate for him until she suffered a debilitating stroke shortly before her death.
In January 2013, Swan sat by her mother's hospital bed and told her that then-President Barack Obama had awarded her the Presidential Citizens Medal.
"She squeezed my hand," Swan remembered, "and I think she understood that she was getting it."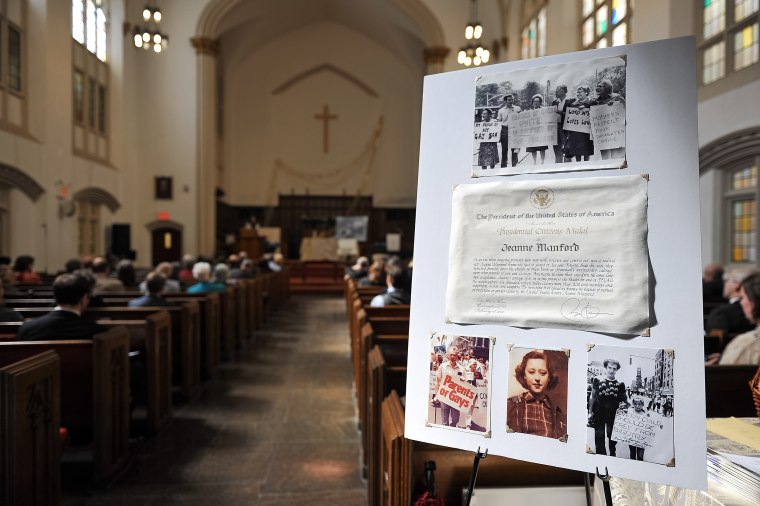 Days later, on Jan. 8, 2013, Manford died. Swan accepted the award two months later on her mother's behalf.
Swan, who lives in Daly City, California, said her mom kept families together and fought for LGBTQ people during a time when no one else would.
"She was the bridge," Swan said.