Lesbian, gay and bisexual adults are more likely than their straight counterparts to abuse substances and experience mental illness, according to a report from the Department of Health's Substance Abuse and Mental Health Services Administration (SAMHSA).
Nearly 40 percent of those who identify as lesbian, gay or bisexual (LGB) claimed to have used illicit drugs in the past year, compared to 17 percent of those who identify as straight. LGB adults also reported higher rates of drinking and cigarette use and were "more than twice as likely as sexual majority adults to have experienced any kind of mental illness in the past year."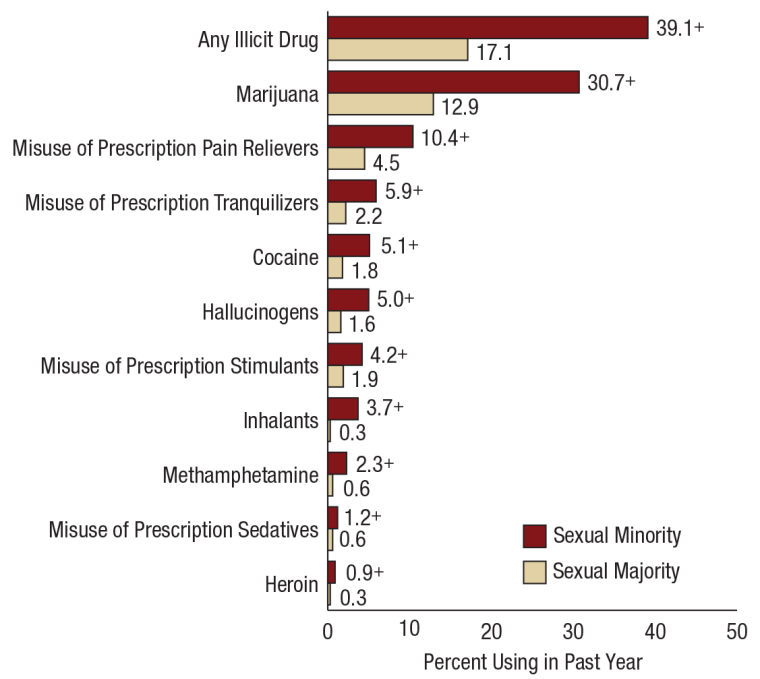 "The report was compiled partly to address lack of data in this field," Jonaki Bose, the report's co-author, told NBC OUT. "We typically try to target underrepresented groups, whether that's based on ethnicity, age or location. This is one of the first times that there is national, high-quality data available, so hopefully programmatic steps can be taken."
"These illnesses can sometimes be genetic in origin, but what you often find is that, under a certain stress, these symptoms come out," Eric Yarbrough M.D., director of psychiatry at Callen-Lorde Community Health Center in New York City, told NBC OUT.
"Higher levels of stress can lead to substance abuse and mental illness, and sexual minority adults have often faced rejection, whether from their families, from religious organizations or through other forms of discrimination. Sometimes they even turn to alcohol or drugs to self-medicate," Dr. Yarbrough added.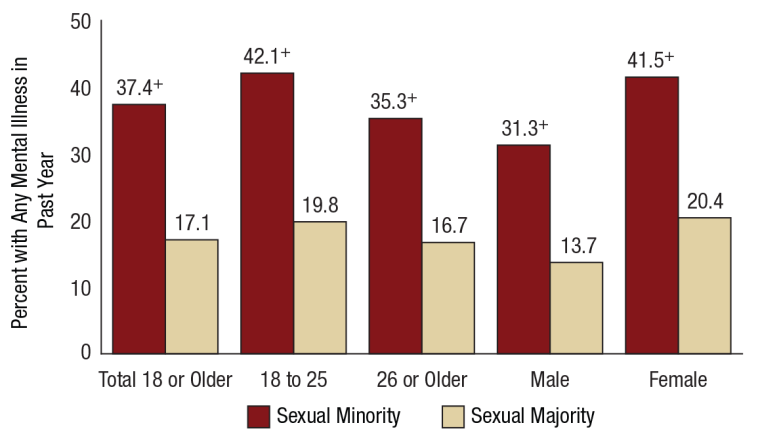 One of the report's findings that could potentially be interpreted as a silver lining for the LGBTQ community is that among adults who need substance abuse treatment, lesbian, gay and bisexual adults "were more likely than their sexual majority counterparts to receive any substance use treatment."
"I hope we can take that as good news, that people are becoming more comfortable visiting health experts," Dr. Yarbrough said. "On the other side of the coin, it could mean that those who are not as accepted by their families or other social conditions are turning to their healthcare provider to fill those roles."
RELATED: Study: Transgender People Face Health Challenges Worldwide
So what can be done to address the substance abuse and mental health disparities affecting the LGBTQ community?
"Organizations have already started addressing this issue by calling for more research and more education for healthcare providers," Dr. Yarbrough said. "Addressing health-related issues that affect the LGBT community is not really taught in medical school or in residencies. Sometimes all you get are two hours of training and that's it. At the very least, healthcare providers must graduate with a high level of education on these issues."
If you are struggling with mental illness or substance abuse issues, Callen-Lorde has free LGBTQ affirming resources and training information for mental health providers available online at www.callen-lorde.org.