Some of the best lesbian-themed films have come out of Canada, from Patricia Rozema's "I've Heard the Mermaids Singing" and "When Night Is Falling" to '90s classic "Better Than Chocolate" and the boarding school love saga "Lost and Delirious." Lisa Cholodenko's "High Art," the Indian romance "Fire" and Julianne Moore-Amanda Seyfried thriller "Chloe" all had Canadian ties, and all of these titles were explicit in their own expressions of relationships between two women. Even "The L Word" was mostly a Canadian affair. So perhaps it's no surprise that "Below Her Mouth," one of the sexiest selections of lesbian cinema, was written and directed by women in Canada, where the support for their very specific and Sapphic story was never threatened by the censorship that so many stateside companies and studios face.
Shot in Toronto, "Below Her Mouth" stars out model Erika Linder in her first major acting role as Dallas, an androgynous roofer who is unsettled in life and bored with her current girlfriend (who we meet mid-coitus) until she meets Jasmine (Natalie Krill), a fashion editor engaged to a man. They first meet when Jasmine gets catcalled by Dallas' male roofing companions, but reconnect later after Jasmine's bisexual friend pulls her into a lesbian bar. They engage in a push-and-pull of magnetic flirtations, with Jasmine first attempting to put Dallas off but eventually giving in. While viewers will not feel like this is unexplored territory (see: Shane McCutcheon), what they will find is a kind of titillation and story of romance that is just for them, something that admittedly hasn't existed since Shane & Co. disappeared from regular Sunday night viewing. There are several lengthy and explicit sex scenes that come closer to resembling actual lesbian sex than most movies have (excuse the pun) been able to nail — scenes that were not directed by men and then marketed to a wider audience for thinly veiled voyeurism.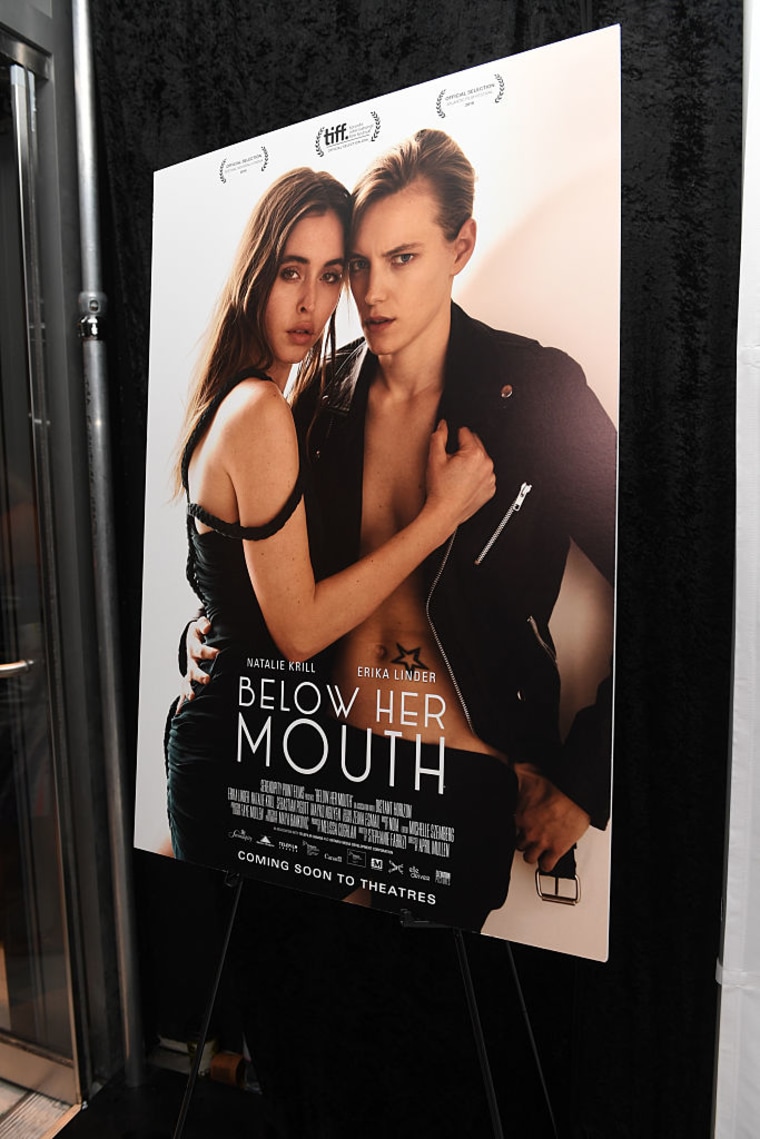 "Before anyone auditioned, they wanted to make sure everyone was game for the material," actress Natalie Krill said. "It's pretty demanding physically. So I read it, and it made me feel a lot in many ways —I was turned on, I was sad and thinking of playing the role of Jasmine, as an actor, I was terrified."
But for an actress who felt she was finding "a common ground in a lot of the roles I was getting," she was looking for a challenge, and "Below Her Mouth" offered several, including an intimate scene in which Jasmine fantasizes about Dallas while masturbating with a faucet in a clawfoot tub.
"When you're auditioning, it feels like a shot in the dark, so you're kind of more fearless about it. And then actually getting it, I kind of felt like 'Oh man, what have I gotten myself into?'" Krill said laughingly. "But in an excited nervous way. While we were actually filming it, I definitely felt a lot of that, but I think it actually served Jasmine, because that was a lot of the point I'd dug up around her as a person, was that this is something she'd buried in her, and so she had a lot of fear and was a bit trepidatious about it. So I think there's things that Natalie, me as an actor, were feeling in my personal experience that actually fueled the character as well."
Linder had been cast first as the brooding heartthrob, Dallas, director April Mullen said, and finding someone to play the unlikely starring role was difficult considering how few actors there are that could do justice to such a specific character.
"We wanted Dallas to have this sort of bravado and charisma that was like striking and when she walked into a room, you know, all eyes would turn," Mullen said. " And we were on the hunt for a very long time, because we also wanted to cast queer for queer or try and stay as truthful as we could to somebody who lives that lifestyle rather than an actress playing a role. And we thought that was really important for us in terms of all the roles in our film, to stay as authentic as we could to the world and to those scenes. And so literally one day, I saw the face of Erika Linder in black and white, in this little kind of clip on YouTube, and I immediately responded and was like, 'That's Dallas. That's gotta be our Dallas.'"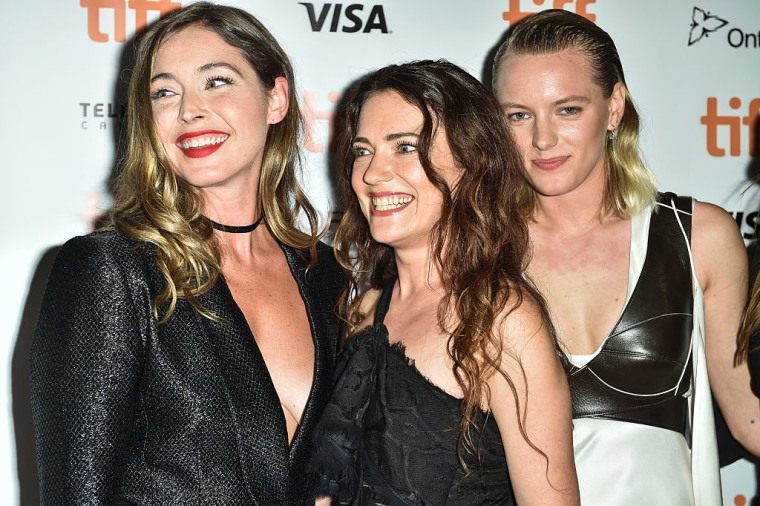 Mullen said she was attracted to Linder's "genderlessness," which leant itself well to the character created by writer Stephanie Fabrizi. And once Linder was cast, the next hurdle was finding someone that could play opposite her in scenes so sensual that they would hold audiences captive. Luckily, Linder's chemistry read with Krill proved to be an instant connection.
"Natalie Krill had this vulnerability and sense of wonder and naiveté to her, and she's very open and has a very thin gill, and Dallas is the complete opposite," Mullen said. "So when she was with Natalie, she sort of surrendered as well, which is a very nice take on what would be stereotypically kind of macho.
"But Erika brought a real softness to the role as well, where she got to let go. As soon as she was with Jasmine, there was like a big shift in her character. She felt safe and, for the first time, let go. I think that was scary for the character and the actor," she added with a laugh.
In the last decade, several mainstream films have touted lesbian love scenes, most notably "Carol," "Blue Is the Warmest Color" and "The Handmaiden," all of which were directed by men. They are also limited to one, whereas "Below Her Mouth" has a handful of Dallas pleasuring another woman (Jasmine and others), which means the film is full of highly-sexualized content, which Mullen sees as part of the narrative.
"There's a huge story being told with their bodies," she said. "Like there's a beginning, a middle and an end in between each sex scene, and each sex scene has its own voice. At night, it's very silhouetted — you can't see much, it's really dark and it's their first time. So everything's a mystery, and they're exploring each other's bodies, and Jasmine's really unsure of what she's doing. But in the day sex, there's definitely this freedom that Jasmine finds, and she really owns it and she kind of takes more of a dominating position, and it's in broad daylight, and they're a lot more comfortable with one another in terms of their sexuality and their bodies."
Krill acknowledged that there might be some viewers who focus largely on the sexual content of the film, but she sees much more to the story.
"Everyone has sex," Krill said with a laugh. "It's a very enjoyable part of life. And the first time I saw the film, I had my concerns. I'm like 'OK, I know what we filmed, I know what the trip was, and I'm curious to see how how that translated into the edits.' And the thing that really took me by surprise and caught me in such a beautiful way was that I was really impressed with how innocent it felt. Regardless of all the sexual content, I felt the thing that came through was the love and the connection between them. It's lovemaking. You can call it sex or you can call it lovemaking, but the story is about two people who have this otherworldly draw to each other, and it turns into a love affair."
Krill said she'd seen "Blue is the Warmest Color" when it came out a few years ago, but didn't do any research into lesbian sex scenes in past films before shooting "Below Her Mouth."
"I kind of just went into my imagination with the character," Krill said. "Maybe the director and the creative team did more of that, I don't know. My imagination was pretty entertaining."
"Below Her Mouth," which will be released on April 28, is essentially a fantasy, and when Krill joked that she and writer Stephanie Fabrizi called the film "a Disney movie," they aren't too far off. A fairy tale for a subgroup of people who rarely to get to see the kinds of things that they dream played out on screen, "Below Her Mouth" presents a romance-fueled intimacy and passion that is too often relegated to a scene directed by a man and played by two straight women. Inevitably, having queer women as part of all major facets of a Sapphic-themed film will have its benefits and its payoffs. And the fact that it came out of Canada, where artists are less censored and more supported by their government and federal funding opportunities offers even more opportunity for filmmakers like Mullen to create work for marginalized communities.
"As a filmmaker, to take that tool to heart and make sure you deliver something with honesty — you hope that there's at least a ripple affect," Mullen said. "It's a really beautiful thing when your art conveys a message without being overly statement tor political about it. Because the film really is just a love story — there's nothing political about it in terms of what they're talking about. It's just an honest depiction of two people falling in love, and when there's a beautiful impact it can make on young females or people who are confused or scared or don't understand their identity or ashamed of their sexuality — all of those things make a really big difference."
Trish Bendix is the Editor in Chief of GO Magazine.