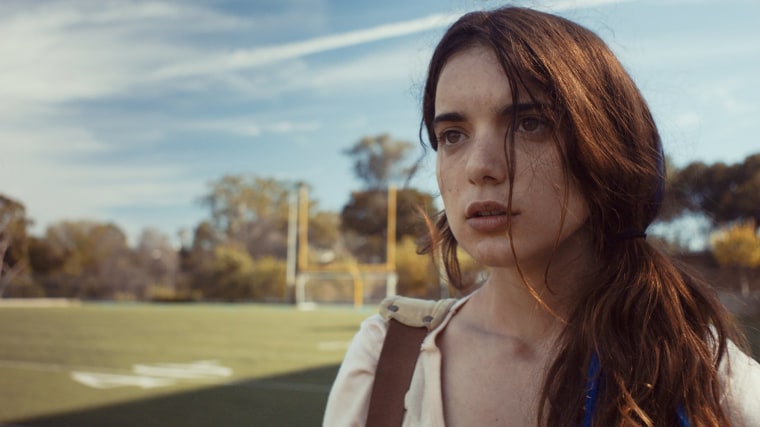 Lesbian-themed films directed by heterosexual men can be a mixed bag. Abdellatif Kechiche's adaptation of "Blue Is the Warmest Color" (based on a graphic novel by out lesbian Julie Maroh) received mixed reviews, with many finding its opus of a same-sex love scene between the two straight leads as uncomfortably lengthy and involved. Park Chan-Wook's "The Handmaiden," based on out author Sarah Waters' classic, "Fingersmith," has a similar aesthetic, with the film decidedly well-intentioned but shot from the inevitable male gaze.
That's part of what makes Kerem Sanga's "First Girl I Loved" all the more fascinating. The Sundance Film Festival award-winning drama is an intensely powerful coming-of-age piece that is shockingly shaded with a layered realism that generally escapes straight male directors. His proven understanding of protagonist Anne (Dylan Gelula) and her love interest Sasha (Breanna Hildebrand) comes through in their awkward but adorable early conversations, their texts that venture into sexting territory and their initial moments of physical intimacy.
"It's not like I set out to make some sort of point or have some sort of drum to beat about this whole thing. It's more like when I had this idea for this film, I knew it was really far away from me and had nothing to do with me, and I had no personal stake in any of the characters, and I felt like any of them were me, or this was mine," Sanga said in a recent phone interview. "That's what really excited me about the story to begin with. I had an idea which has nothing to do with me, and yet I feel artistically connected to it. So I felt, like, free."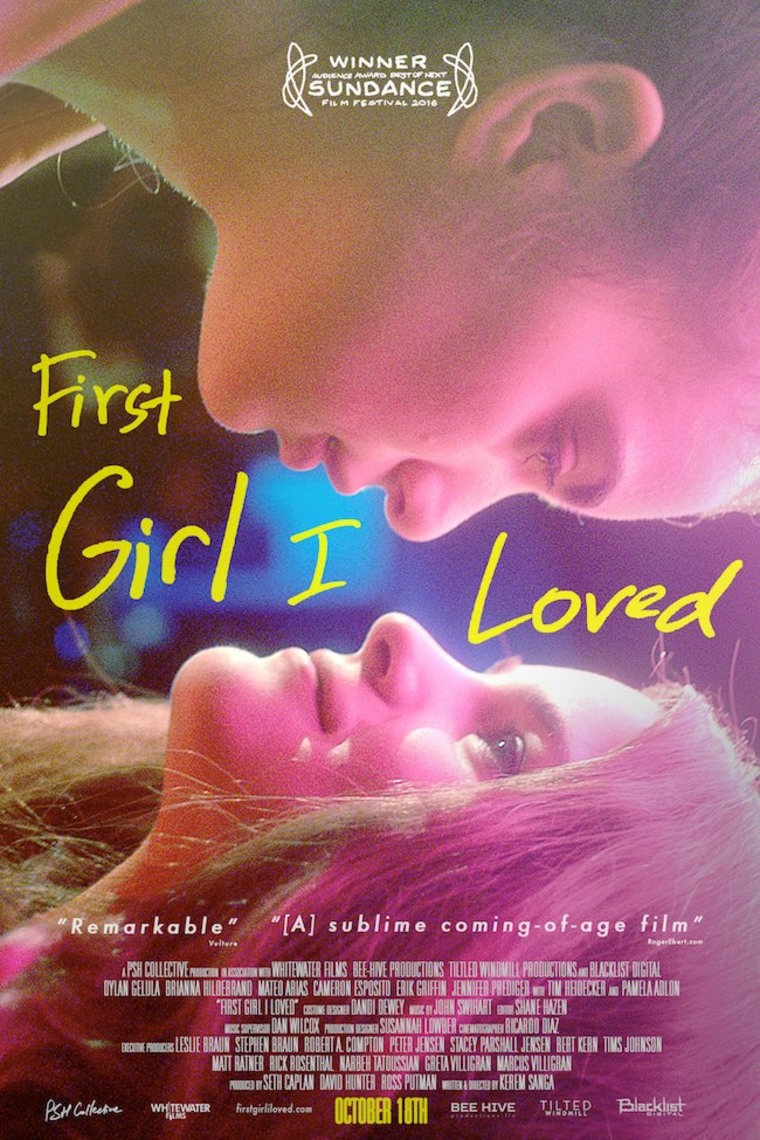 "First Girl I Loved" was partly inspired by Sanga's own sister's coming out as a lesbian, but the story itself is an entirely fictional narrative. Anne, a quirky 16-year-old yearbook photographer, doesn't seem to have many friends except for Clifton (Mateo Arias), whose crush on her is revealed after she tells him she thinks she's fallen for someone—a girl. Specifically, Sasha Basanez, the star softball player at their high school in the San Fernando Valley outside Los Angeles. Clifton's reaction is startling—he forces himself onto Anne, who is confused, disturbed and ultimately, disgusted. Viewers will likely feel the same watching the scene, which the actors play to a disturbing perfection.
"When I met [Arias], he had the most trepidation about the character," Sanga said. "I felt like he really got why he should be a little worried, more than anybody else. Actually some people just turned it down outright because they were worried about playing an unsavory character … I thought 'This guy is perfect. He's worried, but he's intrigued.' I said to Mateo that he should just try not to, not to judge him, and just try to understand him and maybe even identify with his flaws. That's his job—to try to identify with this person's flaws, even though we may not want to. I think he may have really wanted that challenge."
"I've never been asked to do anything as difficult as staying in that place emotionally for so long," Gelula, who plays Anne, said of the scene. "That day, which was only day three of shooting, was really hard for both of us. We really didn't talk to each other much and kept to ourselves in our respective corners—he's such an incredible actor, I believed him so much, that it was extra awful."
After losing her only friend, Anne throws herself into her secret budding romance with Sasha, and the two spend their first night together, sneaking out to a bar where they are hit on by older men but end up kissing on the dance floor. The men laugh and take photos, disappointed when Sasha and Anne leave together without them, retreating back to Sasha's bed where Sanga shows the emotional connection turning physical in an unselfish way. There are no navel-gazing shots of the young women removing each other's delicate bras or cooing orgasmic sounds, no lingering cameras on their naked torsos.
"That's what Anne would be after in that moment—she'd be after more of an intimate connection with somebody," Sanga said, noting that the brief scene was "what the story called for." "That had a physical component to it, but she's after that, especially after what happened to her with Clifton in the bedroom."
"Kerem was a wonderful director, especially because he was so familiar with the material and had a very clear vision of their wants and needs," Hildebrand, who plays Sasha, said. A queer actress, Hildebrand noted that "First Girl I Loved" "reflect[ed] my own high school experience in various ways."
"It's the kind of movie I wish were available to me when I was still in middle or high school," she said.
In 2016, coming out stories are sometimes written off as passé—that homophobic reactions are a thing of the past. But "First Girl I Loved" exhibits a more modern-day version of this, beginning with Clifton's horrifying reaction to Anne's crush on Sasha and Sasha's own actions after being with Anne. At school, Sasha ignores Anne, pretends like nothing happened between them and even accepts Clifton's invitation to go to on a date (she's panicked when she finds out he knew about her relationship with Anne but unaware of anything that transpired between Anne and Clifton.)
Anne cannot move past her feelings for Sasha, convinced she can win her back, and makes a bold move: She places a photo of them kissing in the school yearbook. When the book comes out, Anne, Sasha and Clifton are called into the principal's office, along with their parents. It's the first time Anne's mother (Pamela Adlon) understands what her daughter has been struggling with, and her empathy is met with Sasha's mother's declarations that her daughter is not gay and the yearbooks must be collected from every student and reprinted. Sasha, meanwhile, sits stoically, avoiding the eyes of everyone in the room.
Despite the legalization of same-sex marriage and social progress for LGBTQ people in the last few years, Sanga said it's "not the gay hipster paradise in LA public schools that you might think it is."
"The type that I felt might go on where Anne lived is a more insidious homophobia—homophobia that might be driven underground, because it's no longer 'cool' or fine to be totally outwardly homophobic," Sanga said. "But people still have this fear of the other to some degree, and it's non-normative. Everyone's been defining themselves in terms of heterosexual relationships their whole lives, and so this is an otherness to them. I guess it just came down to where everybody was. Even in the conference room, [Sasha's mother] seems to be the most homophobic of them all, saying 'My daughter's not gay,' and you get the impression it would be bad if she was. I just felt like she was trying to defend something that she didn't even know didn't need defending."
"First Girl I Loved" may be a part of a queer coming of age genre that already exists, but it adds something new to the canon. The highs, the heartbreak, the conflicts are a fleshed-out modern portrait of sexual identity and social norms free of heavy-handedness or gratuitousness. Sanga might have never been a teenage girl, but he put forth a concerted effort into what it might be like for two of them in 2016.
"I never get to see female characters imbued with the realism Kerem gives Anne and Sasha," Gelula said. "They're flawed, mostly rational-thinking, real people, which is so much more interesting to watch."
"First Girl I Loved" won the Best of NEXT Audience Award after its premiere at the Sundance Film Festival and has received largely positive reviews from critics. But Sanga said he still hasn't gotten a review from one whose opinion may matter most: His sister, who hasn't been able to see it yet.
"I showed her one of the last [trailers] while I was still kind of tweaking it, and she said 'It's really cool,' something that she would watch and 'super gay,'" Sanga said. "She's going to see it in a theater. I asked her if she wanted to see a link off the internet and she said 'Nah.' I think she will [be a big fan]."
"First Girl I Loved" is now available on iTunes, on demand and in select theaters.