/ Source: Associated Press
Some things are universal about being a teenager: The budding sexuality and sense of identity, the dramatic emotions, the profound need for acceptance and confusing inklings of first love.
Countless movies (and books and songs and TV shows) plumb the agony and elation of teen romance, but "Love, Simon" brings fresh perspective to the genre by focusing on an experience unseen in coming-of-age tales: What high-school first love might be like if you're gay.
This film treats 17-year-old Simon Spier's quest for love and self-acceptance with the tender, timeless, Hollywood touch of John Hughes: It's a classic story of a first crush made groundbreaking by centering on a closeted gay kid.
Nick Robinson is Simon, a shaggy-haired high-school senior who describes his life as "totally normal." He has a loving family and the same clutch group of friends for years. Simon is gay — he's known ever since a recurring adolescent dream about Daniel Radcliffe — but has kept his sexuality a secret from everyone.
He finally finds an outlet after an anonymous post on the school's online gossip forum. A student calling himself Blue confesses that he's gay but hasn't told anyone, and Simon writes to him, using a pseudonym. They begin an anonymous pen-pal friendship that turns into a deep connection, and Simon starts fantasizing about Blue's real identity.
He keeps this all this from his friends, who are drawn in classic Hughes tradition: There's awkward, self-conscious Leah ("13 Reasons Why" star Katherine Langford), who's been crushing on Simon since they were kids; Abby (Alexandra Shipp), the transfer student and hottest girl in school; and Nick (Jorge Lendeborg, Jr.), a nice-guy athlete who serves as Simon's heterosexual foil.
All the other "Grease" and "Sixteen Candles" archetypes are here, too: The bullies, jocks and popular kids, the wacky administrator (played oddly over-the-top by Tony Hale), and the no-nonsense drama teacher (Natasha Rothwell, as much of a hilarious standout here as she is on HBO's "Insecure.") Jennifer Garner and Josh Duhamel play Simon's dreamy, slightly farfetched parents.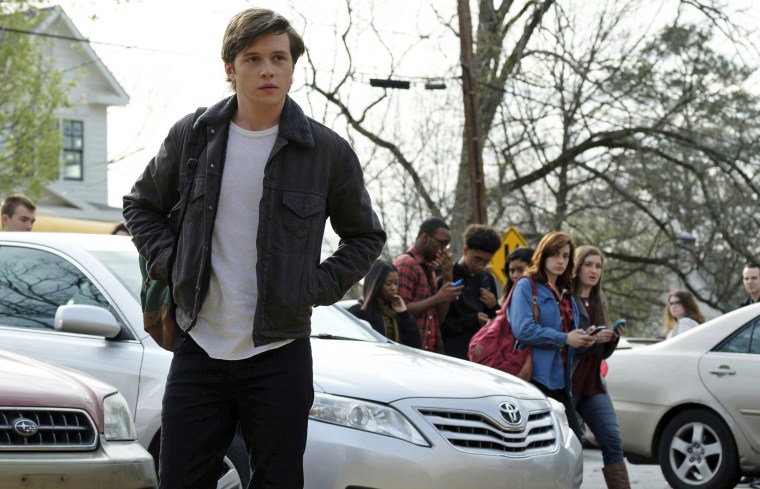 Simon's life starts to unravel when the school's class clown, Martin (Logan Miller), finds his secret emails. Martin threatens to expose the exchange — and Simon's gay status — unless Simon agrees to set Martin up on a date with Abby.
As with any story set in the emotional minefield of high school — especially in the era of social media — dramatic social chaos ensues for everyone. And it rings painfully true whether you were the Leah, Abby, Nick, Martin or Simon of your teenage group.
The heart of "Love, Simon" lies in the authenticity of its characters, which were born in psychologist-turned-author Becky Albertalli's debut novel, adapted by "This Is Us" screenwriters Elizabeth Berger and Isaac Aptaker, and brought lovingly to the screen by director Greg Berlanti. A veteran writer and producer of such teen fare as TV's "Riverdale," ″Dawson's Creek," ″Supergirl" and "The Flash," Berlanti knows this world intimately, both personally and professionally. He says he was "a closeted gay high-schooler" himself and celebrates "Love, Simon" as the first mainstream Hollywood coming-of-age film with a gay lead.
The success of "Black Panther" and the momentum behind #MeToo are propelled by the idea that representation matters, and "Love, Simon" is part of that conversation. Movie fans who aren't white and straight have long projected themselves onto the big-screen stories of those who are. But we all want to see our experiences validated, to have our stories deemed significant, to feel that we are not alone and that others can identify with what we've gone through.
"Love, Simon" is a universal story, even if you're not a gay teenager. The challenge of figuring out who we are and standing comfortably in that identity might begin in high school, but often lasts a lifetime. As Simon so aptly says: "No matter what, announcing who you are to the world is pretty terrifying."
"Love, Simon," a Twentieth Century Fox release, is rated PG-13 by the Motion Picture Association of America for "thematic elements, sexual references, language and teen partying." Running time: 110 minutes. Three and a half stars out of four.