The Roman Catholic bishop of Providence, Rhode Island, said Sunday that he regretted the controversy he created by telling Catholics to boycott Pride Month events but that he couldn't renounce church teachings.
Bishop Thomas Tobin, 71, tweeted Saturday that "Catholics should not support or attend LGBTQ Pride Month events held in June," calling them "contrary to Catholic faith and morals" and "especially harmful for children."
LGBT Pride Month is held in June to commemorate the Stonewall riots, which were a response to a police raid on a gay bar, the Stonewall Inn, in New York on June 28, 1969.
This year marks the 50th anniversary of the riots, which became a crucial inspiration for the modern gay and lesbian rights movement in the United States.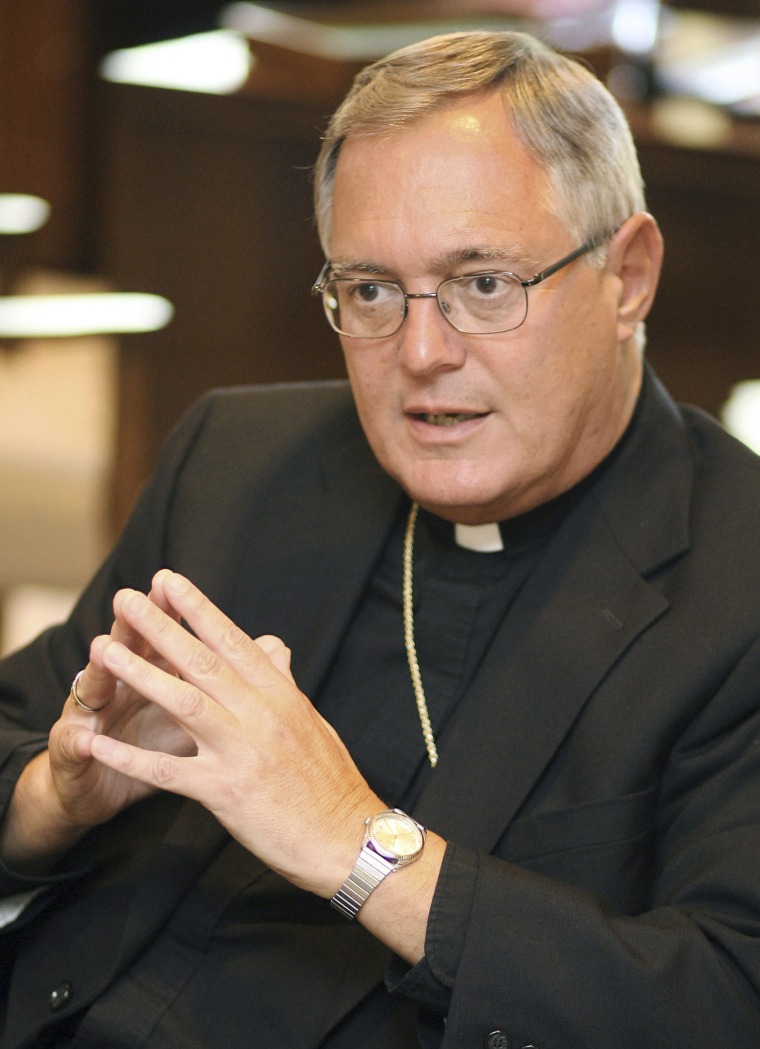 "There have been a lot of calls today for Bishop Tobin's resignation, and I think that's something that should be seriously considered," Joe Lazzerini, president of Pride Rhode Island, told NBC affiliate WJAR of Providence on Saturday.
Lazzerini also serves as the liaison to LGBTQ organizations for Mayor Jorge Elorza, who said Sunday that "Providence is a place where all people are welcome to celebrate pride this month" and that "we stand with and support our LGBTQIA+ community here this June and every day in our capital city."
Gay and lesbian rights advocates, meanwhile, rallied Sunday evening at Cathedral Square in Providence.
"A church, especially the Catholic church, should be preaching love and inclusion, and any church really shouldn't be putting down an entire group of people like that," Erin Mamaril, who attended the rally, told WJAR. "It's just bad to see from a leader."
Tobin released a statement on Sunday saying he regretted "that my comments yesterday about Pride Month have turned out to be so controversial in our community, and offensive to some, especially the gay community."
"That certainly was not my intention, but I understand why a good number of individuals have taken offense," he said.
But Tobin declined to withdraw the statement, saying, "As a Catholic Bishop, however, my obligation before God is to lead the faithful entrusted to my care and to teach the faith, clearly and compassionately, even on very difficult and sensitive issues."
Tobin said he hoped the rally Sunday evening would be a "safe, positive and productive experience for all."