Rhode Island's Teacher of the Year knows how to strike a pose.
Niko Giannopoulos stole the show when he visited the White House in April, posing with a lacy black fan next to President Donald Trump and first lady Melania Trump in the Oval Office.
The photo went viral after Giannopoulos posted it on Facebook on Thursday.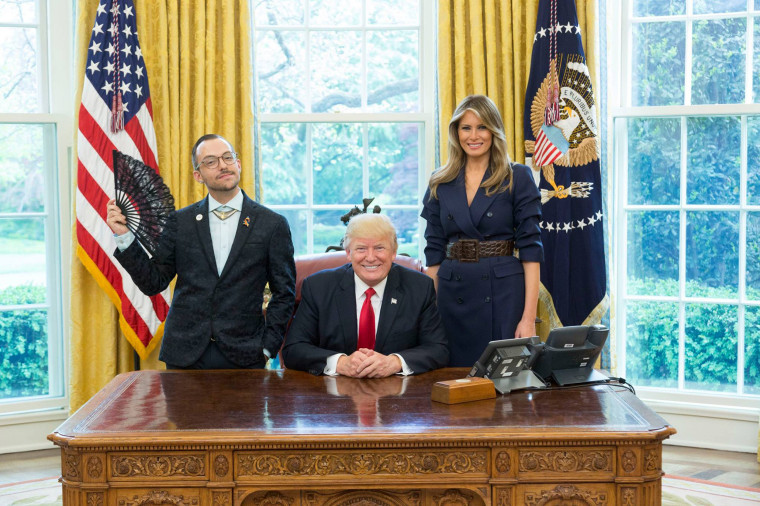 His caption for the post read "Rhode Island Teacher of the Year 2017 meets the 45th President of the United States. That's all" and finished with three rainbow emojis.
He'd been in Washington D.C. for the annual Teacher of the Year awards day on April 26, when winners get to meet and pose for photo-ops with the President.
Giannopoulos is a special-education teacher at the Beacon Charter High School for the Arts in Woonsocket, according to the Associated Press.
In an earlier Facebook post Giannopoulos explained that he wore a rainbow pin to "represent my gratitude for the LGBTQ community" and brought the fan "to celebrate the joy and freedom of gender nonconformity."
Giannopoulos told NPR that the president immediately said "I love the fan" and complimented him on his style.
He told the radio station that White House staff asked him to put the fan away for his official photo but that he managed to keep it by his side until the photo-op.
"I just asked the president, 'do you mind if I use the fan for the photo?' he said, 'absolutely go for it.' So I popped my fan and did my pose."