Ricardo Lima, 29, of Rio de Janeiro, never pictured himself joining any kind of martial arts class, as he worried he'd be entering a predominantly heterosexual environment overflowing with machismo. But after being told by a friend about Piranhas Team, a self-defense group founded by LGBTQ activists in Rio, Brazil's second-largest city, he decided to try out its Krav Maga class.
"I could see right away that it was the perfect chance for me to learn how to defend myself and stop being scared of homophobic attacks all the time," Lima told NBC News. "After being threatened many times in my life, since I was a teenager, in different places, I started to feel scared of going out and even walking toward men on the streets."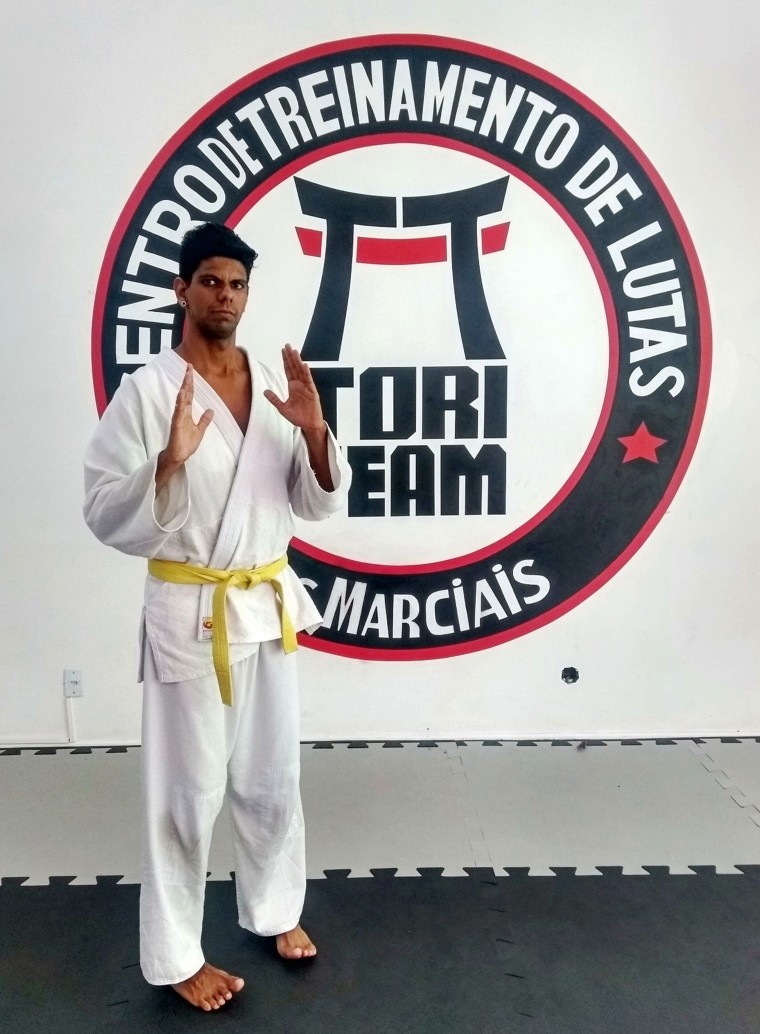 The self-protection workshops offered by Piranhas Team provide LGBTQ people, like Lima, with practical techniques to defend themselves against physical attacks and enable vulnerable members of the community to feel more confident in defusing potentially dangerous situations.
While self-defense classes have been offered by Piranhas Team since 2016, the organizers witnessed a substantial increase in demand after self-declared "proud homophobe" Jair Bolsonaro was elected president of Brazil in October 2018.
Halisson Paes, 42, one of the founders of Piranhas Team, attributes a large part of the group's growth to the anti-gay rhetoric of Bolsonaro, who previously said: "I would be incapable of loving a gay son. I prefer that he die in an accident."
"We used to have two classes with about 10 people in each, Paes said. "After the elections, this number increased to five classes, also with about 10 people in each."
The Brazilian human rights organization Grupo Gay da Bahia reported that 420 LGBTQ people were killed in Brazil last year. A separate report published by two Brazilian trans rights groups reported that 163 transgender people lost their lives in Brazil in 2018 through attacks motivated by their gender identity.
"People don't want to be helpless in the face of rising violence," Paes said. "Violence against LGBT people in Brazil has increased as hate and prejudice have proliferated — this has increased the fear felt by LGBT people."
"The great benefit of self-defense and training with people facing similar problems is the empowerment that stops people feeling hostage to fear," he added.
'Survival self-defense'
Self-defense classes specifically catering to LGBTQ people are not unique to Rio de Janeiro. Such classes can be found in the U.S., the U.K. and Australia.
Orlando, Florida, the home of Disney World, has long attracted visitors from around the world, but the city made global headlines in 2016 for a tragic reason: It was the site of the deadliest attack on LGBTQ people in American history. Orlando's Pulse nightclub massacre, along with other high-profile attacks on LGBTQ people in Florida, placed renewed attention on the risks faced by LGBTQ people in the state.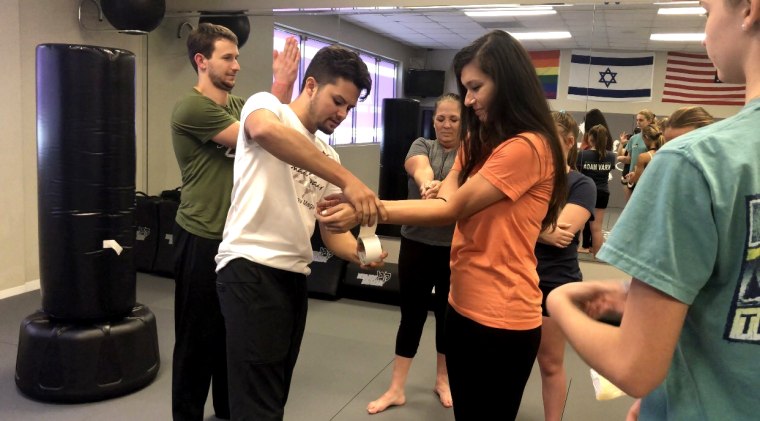 As a response to violent crime against marginalized communities, Reneé Rose co-founded Shaan Saar, a studio in Orlando, in June 2018. She said Krav Maga, which is taught at her studio, goes beyond martial arts — it's "survival self-defense."
"Krav Maga was actually created for this very purpose during World War II, as a way for those persecuted during the Holocaust to resist, protect themselves and survive," Rose, who's also an instructor at Shaan Saar, explained.
"What we teach at Shaan Saar is specifically adapted for the LGBT community, women and violent crime survivors — those who experience hate crimes and need something that goes beyond what martial arts schools are capable of teaching," she said.
Anti-gay epithets have been used by prominent figures in the martial arts community, including former Ultimate Fighting Championship champion Andrei Arlovski and the current UFC president, Dana White. Shaan Saar, however, has a zero-tolerance policy for homophobia and all forms of discrimination, according to Rose, who added that students' pronouns and gender identity are respected at all times.
"When someone knows they're safe, they learn and retain faster, increasing confidence and skills very quickly," Rose claimed.
Transgender women are particularly at risk of violent crime in the U.S., according to advocates. Human Rights Campaign, a national LGBTQ advocacy organization, reported that 26 transgender people were killed in the U.S last year, with a majority of these victims being black trans women. In recent months, Rose said there has been a significant increase in attendance by trans youth at Shaan Saar.
"The community wants to be proactive and not wait for the worst-case scenario," Rose explained. "It's a practical preparedness, and the classes and events we host have become increasingly popular, especially as trans crime continues to rise."
Heightened risk of violence
This year's wave of anti-LGBTQ attacks in Texas, including the deaths of three African American trans women, caused members of the local LGBTQ community to feel increasingly concerned about their safety. In response, the Dallas Police Department partnered with Chamberlain Studios of Self Defense to offer a free, one-off LGBTQ self-defense workshop.
The workshop, which was held in late July, was the first of its kind offered by the Dallas Police Department. More than 100 members of the LGBTQ community attended the event, which provided hands-on defensive techniques.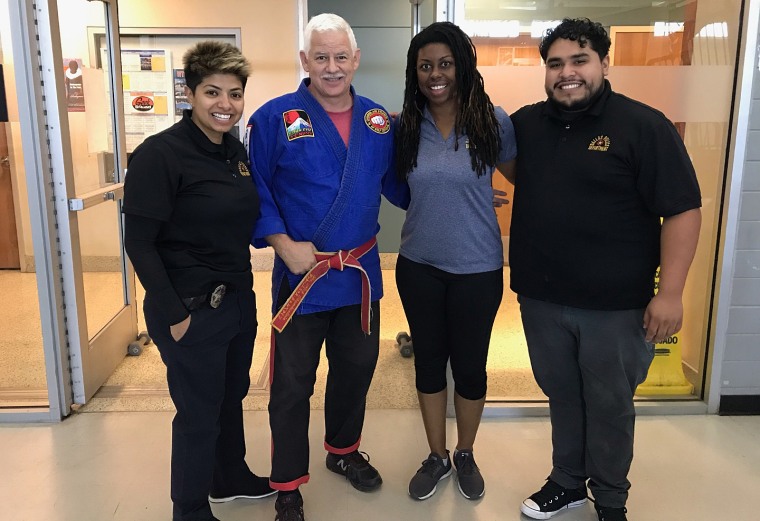 "Interest in self defense training tends to be driven by the news cycle, with more interest following an explosive news story," said Nick Chamberlain, owner of Chamberlain Studios and a 10th-degree black belt. "Like with anyone else, the LGBT community can learn practical skills that begin with awareness of your surroundings and obvious risks associated with your location and activities such as being alone, unfamiliar places and people."
The aim of self-defense classes, like the ones held by Piranhas Team, Shaan Saar and Chamberlain Studios, is to train students to use simple and effective techniques in the event of a physical attack so they can escape an immediate threat.
"The physical skills and mental and emotional strength gained from learning how to defend oneself are integral to one's feeling of self worth and personal value," Chamberlain said. "These combine to create confidence and self assurance that allows us to go about our lives without fear of sudden violence."
While anyone can be the target of a violent attack, LGBTQ people face a heightened risk of violence. LGBTQ people make up an estimated 4.5 percent of the U.S. population, but they make up more than 16 percent of federally reported hate crime victims, according to the FBI's latest hate crime data.
In the U.K., reports of anti-gay hate crimes more than doubled in just five years. This increase is part of the reason Ishigaki Jujitsu, the U.K.'s only dedicated LGBTQ martial arts club, has seen an increase in interest over the past few years.
For 25 years, Ishigaki Jujitsu has embraced the "gentle art" philosophy of Jiu-Jitsu and has taught students how to use an attacker's force against them. The studio also seeks to give LGBTQ people the confidence and tools to protect themselves in any number of potentially dangerous situations.
"People are quite often surprised that a LGBT martial arts club exists at all," said Ronan Winters, a senior instructor at Ishigaki Jujitsu. "We frequently get people saying to us they would have joined years ago if they had known it existed."
Winters said there are many reasons why, aside from fear of anti-LGBTQ violence, people take classes at Ishigaki Jujitsu.
"Some people really want to train for a black belt, some want to compete," he said. "A lot of people come just to make friends but then find they love the training so stick around."
For Lima, attending Piranhas classes gave him peace of mind and self-control.
"Now, Krav Maga is no longer a need, but it's turned out to be a great passion in my life," he explained. "I'm going all the way to the black belt."