Figure skater Adam Rippon has not been shy about speaking out on issues that matter to him. The newly minted Olympic bronze medalist has talked about the importance of LGBTQ representation at the Winter Games, and he has publicly sparred with Vice President Mike Pence over Pence's alleged support of so-called gay conversion therapy.
This week, Rippon spoke up about another issue, one that has reportedly been an open secret in the world of male figure skating and a pervasive problem in the gay male community: eating disorders.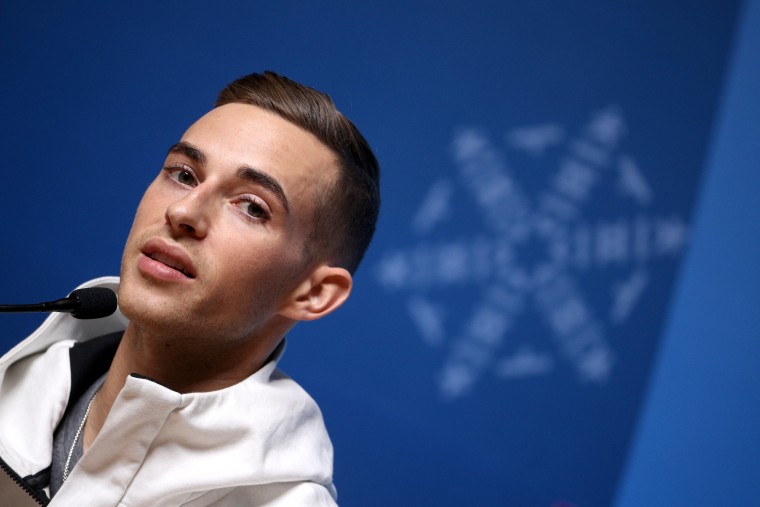 In an interview with The New York Times, Rippon, who is openly gay, spoke about body issues in the world of sports and the pressure he felt to be thin in order to appeal to the judges. He also talked about his former draconian diet, which he said consisted of just three slices of whole grain bread topped with I Can't Believe It's Not Butter a day.
"It makes me dizzy now to think about it," Rippon told the paper. He went on to speculate that he may have suffered a stress fracture before breaking his foot in 2017 due to "not getting enough nutrients."
While Rippon, who is openly gay, spoke specifically about body issues in the world of sports, his comments highlighted the often overlooked subject of eating disorders and body-image issues in men, particularly gay men.
Approximately 20 million women and 10 million men in the U.S. will have an eating disorder at some point in their lives, according to the National Eating Disorder Association (NEDA). The organization also found gay men struggle disproportionately with body image issues and eating disorders: Though they are thought to make up just 5 percent of the national male population, gay men account for 42 percent of men who report having an eating disorder.
OBJECTIFICATION
"What you often find is gay men report to feeling objectified often in the same way that women do," Renee Engeln, a professor of psychology at Northwestern University, told NBC News. "We know that the feeling of being sexually objectified, especially when it's chronic, leads to body dissatisfaction and shame."
Engeln added that gay men, like other marginalized communities, are more likely to suffer from "minority stress," the added psychological burden of social stigma and discrimination. This, she said, can also increase the risk of developing eating disorders as well as a host of other issues, like anxiety and depression.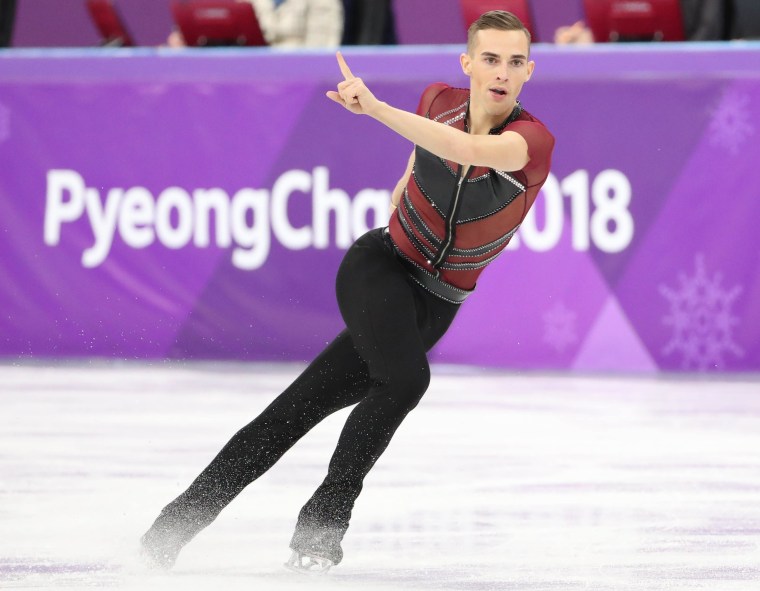 While discussing Rippon, Engeln, whose research focuses on body-image issues and objectification, noted that athletes are often frequently objectified for their bodies, which can lead to increased risk of developing body dissatisfaction.
"There's long been links between eating disorders and sports, but not all sports," she added. "The key is it's sports with an aesthetic purpose, any sport where it's not just what your body does, but how it looks when you're doing it."
SHAME AND GUILT
Troy Roness, a representative for NEDA and an openly gay man who has struggled with body dysmorphia and anorexia, noted that men, both gay and straight, are less likely to seek help for an eating disorder. Shame and guilt, he said, likely play a big factor in this reticence.
"I think most people associate eating disorders with 15-year-old white females," he said. "However, we've come to know that eating disorders affect everyone of every gender, faith and ethnic background. The perception that it's 'a girl's disease' is because women seem more comfortable than men with coming forward."
Engeln echoed Roness, saying the perception of eating disorders as a feminine disease likely makes men hesitant to seek help.
"Part of our concept of masculinity and manhood is not being vulnerable," she said. "We see this with all kinds of struggles that men don't feel they can talk about, but with eating disorders, it's particularly bad, because we see the issue as feminine."
"If being vulnerable is a threat to manhood, being vulnerable and having the same issue as women is a double hit," she added.
Roness and Engeln both speculated, however, that gay men may be more likely than straight men to disclose their struggle with an eating disorder. This, they said, could partially explain NEDA's findings that gay men account for more than 40 percent of men who report having an eating disorder.
Roness said that in his case, he used restricted eating to exercise control over his life and to project strength.
"It's tough for individuals to come forward, because men are supposed to be psychologically strong, and asking for help or admitting there's an issue is very hard," he said. "The eating disorder tells you that being thinner or controlling food or exercise makes you strong. That's the very opposite of asking for help."
Rippon, who has cheekily labeled himself "America's sweetheart," has become a beacon of confidence and strength for many gay men, thanks to his Olympic medal-winning performance on the ice and his penchant for snappy jokes. He even delivered one on Valentine's Day about his looks.
"With everything going on in the media about me this Valentine's Day I don't want people to get distracted and forget how beautiful I am," he said on Twitter.
"On the outside," he added.