Rosie O'Donnell has volunteered to dress up and play Steve Bannon, the controversial former Brietbart editor currently serving as President Donald Trump's chief strategist.
Calls to cast O'Donnell as Bannon on "Saturday Night Live" went viral on social media Monday night as Twitter users cracked jokes about how much the casting would likely drive Trump — who seems to consider O'Donnell an arch-enemy of sorts — into a rage.
Melissa McCarthy's inspired take on White House Press Secretary Sean Spicer dominated headlines since the show aired over the weekend. Adding to the fire, Politico.com late Monday quoted sources close to the White House as saying insiders were most upset that Spicer was played by a woman. NBC News hasn't confirmed those accounts.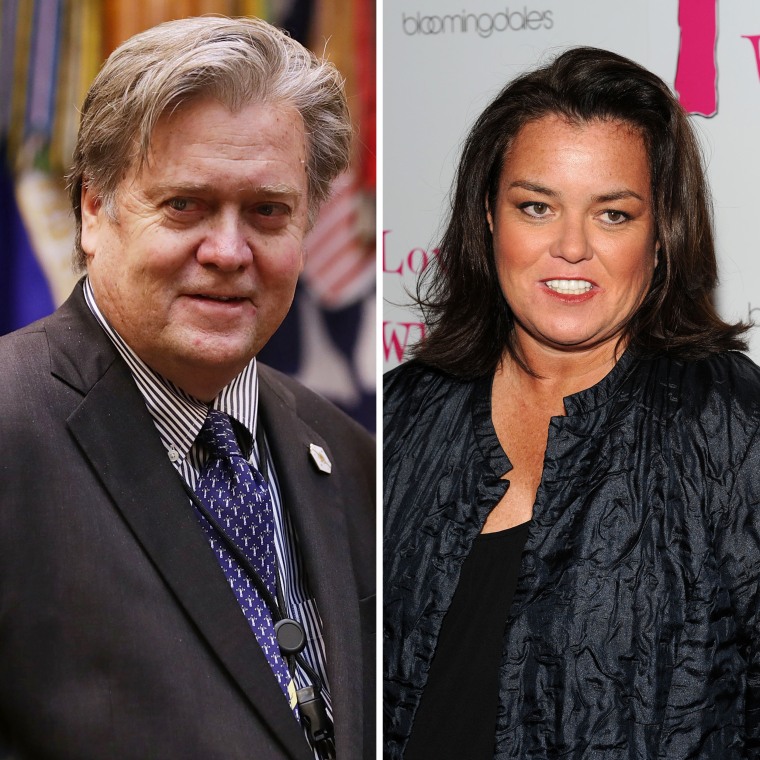 In an interview Tuesday, O'Donnell told NBC News that she's game for the role: "If asked, of course I would."
"Alec is amazing, Melissa McCarthy was perfect. It's a funny idea. But SNL knows what they are doing," said O'Donnell.
"I have hosted the show in my youth," she added. "Quite an honor. I loved it."
It's unclear whether SNL producers, who declined to comment, plan to add O'Donnell to the ever-expanding list of guest stars whose scathing parodies of the Trump administration have caused the president to lash out on Twitter. Alec Baldwin's performances as Trump have drawn sustained attention over many months. Meanwhile, Bannon has been played by cast member Mikey Day in a Grim Reaper outfit.
Spicer appeared to be a good sport about the parody Monday, saying McCarthy's impression was "funny," although he believed she "could dial back" her raging portrayal of his news briefings.
In contrast, Trump has repeatedly attacked SNL, clearly bugged by Baldwin's spray-tanned Trumped-up caricature. In one of a series of tweets, Trump called the show "unwatchable" and "not funny," before ending with his characteristic punctuation, "sad."
Trump has also spent considerable energy going after O'Donnell, on and off Twitter. The feud between the two television stars goes back at least as far as 2006, when O'Donnell criticized Trump on "The View" and he immediately told People magazine that she was a "loser."
He would later echo the sentiment in dozens of tweets about O'Donnell — criticizing everything from her former fiancée to her weight and appearance.
And in an infamous August 2015 Republican primary debate during which Megyn Kelly listed various insulting words Trump had used to describe various women, he interrupted to retort, "Only Rosie O'Donnell" — which drew laughs from the crowd but wasn't true.
O'Donnell isn't alone, at least: Trump has also fixated on other female celebrities, like Kelly and Kristen Stewart. Stewart's opening monologue on SNL last weekend centered on the president's apparent obsession with her relationship woes with ex-boyfriend Robert Pattinson. Trump's tweets about the "Twilight"-starring couple were roundly mocked.
NBC News asked the White House for Bannon's comment regarding the potential casting, but it didn't immediately get a response.