Suspended Alabama Chief Justice Roy Moore, who was removed from his duties after a judicial panel found he urged defiance of the U.S. Supreme Court's landmark same-sex marriage decision, is appealing his lengthy suspension.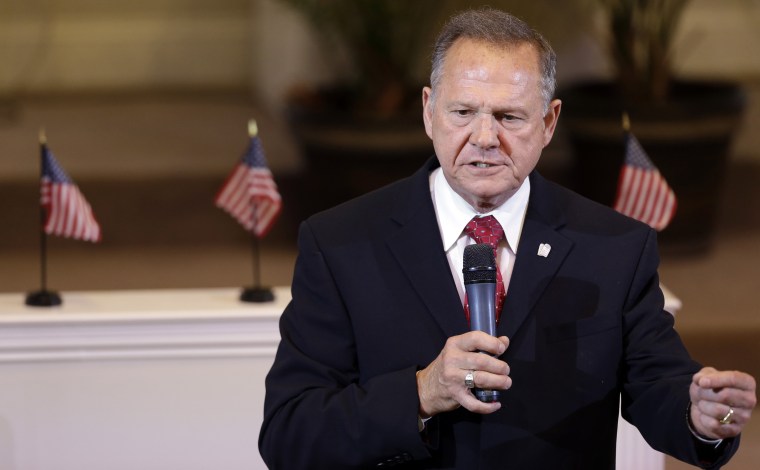 In a 95-page brief filed Tuesday, his attorney argued Moore shouldn't have been removed because he never instructed probate judges to refuse marriage licenses to gay couples. The attorney also argued that the Alabama Court of the Judiciary, the state panel that hears complaints against judges, exceeded its authority by suspending Moore for the remainder of his term.
It requires a unanimous vote to remove a judge from office. Moore argued the lengthy suspension is a "de facto removal" without the required unanimous vote.
"There is no difference between removal and a permanent suspension. Removal requires a 9-0 vote, which the COJ admittedly lacked," the document said. It noted that the longest suspension previously handed down by the court was for six months.
Moore is trying to win his position back after the ruling that he violated standards of judicial ethics with his actions regarding gay marriage.
RELATED: Roy Moore Suspended From Alabama Supreme Court For Anti-Gay Marriage Order
In January — six months after the nation's high court ruled gays and lesbians have a fundamental right to marry — Moore told 68 state probate judges that a 2015 Alabama Supreme Court order to refuse marriage licenses to gay couples remained in "full force and effect." A federal judge, meanwhile, ordered probate judges to stop enforcing the state's gay-marriage ban in the wake of that landmark ruling.
The Court of the Judiciary, in ruling against Moore, said he was urging judges to defy clearly established law.
Moore disputed the allegation, saying his order to probate judges was merely a "status update" to let them know that the Alabama Supreme Court order had not officially been lifted. Moore also said he specifically told probate judges that he could not give them guidance in the wake of the U.S. Supreme Court decision.
"Chief Justice Moore did not direct or order probate judges to violate any federal court order or precedent," Moore's attorneys wrote.
The president of the Southern Poverty Law Center, which filed one of the initial complaints against Moore, said the court did the right thing by removing Moore from his duties.
"The facts of this case are crystal clear. As Alabama chief justice, Roy Moore made a decision to advocate for his personal religious beliefs rather than fulfill his oath to uphold the United States Constitution. He told the state's 68 probate judges to violate a federal court order," SPLC President Richard Cohen said.
RELATED: After Suspension, What's Next for Alabama Chief Justice?
Moore's appeal is being heard by a special panel because his former colleagues on the Alabama Supreme Court recused themselves from the case.
Moore was removed as chief justice in 2003 after he refused to obey a federal court order to remove a 5,200-pound Ten Commandments monument from the state judicial building. He was re-elected to the bench in 2012, a victory he described as a vindication.
He will be beyond the state age limit for judicial candidates when his term ends.