/ Source: Associated Press
PARIS — The European Court of Human Rights issued a fresh rebuke to the Kremlin on Tuesday, ruling that Russia's continued ban on LGBTQ rallies is discriminatory and represents a violation of human rights.
Judges at the court based in the eastern French city of Strasbourg called on Moscow to introduce "systemic measures" to remedy the breaches to the European Convention of Human Rights that the Russian Federation became a signatory to in 1996.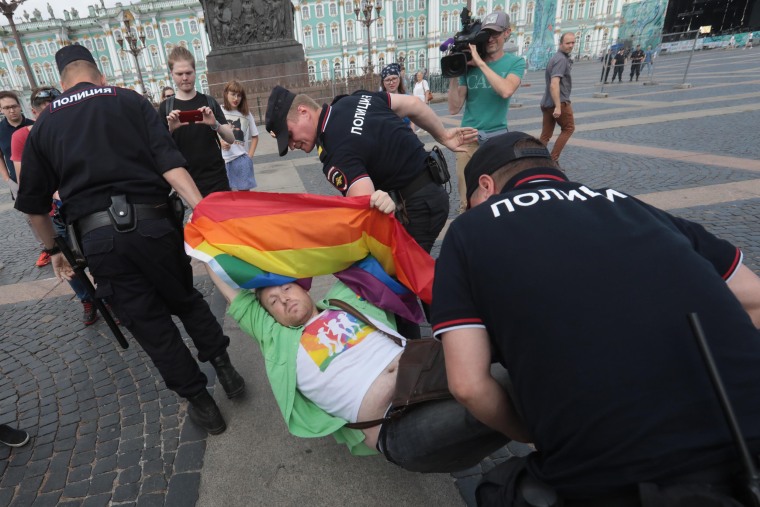 It's unlikely Russia will implement the court's recommendation of the need for "a sustained and long-term effort to adopt general measures" to ease the freedom to march and counter LGBTQ discrimination.
The current case was brought by seven Russian activists over the period 2009-2014 who were concerned by the impact of the ban. Russian authorities have been putting obstacles on LGBTQ rallies for years, and systematically turning down LGBTQ permit requests.
The court said Russia's blocking of public LGBTQ events couldn't be justified by any concern about public disorder and it breached the right to freedom of assembly.
The ban "had clearly been motivated by the authorities' disapproval of the theme of the demonstrations," the court concluded.
Several Russian politicians and lawmakers have recently hit back against the court, calling on the government of President Vladimir Putin to break with the ECHR over a perceived politicization in its rulings.
It's not the first time the court has had sharp words against Moscow on LGBTQ issues.
In what was perceived as a bid to legalize what was in practice a permanent ban on gay rights gatherings, Russia in 2011 adopted a vaguely worded legislation on "gay propaganda" that outlaws LGBTQ gatherings anywhere near where children might be.
In June 2017, the court decided that this "propaganda" law encouraged homophobia and discrimination and Russia was ordered to pay €43,000 ($49,000) in damages.
One of the applicants who brought that case was arrested after appearing at a high school in Ryazan with a placard reading "homosexuality is normal."