Gay rights activist Peter Tatchell was released by Russian police on Thursday after being detained near Moscow's Red Square for protesting against the country's reported abuse of LGBTQ people.
Tatchell stood outside the Kremlin on Thursday holding a banner critical of Russian President Vladimir Putin, saying, "Putin fails to act against Chechnya torture of gay people." The World Cup soccer tournament started on Thursday and is being hosted this year by Russia.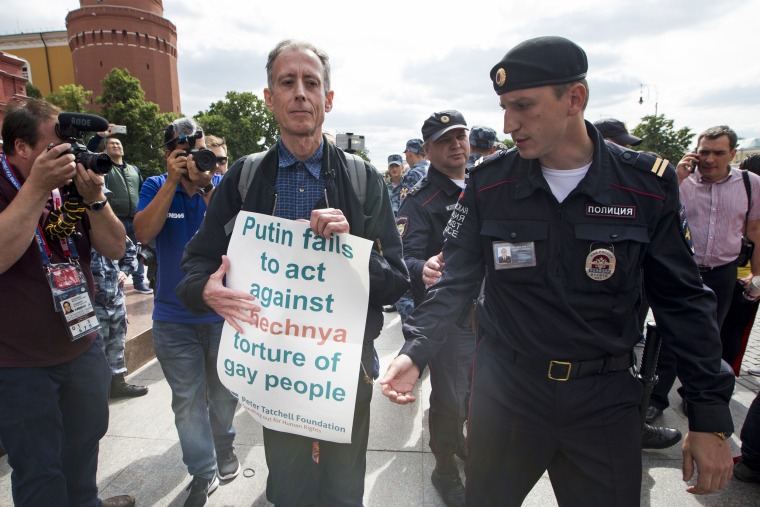 Dozens of gay men have said they were tortured in secret prison facilities in the Russian region of Chechnya. Chechen leader Ramzan Kadyrov has denied the accusations and has claimed there are no gays in Chechnya.
During Tatchell's one-man protest, he was approached by several police officers who told him his actions were not authorized. He was led away and taken to a police car.
After his release, Tatchell issued a statement on his foundation's website describing what happened after he was detained.
"I spent one hour and 40 minutes in police custody, from the moment I was detained near the Kremlin to the moment of my release from the police station," Tatchell stated. "Senior officers were stern but the apprehending officer very helpful, friendly and polite. I presume I was well treated, partly because I am a U.K. citizen and because a senior British Embassy consular official, Colin Wells, contacted the police. I guess the Russians also did not want to be seen as being heavy-handed during the World Cup."
Tatchell said he is required to appear in court on June 26 for "violating Federal Law 54 and Presidential Decree 202, which prohibit all protests near the Kremlin and during the World Cup." He said he has requested that his court appearance be voided and added that he plans to fly back to the U.K. on June 18.