LONDON — A small league soccer pitch in a British coastal town seems an unlikely setting for a giant step forward in soccer equality.
But when Ryan Atkin steps onto the field at Eastbourne Borough Tuesday, he will become the first openly gay man in English professional soccer — a sign of how far the sport lags behind others in overcoming homophobia despite its vast wealth and corporate support.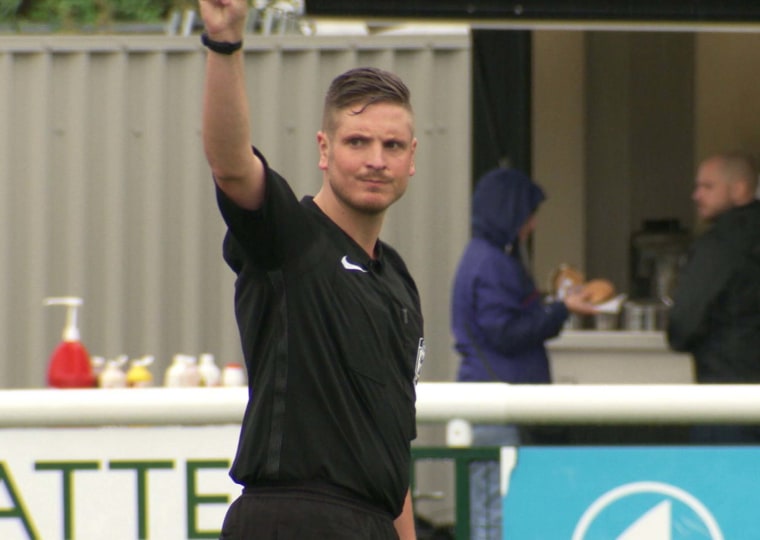 The 32-year-old referee will take charge of the club's home game against Welling United. It is a National League game, five tiers below the likes of Manchester United and Chelsea, and the venue only holds 4,150 fans — but English soccer's ruling body knows it marks a significant milestone.
"Ryan's declaration marks an important moment in the game and reinforces the fact that refereeing really is open to everyone," said Neale Barry, head of senior referee development at The FA.
There are thousands of gay male soccer players and fans worldwide, many of them playing for the 100-plus amateur or semi-professional teams registered with the International Gay & Lesbian Football Association (IGLFA).
In the U.S, the MLS recorded its first openly gay male professional soccer player in 2013 when Robbie Rogers returned to L.A. Galaxy.
However, the glitzy top tiers of the English sport — dominated by billions of dollars in TV revenues, corporate sponsorship and global merchandising — have remained stubbornly free of openly gay players or officials. Even the number of retired players disclosing their sexuality remains tiny.
The lack of LGBT role models has been a concern The FA, which along with some major clubs has joined forces with Stonewall for initiatives including the Rainbow Laces campaign to stamp out casual homophobia at games.
It is a stark contrast to women's soccer, where the U.S. has been represented by prominent out stars such as midfielder Megan Rapinoe and striker Abby Wambach. The latter is not only the highest all-time U.S. scorer — chalking up 184 goals — but also holds the world international goal record for both female and male soccer players.
Related: Does Global Soccer Have a Gay Problem?
It also lags behind other sports such as NFL, to which Michael Sam was drafted in 2014, and NBA where Jason Collins made history in 2013 as the first openly gay player in the four major U.S. sports leagues.
"It is slightly behind other sports but [men's soccer] is getting there and organizations are making big strides," Atkin told Britain's ITV ahead of Tuesday's game. "Counties bidding for major tournaments must have LGBT policies in place and is it's sad that Russia and others don't have that."
He added: "[Soccer] … will change gradually over time. As we evolve as a society and more people create an environment where they can be themselves, [soccer] will change."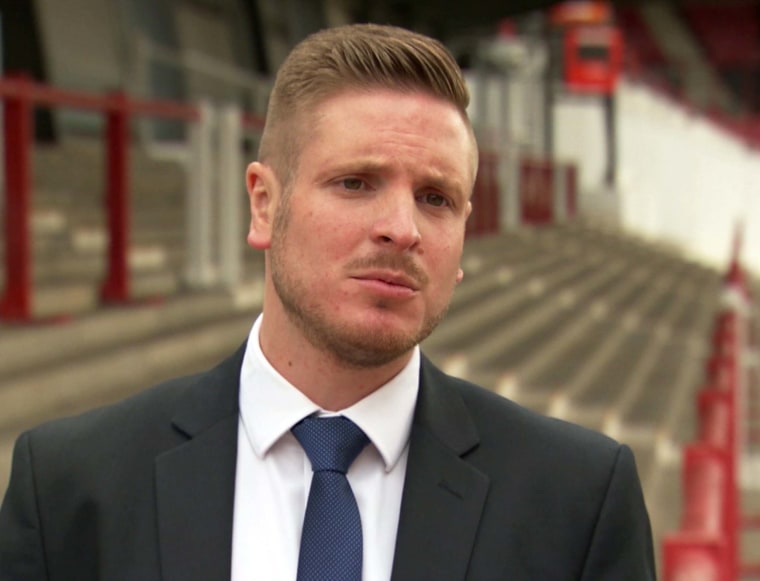 Part of the problem has been attributed to the sport's global appeal, including in many countries were homosexuality is still taboo or even illegal.
One step forward, Atkin said, would be to treat homophobia as seriously as racism — especially when it comes to crowds of fans.
"If people are making homophobic marks it should be the same as racist remarks, they should be removed from the ground and receive bans," he said.
Nevertheless Atkin was looking forward to Tuesday's landmark game.
"I want to be judged as a referee not as a gay referee, I want to be respected on the pitch," he said, adding that he was "humbled" and "overwhelmed" by worldwide messages of support from fans and players.
"When you are yourself, you perform better," he said.