For the majority of their relationship, Alphonso Reyes, 34, and his husband Melvin, 41, have dreamed of becoming fathers. In fact, they started talking about parenting on their first date.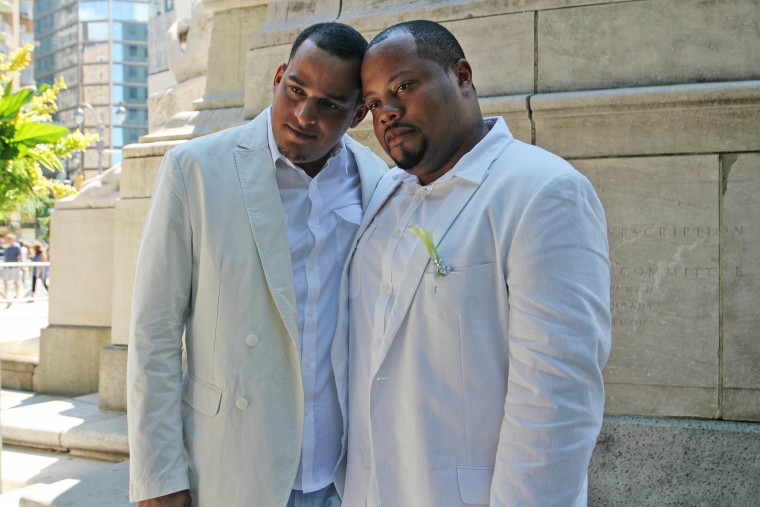 Some six years later, the conversation may be closer to a reality for the Bronx, New York residents. The process, however, has not been simple.
"There is just a lot of red tape regardless of if you are LGBT or not," Reyes told NBCOUT. He did acknowledge there are additional hurdles for gay couples.
"A lot of agencies do not want to adopt to same-sex couples. The way we have experienced it was through a lot of feet dragging."
Over the past year, the couple has fostered two children. The first, a newborn baby girl, was an emergency placement and temporary. The agency they worked with placed the child with another foster parent after only two months.
The couple has been fostering their son, whose name they prefer not to share, since February. They are in what is called pre-adoptive status – where the birth parents' rights have been revoked and the child is eligible for adoption.
"Right now, everything is still in court; we do not have a date," Reyes explained. "From the day he came in our home, he started calling us Daddy and Papi ... So, he will always be our son, officially adopted or still in foster care."
Fostering a child may be the best route to becoming adoptive parents for couples like Alphonso and Melvin Reyes. According to AdoptUSKids, a Maryland-based organization that assists LGBTQ couples in the adoption process, there has been an increase in children adopted out of foster care for at least the past 10 years.
"In 2014, 52 percent of the children and youth adopted were adopted by their non-relative foster parents," Kathleen Ledesma, national project director for AdoptUSKids, told NBCOUT via email.
"The 'enterprise' of child welfare adoption," Ledesma added, "centers on the best interest of the child, and that includes consideration for the child's attachments to his or her caregiver and minimizing the number of moves a child has while in foster care."
There are currently 415,000 children and youth in foster care in the United States, according to Ledesma, and of that number, 108,000 are available for adoption.
While there is no reliable data at the national level regarding the number of same-sex couples being approved for adoption, Ledesma said LGBTQ families and individuals are at greater risk for dropping out of the approval process to foster or adopt. The reason for this may be the additional challenges these families face.
In 2008, AdoptUSKids worked with the Children's Bureau to draft Report to Congress: Barriers and Success Factors in Adoption. The report was an effort to help lawmakers understand better the issues facing LGBTQ families in the adoption process.
Nine themes emerged from the report, including prospective same-sex parents feeling discriminated against. This is something with which Alphonso Reyes can relate. He told NBC OUT the first agency he and his husband worked with back in 2012 was not accepting.
"They stated that they did not feel comfortable placing a child in our home - back then a one bedroom - because we were a same sex couple and they didn't want the child to wake up in the middle of the night and walk into our bedroom out of concern of what the child might see," Reyes explained.
"I will never forget when they told us that. It's what prompted Melvin and me to find a two bedroom apartment and go to another agency that was more respectful and welcoming of same sex couples," he added.
In March of this year, a federal judge struck down Mississippi's ban on adoption by same-sex couples, making the practice legal nationwide. The experience of the Reyes family, however, suggests more work may need to be done to ensure these couples feel welcomed while going through the process.