San Francisco 49ers assistant coach Katie Sowers has become the NFL's first openly gay coach.
The Kansas native — who is also just the second woman to be a full-time assistant coach in the NFL — recently opened up about the importance of public LGBTQ representation in the league.
"No matter what you do in life, one of the most important things is to be true to who you are," Sowers said in an interview with Outsports.
"There are so many people who identify as LGBT in the NFL, as in any business, that do not feel comfortable being public about their sexual orientation."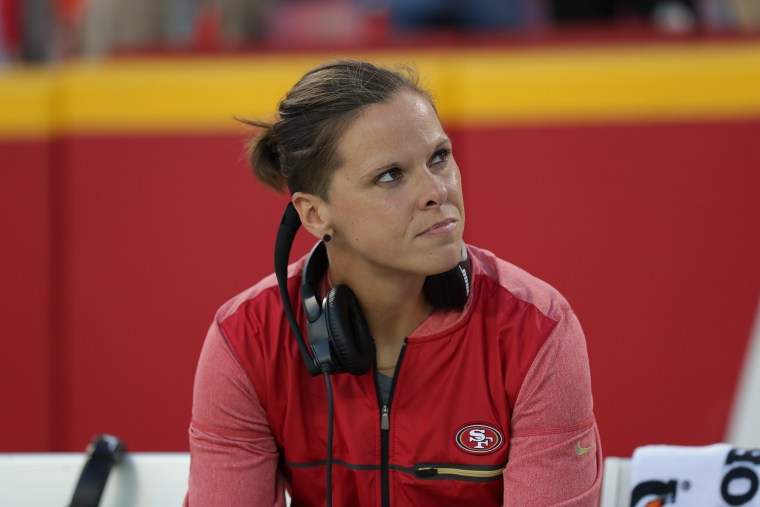 Sowers, 31, played professional football in the Women's Football Alliance and traces her love for the sport back to when she was just 8 years old — having described "tackling" as her favorite part of football.
Sowers said she experienced her first taste of LGBTQ discrimination in sports while in college, when was rejected from a volunteer coaching job because of her "lifestyle."
"I was so passionate about coaching and to feel like my opportunities were limited because of who I loved was hard to deal with," Sowers told Outsports.
"However, without that experience I would not be where I am today."
Years later, Sowers landed her full-time assistant job following an internship with 49ers head coach Kyle Shanahan. She was hired for the 2017 season.
Advocates for LGBTQ inclusivity in sports commended Sowers for going public about her sexuality.
"With Katie's announcement, athletes around the [NFL] and throughout sport will have a better understanding of how their words and actions impact those around them, only furthering the effort to make sport inclusive and accessible for everyone — regardless of sexual orientation or gender identity," Athlete Ally Executive Director Hudson Taylor told NBC News.
Former NFL player Wade Davis, who came out after he retired from professional football, also applauded Sowers' openness about her sexuality.
"Katie Sowers inviting the world in and naming herself as a lesbian while coaching in the NFL is a revolutionary act," Davis said.
"It speaks to her courage and capabilities, and she's modeling to the entire NFL the power of vulnerability to bring people together."
When asked by Outsports if she thought an openly gay male coach would be accepted by NFL players, she said yes, adding, "Who a coach loves has no impact on the way they coach football."