COLUMBUS, Ohio — As Wes Goodman built a political career around values including "committed natural marriage," the 33-year-old Republican was secretly engaging in sexual encounters with men online, via cellphone and, on one significant occasion, in his state office.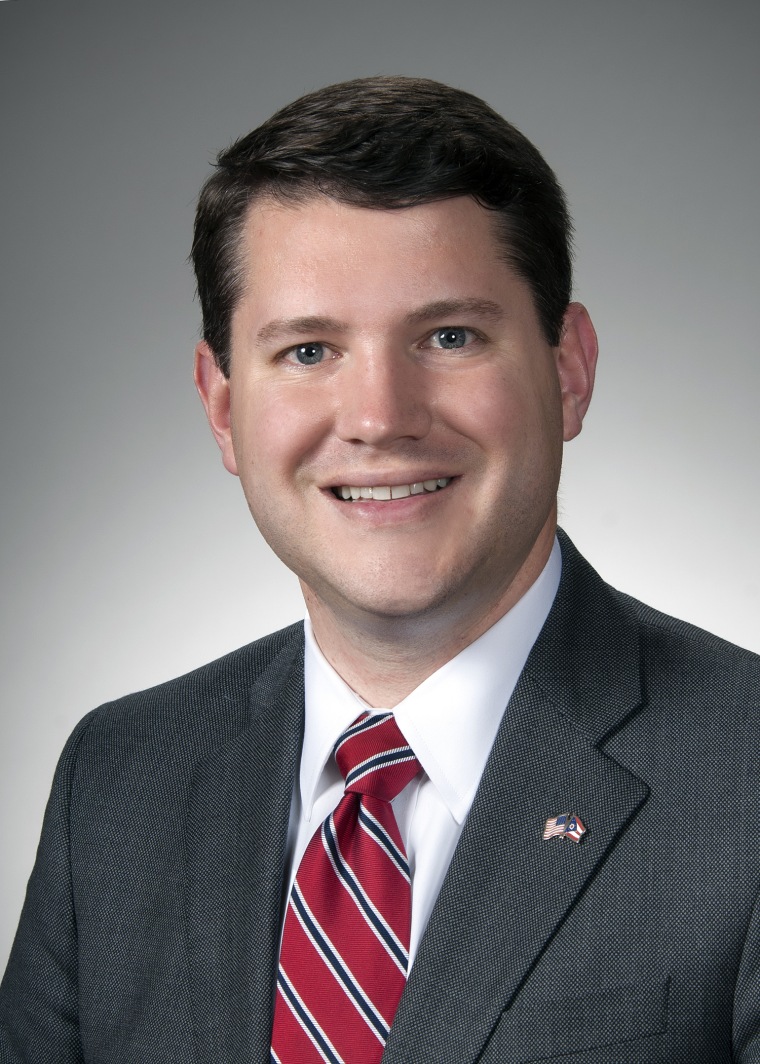 The office encounter was the final straw that last week ended his political rise as a self-proclaimed Christian conservative, which had taken Goodman from congressional campaign worker to Capitol Hill aide to a seat in the Ohio House.
It also opened the floodgates on details of Goodman's secret gay life, which turned out not to have been a secret to several conservative groups, House Republicans or their campaign operation.
The nation's leading anti-gay marriage organization, Cincinnati-based Citizens for Community Values, was among the Christian conservative groups that knew of Goodman's extramarital sexual contact with other men before his election last year, The Associated Press has learned.
Board member Seth Morgan said the group discovered — after it had endorsed him in last year's legislative primary — that Goodman had engaged in consensual gay activity. Goodman faced no general election opposition and was said to be "dealing with it," Morgan said, so the issue was set aside by CCV and another group that was briefed, Ohio's Conservative Republican Leadership Committee.
Morgan said he sees no hypocrisy in the values movement's support of Goodman, adding "we're not perfect people."
"From our perspective, we look at this and say, this hits close to home, but it's another example of why we stand for the things we stand for," Morgan said. "It's not something that causes us to shrink back. It causes us to, sadly, move forward with a greater sense of determination."
Johnny Hadlock, a former congressional staffer, told The AP he engaged in sexual banter by text and had phone sex with Goodman while the two worked in Washington in the early 2010s. He said he was furious when, years later, he saw Goodman campaigning on the issue of "natural marriage" between a man and a woman, "because I knew differently."
"Wes is a good guy. He's a nice guy. He's a gregarious guy. He's a good networker. But he's a hypocrite," said Hadlock, whose story was first reported by cleveland.com. "He's engaged in things with me and with others that I know are the antithesis of what he's publicly proclaiming and standing for in his public life."
When he resigned his House seat, Goodman said in a statement that he hadn't served his constituents "in a way that reflects the best ideals of public service." He has not responded to repeated requests for comment on media accounts published since then.
The Washington Post reported Friday that another conservative group, the Council for National Policy, handled internally a complaint that Goodman fondled an 18-year-old college student while he was sleeping in a hotel room at its 2015 conference.
The student's stepfather brought details of the encounter to president Tony Perkins, who also heads the prominent Family Research Council.
"If we endorse these types of individuals, then it would seem our whole weekend together was nothing more than a charade," the stepfather wrote to Perkins, according to the Post.
"Trust me... this will not be ignored nor swept aside," Perkins replied. "It will be dealt with swiftly, but with prudence."
Ohio House Republicans also were aware that Goodman had been involved with men outside of his marriage.
They were dealing exclusively in rumors until early summer, chief of staff Mike Dittoe said, when a non-House employee came forward with evidence of computer and cellphone screenshots suggesting Goodman had been unfaithful to his wife in suggestive or explicit photos and messages.
Chief of staff Mike Dittoe told the AP on Tuesday that Goodman's known conduct up to that point was all consensual, and so was viewed as a private matter. Nonetheless, Goodman was warned that if he ever engaged in acts with House staff or on state property, it would become Speaker Cliff Rosenberger's business, Dittoe said.
Details of that summer meeting were first reported Tuesday by The Columbus Dispatch.
"Even though the rumors that surfaced about Representative Goodman did not involve the Ohio House, chief legal counsel and I still met with him to discuss the rumors and innuendo," Dittoe told The AP. "Representative Goodman denied all of it and said that 'fake screenshots' were being circulated."
Rosenberger said he learned Nov. 14 that Goodman had engaged in a sex act with a man inside his state office. Goodman's resignation was announced the next day.
Tom Zawistowski, whose Ohio Citizens' PAC also endorsed Goodman, said he was alerted the previous Sunday that news on Goodman was coming.
He said "a rumor without proof" had been circulating in Statehouse and conservative circles for weeks, but nothing concrete.
"That's really disturbing to me," he said. "If there's someone in the Ohio conservative movement who knew about this and did not tell me, they're going to hear from me."