Vinay Kumar, 29, is the creator of Harmless Hugs, a secret Facebook group dedicated to providing a safe space online for India's LGBTQ community.
"It's a kind of virtual family," Kumar told NBC Out. "We discuss different topics with each other and seek different types of help from other members of the group."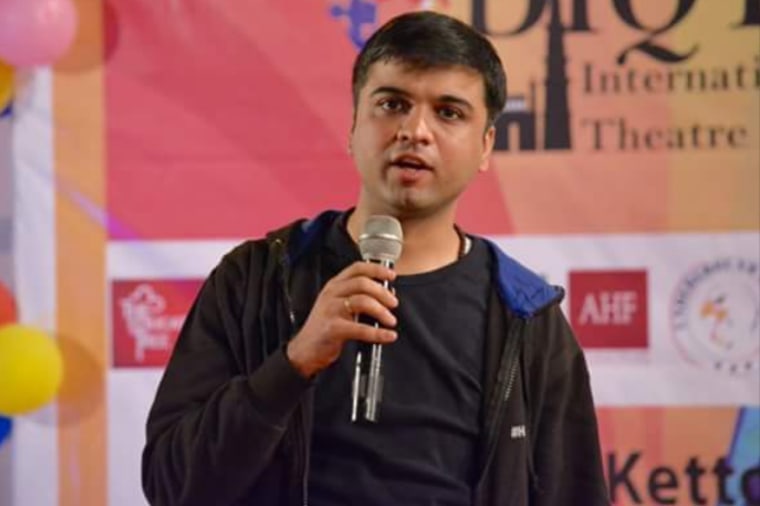 Secret Facebook groups like Harmless Hugs are becoming an important resource for sexual and gender minorities in India, as young people seek out safe spaces online where they can express and discuss their gender and sexual identity without the fear of being harassed or judged.
"It is a secret group, because there are so many people out there that are still struggling with their sexuality," Kumar said of Harmless Hugs, which is one of the largest groups of its kind in India, with nearly 5,000 members. "A secret group allows members to feel that they will not be judged, and that their posts won't be tracked by anyone outside."
Fear of judgment or harassment for the LGBTQ community in India is a real concern and has only grown since 2013, when the country's Supreme Court threw out a 2009 ruling by a lower court and effectively recriminalized same-sex sexual activity.
"[The ruling in 2013] pushed a number of young LGBT [people] back into the closet," Shruta Rawat, a founding member of Yaariyan, a Mumbai-based LGBTQ youth support group, told NBC Out.
"It has increased the community's feeling of vulnerability as people are not sure what to expect when the law is not on our side. There is a lot of fear around being queer that may stem from real or perceived reasons," she added.
RELATED: Queer Street Performer in South Korea Promotes Acceptance With Art
Rawat said online support spaces like Harmless Hugs and Yaariyan's own secret Facebook group have become important platforms for India's gender and sexual minorities to seek out support and camaraderie from their peers. Because of the privacy settings of these Facebook groups, one's membership is not listed for their friends to see, and content posted by individuals is only visible to other members of the group.
In one post on the Yaariyan timeline, a member shares the story of a young man in central India who has recently committed suicide after being blackmailed for being gay. Another member shares a job opening at his work, and others share funny memes or videos they have found online.
Membership to these online groups is by invite only and must be done by an existing member. Often times, new members must be approved by a team of volunteer administrators, and with Harmless Hugs and Yaariyan, these administrators also help moderate posts and comments on each page to help ensure the discussion remains respectful and abides by each groups' listed set of guidelines.
Rawat said these virtual spaces are particularly important for those who are not yet ready to come out.
"Unlike physical spaces, Facebook groups can be accessed via [anonymous] alternate profiles, which do not necessarily mandate you come out," Rawat said. "We have many instances of people who have accessed Yaariyan from their [anonymous] alternate profiles initially before joining the group with their [identifiable] original profile."
But online spaces like these can also present a unique set of challenges. "In some instances, they have distanced the community," Rawat said. "Individuals may choose to not access [actual] physical meeting spaces and may get further closeted with internet-based platforms."
To fight this, Yaariyan has been sure to offer offline events as well. The group has offered movie screenings, HIV-awareness workshops and a host of other activities. One of their most popular events is a queer flash mob done each year at a public space in Mumbai.
"Offline events keep the momentum alive on the ground as well," Rawat said.
Kumar of Harmless Hugs agrees. "It is not advisable to do all things on social media," he said. "You don't always know what you are writing and how others will interpret it."
Like Yaariyan, members of Harmless Hugs have also organized offline events, including New Delhi's own LGBTQ flash mob and the city's first queer theater and film festival. Recently, members of the group have also taken to the streets to offer literal hugs to people in New Delhi.
"We were carrying placards that had the message, 'I am gay, I am lesbian, I am transgender. Will you hug me?'" Kumar explained. "And we roamed around the streets in the market area in Delhi and started hugging people."
Kumar believes that in India, it is important that everyone fight for equality and acceptance in their own unique way. "There are lawyers working to overturn the law, there are people working on the streets for change. There are people working for society," he said.
Because India is a democracy, Kumar stressed, the first step in achieving equality and full rights for India's LGBTQ community is to first gain the confidence of Indian society.
"We try to gain empathy, not sympathy," Kumar said. "Let's say there are 15 people on the street. We never come with the idea that we have to change 10 people. We always come with the idea that we have to change simply one person. If I can change one person out of hundreds, my job is done."