The Senate on Tuesday voted to confirm Kyle Duncan to serve on the 5th U.S. Circuit Court of Appeals in New Orleans, which covers Louisiana, Mississippi and Texas. While several Republicans and conservatives applauded Duncan, a lawyer nominated by Presidential Donald Trump, a number of Democrats and liberal advocacy groups slammed him as "unfit" and "extreme."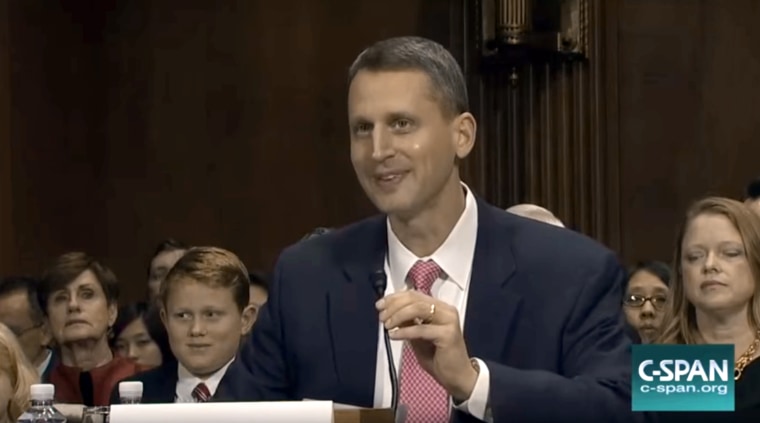 Democrats questioned whether Duncan could be an impartial arbitrator given the cases he had worked on, which include defending a North Carolina voter ID law, fighting a contraceptive mandate in the Affordable Care Act and defending Louisiana's ban on same-sex marriage.
"He is out of the mainstream," said Sen. Richard Blumenthal, D-Conn., a member of the Senate Judiciary Committee. "In fact, he is out of the stream entirely."
Sen. John Kennedy, R-La., however, said that some of his Democratic colleagues were confusing the role of lawyer and client. Kennedy noted Duncan had argued more than 30 cases in federal and state appellate courts and represented Louisiana in several high-profile cases. He called Duncan a careful thinker and articulate, adding he does not recognize "the Kyle Duncan being described by some of my colleagues."
Several national LGBTQ-rights groups, including the Human Rights Campaign, GLAAD and Lambda Legal, condemned Duncan's confirmation, pointing to his lengthy record of fighting against LGBTQ rights in court.
"Kyle Duncan has made a career for himself targeting LGBT children and families," Lambda Legal Executive Director Rachel Tiven said in a statement. "No one with Kyle Duncan's record of bias should ever serve as a judge."
"The idea that Mr. Duncan will cast aside his bigoted beliefs overnight, and miraculously transform into an impartial judge, is ludicrous and reckless. His career has been one long grudge match against women and LGBT Americans — now the Trump/Pence Administration is making him a referee," Tiven added.
Duncan has found himself on the opposite side of LGBTQ-rights advocates in a number of high-profile cases. Last year, for example, he represented Virginia's Gloucester County School Board in their case against Gavin Grimm, a transgender high school student who was unable to use the restroom that aligned with his gender identity. And in 2014, he represented Louisiana in its bid to uphold the state's ban on same-sex marriage.
Prior to the Supreme Court's 2015 landmark same-sex marriage ruling, Duncan wrote an amicus brief claiming such a ruling would "do incalculable damage to our civic life in this country." He argued gay marriage must be resolved "at the state level."
Aside from his involvement in LGBTQ-rights cases, Duncan was lead counsel in the Hobby Lobby case before the Supreme Court, which decided that some corporations can hold religious objections that allow them to opt out of a requirement to cover contraceptives for women. He also served as general counsel of the Becket Fund for Religious Liberty, which describes its mission as protecting the free expression of all faiths.
Tuesday's 50-47 vote represented another high-profile appellate court confirmation for Trump, who had a record number of circuit judges approved in his first year in office. Many of his judicial choices, like Duncan, have been criticized by advocates for their records on LGBTQ rights.
Organizations on opposing sides of abortion also reacted differently to Duncan's confirmation, with Planned Parenthood saying Trump was "radically remaking an entire branch of government," while Americans United for Life praised Duncan's experience and respect for the Constitution.