A group of senators are calling on the federal government to lift policies restricting gay and bisexual men from giving blood amid a nationwide donation shortage. Currently, men who have sex with men must remain celibate for a year before they are permitted to donate.
The 15 senators sent a letter to the Food and Drug Administration on Thursday urging authorities to "shift away from antiquated and stigmatizing donation policies" to address a need for blood donations during the outbreak of COVID-19, the disease caused by the coronavirus.
"We must take every possible step to secure our nation's blood supply in this critical time," the senators wrote, advocating for donation policies that are "scientifically sound, based on individual risk, and inclusive of all potential healthy blood donors."
As of March 16, the American Red Cross reported that social distancing and self-isolation to prevent coronavirus' spread had resulted in the cancellation of 2,700 blood drives and 86,000 fewer donations. During a March 19 briefing of President Donald Trump's coronavirus task force, Surgeon General Jerome Adams called on all Americans to address this critical shortage by giving blood, saying that "one donation can save up to three lives."
Under regulations put into place in 2015, gay and bisexual men must refrain from sex for a year before they are permitted to donate blood. These guidelines, which were instituted under the Obama administration, replaced a 1983 rule that banned any man who engaged in sexual contact with another man from donating for life. That policy had been a relic of the early days of the AIDS epidemic, when little was known about the disease or how to test for it.
While the senators said the shortening of the deferral window to 12 months was a step forward, they argue that the current requirements don't reflect "important advances in blood screening and safety technology" that have been made since 2015. As NBC News previously reported, the presence of HIV can now be detected in the bloodstream within a week of transmission.
That 15 lawmakers added that "a time-based deferral policy is not scientifically sound, continues to effectively exclude many healthy gay and bisexual men, and does not meet the urgent demands of the moment."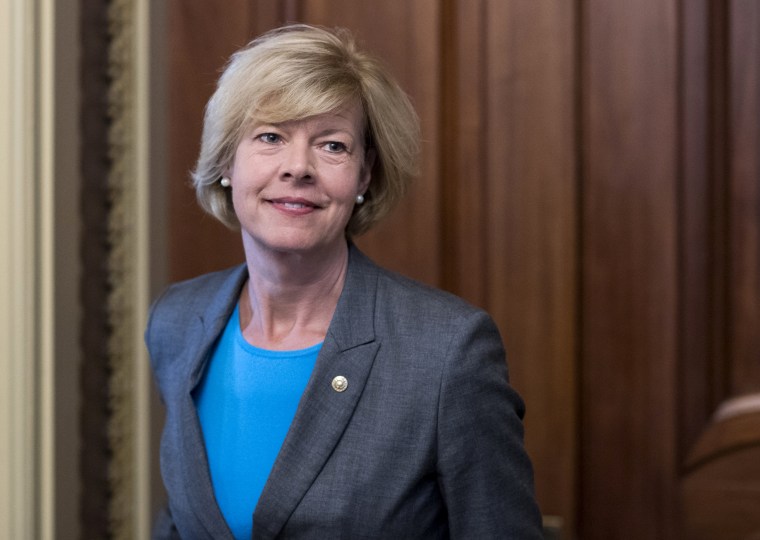 Sen. Tammy Baldwin, D-Wisc., the first out LGBTQ person elected to Congress, spearheaded the letter. Other signatories include Cory Booker of New Jersey, Sherrod Brown of Ohio, Kamala Harris of California, Amy Klobuchar of Minnesota, Elizabeth Warren of Massachusetts and Democratic presidential candidate Bernie Sanders of Vermont.
In a statement, Baldwin said she has "long fought to end discriminatory blood donation policies" as a federal lawmaker. She led similar pushes from the Senate calling on the FDA to rethink its blood donation policies in 2014 and 2016.
"The COVID-19 pandemic has created a nationwide blood shortage, and we must work to increase our nation's supply based on science and facts," she told NBC News. The FDA "needs to change their discriminatory blood donation policies to address this challenge and help save lives."
LGBTQ advocacy groups applauded this latest effort. In a statement, GLAAD President and CEO Sarah Kate Ellis said the FDA is upholding a "discriminatory policy that hinders so many healthy Americans" from helping others during a time of national need.
"There are thousands of healthy gay and bisexual men, as well as other LGBTQ people that this policy affects, who are willing and wanting to donate blood during this time," Ellis said. "By relying on stigma rather than science, the FDA is not just harming members of the LGBTQ community, but all Americans."
Earlier this week, GLAAD issued a petition pleading with the FDA to allow gay and bisexual men to donate without a time-based restriction, one that garnered over 10,000 signatures as of Friday afternoon. The petition notes that the 12-month window has been met with opposition from groups like the American Public Health Association and American Red Cross. In November, the Red Cross called for a three-month deferral "while further options are evaluated."
Currently, more than a dozen countries — including Argentina, Chile, South Africa and Spain — have no deferral period for gay and bisexual men. Instead, these countries use a risk-based assessment that evaluates donors based on specific behaviors. Colorado Gov. Jared Polis, the country's first openly gay governor, has been a longstanding critic of the U.S. policy. In 2015, he told Reuters that it was inconceivable that a "married gay man in a monogamous relationship can't give blood, but a promiscuous straight man who has had hundreds of opposite-sex partners in the last year can."
The Williams Institute, a pro-LGBTQ think tank at UCLA Law, estimates that evaluating donors on potential risk, not same-sex sexual activity, would result in an additional 360,000 donors each year.
In a statement to the LGBTQ newspaper Washington Blade, a spokesperson for the FDA claimed its guidelines for gay and bisexual blood donors "have not changed" but pledged it would "continue to re-evaluate the situation as the outbreak progresses."
"FDA is aware there has been a dramatic reduction in blood and plasma donations around the country," said the unnamed representative. "The agency is working with the blood banking and source plasma industries to encourage healthy people who wish to help to donate blood."