Conservative commentator Laura Ingraham is no stranger to public castigation, but the source of the latest attack on the Fox News host hits close to home.
In a interview with the Daily Beast, Curtis Ingraham, the cable star's brother, lashed out at his famous sibling and her controversial views.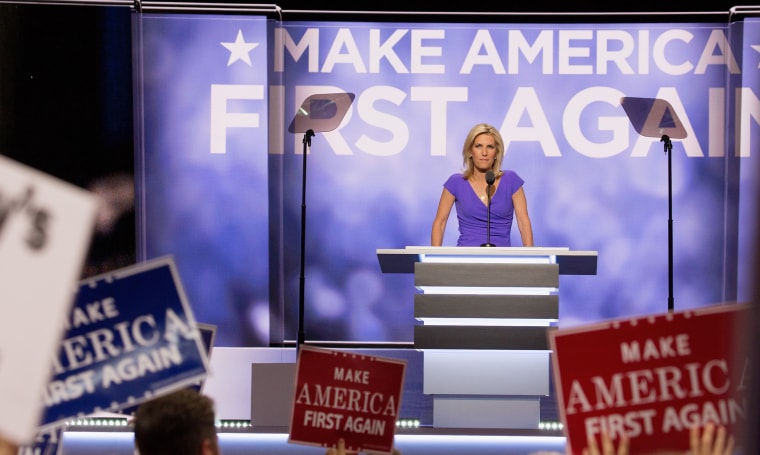 "I think she's a monster," Curtis Ingraham said in the interview, which was published on Wednesday. "She's very smart, she's well-spoken, but her emotional heart is just kind of dead."
Curtis Ingraham has been speaking out against his sister on social media since at least early 2018. In a public Facebook comment posted seven months ago, he attributed her views to their father.
"Our father was a Nazi sympathizer, racist, anti-Semite and homophobe," Curtis Ingraham, who is gay, wrote alongside a video of his sister. "Like father like daughter?"
Since at least June, Curtis Ingraham frequently used his now-deleted Twitter account to lash out at his sister, even calling for advertisers to boycott her show, Fox News' "The Ingraham Angle," after she railed against David Hogg, a survivor of the high school shooting in Parkland, Florida, in February.
"My sister's repeated mean-spirited, flip and insensitive remarks makes me, her brother, question her very humanity. Your continued sponsorship is disturbing to say the least," he tweeted on his now-deleted account.
Curtis Ingraham, who is older than his sister, also tweeted allegations dating to Laura Ingraham's college years at Dartmouth.
"My sister's racist comments date back to her freshman days at Dartmouth when she would mock her black roommate by speaking jive with her friends. Shameful!," he wrote on Twitter this month.
While her brother's claims regarding her college roommate have not been verified, Laura Ingraham has a long history of commentary and actions deemed insulting by those in marginalized groups, including ethnic minorities, immigrants and LGBTQ people.
While an editor at the conservative Dartmouth Review in the early 1980s, Laura Ingraham reportedly sent a reporter to secretly tape a Gay Students Association meeting and then published excerpts from the meeting where people were discussing their sexual experiences and sexual identities.
The conservative firebrand has also compared same-sex relationships to incest, equated transition-related care to "child abuse" and suggested people would rather wear "adult diapers" than share a restroom with a transgender person.
Curtis Ingraham did not immediately respond to NBC News' request for comment, but he told the Daily Beast he felt compelled to start speaking out against his sister because of the current political environment and her support for President Donald Trump.
In a statement emailed to NBC News, Laura Ingraham said she was "shocked and saddened to learn of these false and hurtful online postings." Despite their years long estrangement, she said, she does "miss him very much."