Michigan State University student Kat Ebert said she was sexually assaulted by disgraced MSU sports doctor Larry Nassar when she was 15, but she wants everyone to know one thing: "This doesn't define me."
Now, less than a year after testifying against Nassar — who is currently serving 40 to 125 years in prison for abusing nearly 200 women and girls — the college junior and survivor is fighting for change.
"I don't want anyone to ever go through what I did," Ebert told NBC News.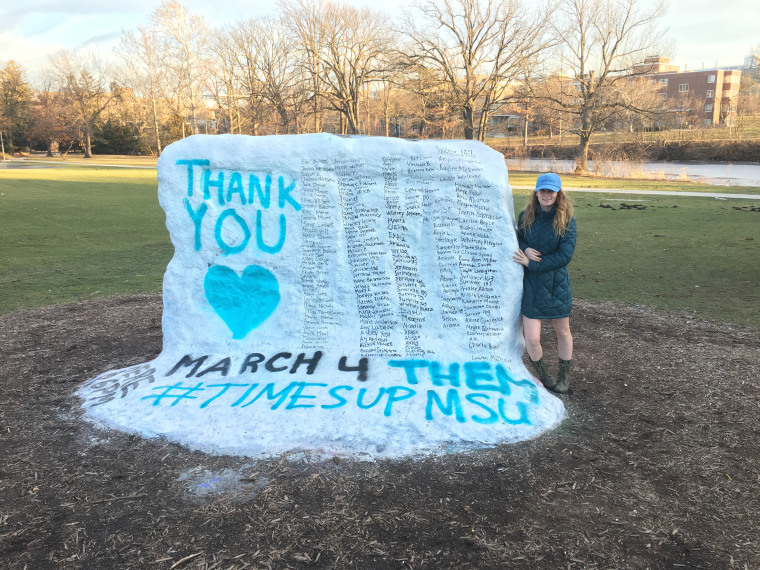 She is currently petitioning to create a 24/7 sexual assault resource center at MSU. "I kind of looked at campus and was like, 'Well, I guess this is the best place to start,'" she said.
Ebert, who is bisexual, wants the center to be an inclusive and welcoming space where all survivors, especially LGBTQ students and students of color, feel safe to report their assaults.
From 20 percent to 25 percent of college women and 15 percent of college men are victims of forced sex during their time at college, according to the National Sexual Violence Resource Center, and more than 90 percent of survivors do not report their assaults.
"I JUST NEEDED TO GO SOMEWHERE"
Ebert, 20, said she dealt with major post-traumatic stress in the weeks leading up to her testimony against Nassar.
"I just needed to go somewhere on this campus to know that everything was going to be OK, even though it doesn't feel like it, that there were people who could help me, and there's just like nowhere to go," Ebert lamented.
The neuroscience major said her struggle to find support on campus and the ongoing #MeToo movement sparked the idea for a 24/7 resource center.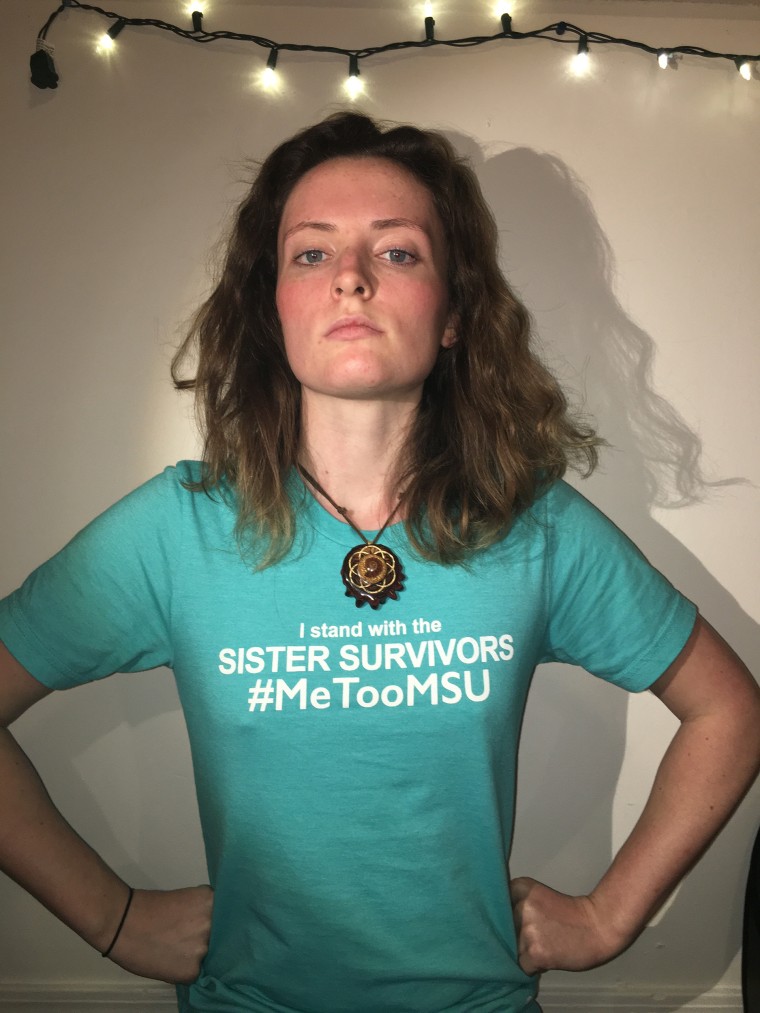 The activist said there are plenty of resources for survivors on campus, but she said students currently lack a central community space where they can easily locate these resources and where they will feel welcome and understood regardless of their sexuality, gender identity or ethnic background.
"It's hard to come forward about being sexually assaulted in the first place, but when you have to add that other layer of your sexual identity or your gender identity, not everyone is so accepting of that," Ebert explained. "I want specific people that are trained for these specific instances to be available."
Rebecca Campbell, head of the university's newly formed Relationship Violence and Sexual Misconduct Expert Advisory Workgroup, said Ebert's proposal has "caught the imagination of a lot of different stakeholders on campus."
"It really speaks to that fundamental issue of 'Where do I go?'" she said. Campbell added that LGBTQ survivors tend to have unique circumstances related to their assaults that can make it difficult for them to know where to go for help.
"Do they go to LGBTQ+ services, hoping that they understand the dynamics of relationship, violence and sexual misconduct? Or do they go to a sexual assault program? Or a relationship violence program hoping that [administrators] understand the dynamics of what that means in the context of LGBTQ people?" Campbell said.
AN INTERSECTIONAL APPROACH
Ebert envisions the 24/7 space as a central resource for all survivors, but she hopes it would be especially helpful for transgender and gender-nonconforming students, who are disproportionately impacted by sexual assault, according to the 2015 AAU Campus Climate Survey on Sexual Assault and Sexual Misconduct.
For this student population, getting help is often more complicated than simply knowing where to go, according to Genny Beemyn, director of the Trans Policy Clearinghouse at Campus Pride, a national nonprofit that promotes LGBTQ inclusion in higher education.
"I think for trans people the issue is — besides not knowing where to go — [is] not knowing whom they can go to, to trust," Beemyn explained. She said many colleges and universities lack administrators who are trained on how to deal with the unique circumstances of trans survivors.
For instance, if a transgender man has been sexually assaulted, administrators may have trouble understanding that he is not only dealing with the trauma of the assault, but also the idea that his assailants saw him as a woman, Beemyn said.
"So you're basically being denied who you are on top of the horror of being sexually assaulted," Beemyn added. "That just compounds it."
In the wake of the Nassar scandal, Michigan State University has been under an ongoing federal Title IX investigation. The university has made a number of changes to its Title IX program, including the creation of a special workgroup for responding to sexual assault allegations and a special unit responsible for sexual assault prevention.
MSU spokeswoman Emily Guerrant said many administrators are trained in dealing with multicultural and LGBTQ student populations.
"MSU has been working very hard to learn what we can from the mistakes of the past few years and make sure that survivors of any gender or any situation are being treated with respect and listened to, and providing the adequate resources to support them," Guerrant said.
But Ebert said she wants the university to do more. She said a central space open 24/7 would encourage survivors to report their assaults.
"People will start coming forward and reporting more," she said, "and we can potentially end the sexual assault problem on this campus."
The next step in her efforts to see the resource center come to fruition is to submit her proposal to MSU President John Engler for review.
"GROW[ING] FROM YOUR EXPERIENCES"
Ebert said helping other survivors come forward is also a way to help herself heal.
"I was assaulted multiple times," Ebert recalled. "I kind of just excepted that that's something that happens to women and girls."
But she said the #MeToo movement and Nassar's conviction have helped her understand that sexual assault is not something she has to accept.
"You can't change what happened," Ebert said, "but you can choose to grow from your experiences, as terrible as they may be."