A New York City performer named Daniel Marandola on Friday joined seven others in accusing Sherry Pie, a contestant on RuPaul's Drag Race Season 12, of duping him by posing as a well-connected casting director searching for the lead actor in what was billed as a new production called "Bulk."
As a result of the accusations, a spokesperson for VH1 told NBC News that Sherry Pie, whose real name is Joey Gugliemelli, will be removed from the live finale of "RuPaul's Drag Race," where the queen was supposed to compete as one of the final four contestants.
"In light of recent developments and Sherry Pie's statement, Sherry Pie has been disqualified from 'RuPaul's Drag Race.' Out of respect for the hard work of the other queens, VH1 will air the season as planned. Sherry will not appear in the grand finale scheduled to be filmed later this spring," the statement said.
Sherry Pie apologized in a statement posted on Facebook. "This is Joey, I want to start by saying how sorry I am that I caused such trauma and pain and how horribly embarrassed and disgusted I am with myself," she wrote. "I know that the pain and hurt that I have caused will never go away and I know that what I did was wrong and truly cruel."
Buzzfeed News published a report on late Thursday with accounts from five actors who claim they were catfished and coaxed into providing humiliating and degrading "audition" tapes by Gugliemelli, who posed as a casting director called "Allison Mossey" in email interactions between 2015 and 2017, and as Mossey's production assistant for in-person filming sessions. According to Buzzfeed, none of the men ever met Allison Mossey in person. Two more accusers came forward on Friday, bringing the total number who spoke to Buzzfeed to seven.
NBC News spoke to four of the seven Buzzfeed News accusers, as well as Marandola, who says his interactions began in August 2018 with a person going by the name Allison Mossey and ended in December 2019 when he confronted Gugliemelli about the Mossey persona.
NBC News reached out to Gugliemelli for comment on the allegations but did not receive a response.
Soon after they first met at New York City's Ritz bar, Marandola and Gugliemelli became close friends, Marandola said.
"There was never anything creepy about Sherry, she was a friend and she was always very much reminding me: 'I don't see you in any way other than just as a friend, don't get it twisted,' or, 'I'm not into guys that look like you,'" Marandola said.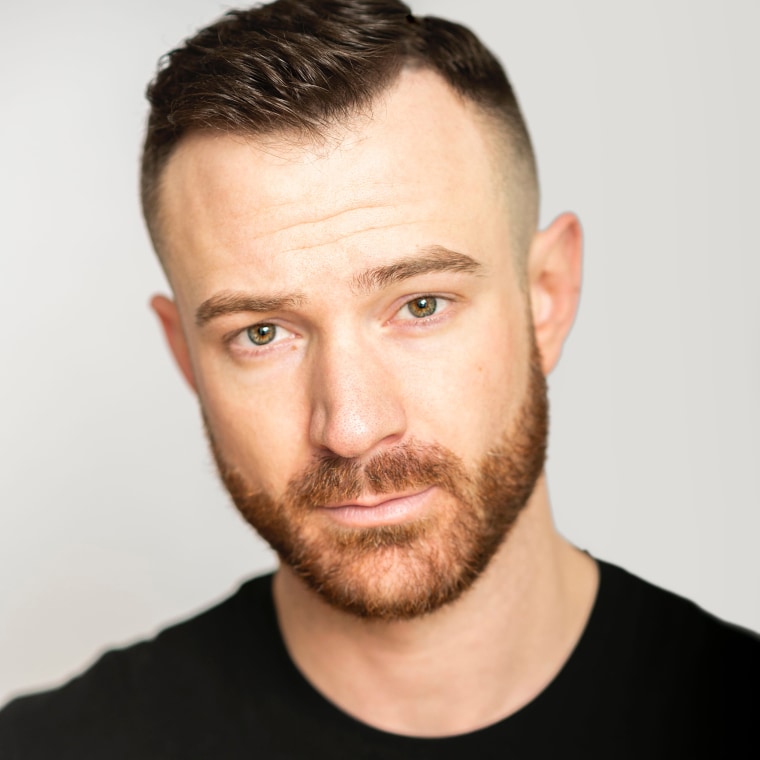 Marandola said that in emails spanning a year and a half someone going by the name Mossey convinced him to take steroids. Gugliemelli, under the guise of being Mossey's production assistant, then allegedly paid him money to purchase steroids in order to be considered for a part in "Bulk," Marandola said.
Marandola said he was variously told that "Bulk" would be a New York stage production, an HBO production, or a Hulu production, matching the accounts of the four other actors interviewed by NBC News.
Marandola says his "casting process" with the person going by the name Mossey continued via email until December 2019 and involved him making over 800 degrading audition videos, some of which involved sex toys — all while Marandola and Gugliemelli together ran a weekly drag show at Rebar, a Manhattan gay bar.
Marandola said that he received emails from Mossey and was told in person by Gugliemelli that he needed to be physically larger in order to land the role. He tried to bulk up by working out and eating, but three months in, he got an audition note that forever changed his life.
"I was told [by Mossey and Gugliemelli], 'Listen, you're not growing quick enough, you're not big enough, this is how it works in Hollywood,'" Marandola said. "You want a career in this, you have to go to the next level for it. Every actor who's working professionally is on HGH [human growth hormone] or steroids."
"I was petrified," Marandola said, adding that at first he declined. He said that Gugliemelli then pressed him in person, saying, "I'm puzzled why you wouldn't take this opportunity," and "if you don't think this happens in Hollywood you're a fool."
"Two days later, I said, 'Okay, but I'm controlling it,'" Marandola said. What was supposed to be a three-month cycle of steroids continued for a year, as the productions that Mossey dangled shifted slightly and became ever more enticing, he said. "It was no longer an HBO/Amazon film, which is what she said it was originally," and instead was now in planning to be a feature film, Marandola said.
Marandola said that as a result of the year of steroid use, his estrogen levels are extremely elevated and he has mental repercussions including depression and scattered thoughts.
Each time he began to grow suspicious, Marandola said, Mossey and Gugliemelli egged him on in emails or in person, respectively, making excuses for the vulgarity of the script he was asked to read or telling him that it was an opportunity worth the sacrifice.
Eventually, while Gugliemelli was in Los Angeles filming "RuPaul's Drag Race," Mossey stopped responding to Marandola's emails. He grew suspicious and contacted lawyers. In December 2019, Marandola confronted Gugliemelli in text messages and demanded to see a contract for the payments he was receiving via Venmo as a retainer and to pay for his steroids.
"You have made representations and have likely engaged in fraud. I have proof that you stated you received money via Venmo in past texts, your stories don't add up anymore," Marandola wrote, according to text messages forwarded to NBC News by Marandola.
The next day, Marandola said, he received a response from Gugliemelli.
"I can't do this anymore and I know it's a simple yes! This has gotten so outta hand and so I need f***** own up and say that I haven't been a good anything to you," the text read.
"Explain in detail what you are saying. Give me full clarity. What did you make up? Was anything real? Are you Allison Mossie? Did you write the scripts?" Marandola responded.
"Yes I lied to you," read texts that Marandola forwarded to NBC News that he said came from Gugliemelli. "I'm going to answer everything."