The Human Rights Campaign, a national LGBTQ-rights organization based in Washington, sent a message — a large one — to President Donald Trump and Russian President Vladimir Putin ahead of their meeting in Helsinki on Monday.
"Trump and Putin: Stop the crimes against humanity in Chechnya," said one of the messages projected onto the side of Finland's presidential palace, where Trump and Putin met.
More than 100 gay and bisexual men have reportedly been rounded up, tortured and abused in the Russian region of Chechnya, and as many as 20 have reportedly been murdered. The issue first gained international attention in April 2017 when Novaya Gazeta, a Russian independent media outlet, broke the story.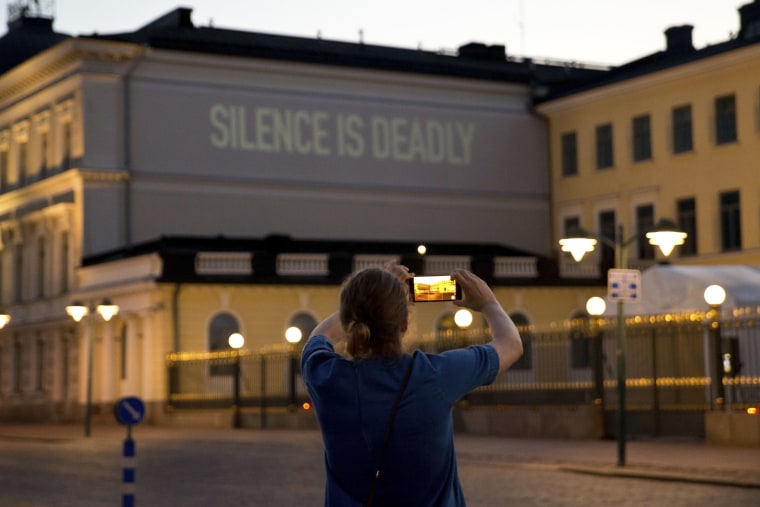 With its projected messages, HRC hopes Trump will publicly condemn the anti-LGBTQ campaign.
"Trump has unconscionably turned a blind eye to some of the worst anti-LGBTQ atrocities in a generation, including monstrous attacks on gay and bisexual men in Chechnya," Ty Cobb, director of HRC's global initiatives, said in a statement. "HRC is here in Helsinki to demand Donald Trump end his deafening silence, publicly condemn these Chechen crimes against humanity, and call on Putin to investigate and bring the perpetrators to justice."
Chechen leader Ramzan Kadyrov and other officials in Chechnya have denied any crackdown on gay people. In fact, Kadyrov has claimed they "don't have any gays" in the semi-autonomous region.
"If there are any, take them to Canada. Praise be to God. Take them far away from us. To purify our blood, if there are any here, take them," Kadyrov said last year in an interview for "Real Sports With Bryant Gumbel."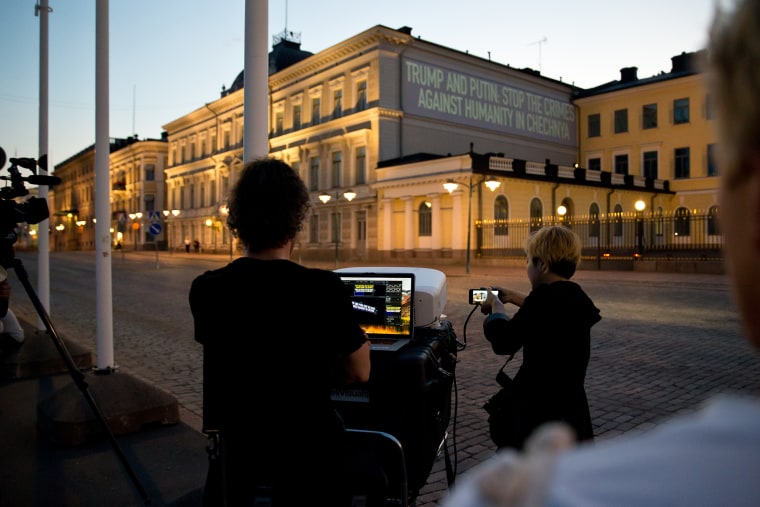 While Trump has not publicly mentioned the reported abuse of gay and bisexual men in Chechnya, a number of American officials have.
Following Kadyrov's assertion last year that Chechnya has no gays, U.S. State Department spokeswoman Heather Nauert told reporters in Washington that the department found the remarks "very concerning and also upsetting." She said the issue had been raised with Russian officials "at the highest levels."
U.S. Ambassador to the United Nations Nikki Haley also has spoken out against the reported anti-LGBTQ campaign in Chechnya.
"We continue to be disturbed by reports of kidnapping, torture and murder of people in Chechnya based on their sexual orientation and those persecuted by association," Haley said in a statement last April.
Igor Kochetkov, chair of the Russian LGBT Network, the country's largest gay rights organization, said international attention is "essential to putting pressure on Russian authorities to take action."
"Russian authorities deny even the mere existence of LGBT people in Chechnya, but with continued international pressure, we aim to stop the persecution, torture and killing of LGBT people in Chechnya, and ensure that those responsible for these crimes against humanity are brought to justice," Kochetkov said in a statement.