When 21-year-old Alexander Teh flew from Singapore to Bangkok with his parents earlier this month, he expected to have the first of his female-to-male gender reassignment surgeries: a scheduled bilateral mastectomy. Instead, his surgeon sent him to see a psychiatrist at a nearby hospital. "He said he was sending me to see a psychiatrist for my parents, to ease them into the process," Teh explained.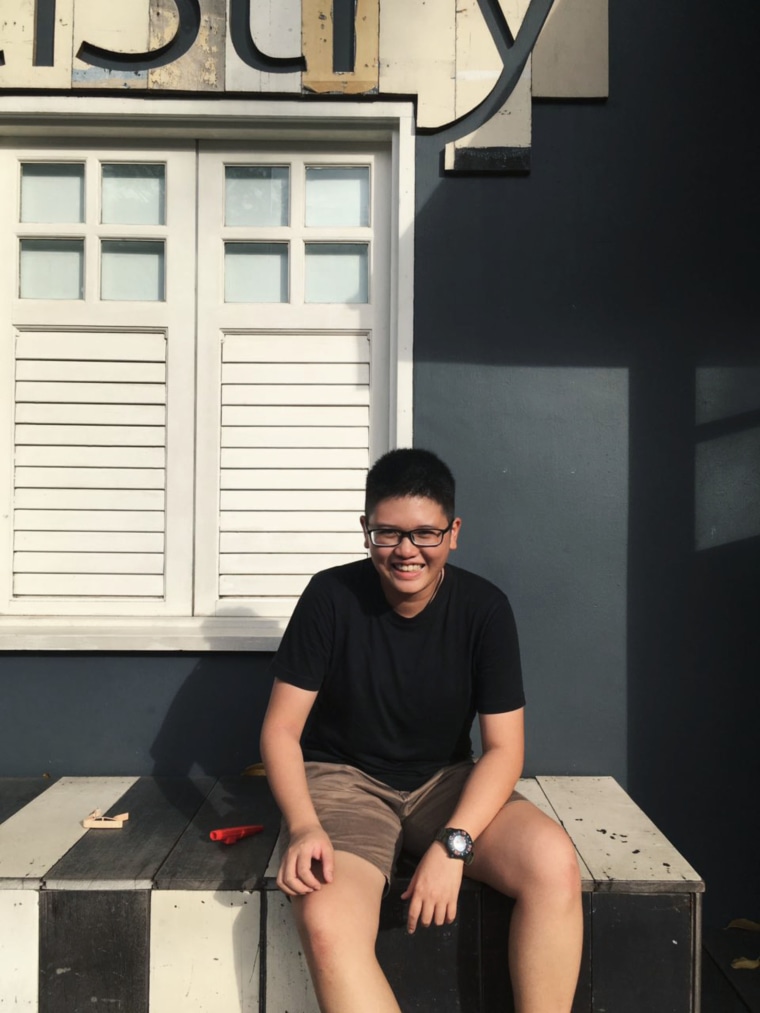 The meeting went well at first, until the psychiatrist asked Teh whether he was attracted to men or women. "I said I was attracted to guys, and she said 'Interesting,' so I thought it wasn't an issue," Teh said. But at the end of the meeting Teh was told he'd have to go through another series of psychological tests before he would be allowed to have the surgery.
"The psychiatrist said it was quite clear that I had gender dysphoria, but she was confused as to why I would choose to like guys and not girls," Teh said. "I told her, I didn't choose it, it's just the way it is."
The psychiatrist told Teh he would still need to take further tests, and scheduled the tests for a date after Teh and his parents had planned to leave Bangkok. Teh ended up returning to Singapore without having the surgery.
For many transgender men and women like Teh, living in Singapore and navigating the process of transitioning can often involve a series of legal and procedural hurdles that can create challenges beyond simply fighting for social acceptance from family, friends, and colleagues.
RELATED: Vietnam's LGBTQ Movement Is in Full Bloom
In Singapore, a person cannot have one's gender marker legally changed on official documents without first undergoing gender reassignment surgery and sterilization. This is a much stricter policy when compared to countries like Argentina or Denmark, which require no surgery or any type of medical verification to have a person's preferred gender legally recognized by the government.
"Personally, I can see why it's a requirement," Teh said of Singapore's policy. "But for trans people who don't have the means for these surgeries, whether for financial or health reasons, [the requirement] hinders the quality of life for these people. Because them having these reproductive organs doesn't make them any less of the person that they identify as." He also noted some people simply don't feel the need to undergo surgery as part of their transition.
For Teh, it was a step he wanted to take, and he decided to travel to Bangkok for his surgery because the specific procedure he wanted wasn't performed in Singapore. He didn't expect that his identification as a gay man to the psychiatrist would have created a hurdle so early on in the process, preventing him from having the surgery as originally planned.
If anything, Teh had prepared himself for the legal hurdles being a gay man might cause after his gender marker was legally changed to male, since the act of sex between two men is still criminalized in Singapore and punishable with up to two years in prison, as stated in Section 377A of the Penal Code.
"It's not actively enforced," Teh said of the law. "But it is a concern that this law could be used against people, not just myself but other people in Singapore as well, because it's there."
RELATED: LGBTQ Activists in Brazil Use Social Media to Spread Awareness, Acceptance
Roy Tan has been archiving Singapore's LGBTQ history for nearly two decades, and says laws like Section 377A can have an outsized effect on the lives of LGBTQ individuals living in Singapore, even if not actively enforced.
"The law has an enormous influence over how the population views homosexuality, since most policies in Singapore are top-down," Tan explained. "Once you change the law, public opinion regarding homosexuality will change accordingly."
Tan added Section 377A specifically affects censorship and sex education. "There can be no positive portrayal of LGBTQ people because of censorship policies, and these are backed by the criminalization of gay sex," Tan explained. "Any mention of gay rights, even by Ellen DeGeneres or President Obama is regarded as promoting homosexuality and has to be censored."
Sujith Kumar, cofounder of the Purple Alliance, an LGBTQ organization in Singapore, believes Section 377A is one of the biggest barriers to progress for the LGBTQ community in the country. "How do we move forward when all mainstream society hears is that being gay is somehow against the law, against the 'family' and against 'nature'?" he asked.
RELATED: Kenyan Artist Brings Visibility to Nairobi's LGBTQ Community
The constitutionality of Section 377A has been challenged in recent years by two high profile cases brought on by gay men, but both cases failed to result in the law being repealed. According to a report provided to the United Nations by the government of Singapore in October 2015, the law remains because "segments of Singapore society continue to hold strong views against homosexuality for various reasons including religious convictions and moral values." Although the report also stressed that "while Section 377A is retained, the Government does not proactively enforce it."
How much the law will directly affect Teh once his gender marker is legally changed to male is not something he's entirely clear of, but it's something he'd rather not have to think about as he deals with the other hurdles of transitioning. "I think that if it's not being actively enforced then you should just do away with it," Teh said. "It still creates a hostile environment for gay men in Singapore."
But this is something Teh will deal with at a later time, since for all legal purposes the government of Singapore still considers Teh to be female. He is still determined to continue the process of his gender reassignment surgeries and hasn't let the road block caused by his experience with the psychiatrist in Bangkok deter him. If anything, he's inspired to work harder toward his own goals of working in mental health once he graduates college.
"I hope someday to be qualified enough to specialize in LGBTQ mental health care, so in the future I can provide better help for trans people specifically," he said. "I think no one should have to suffer to get to where they want to be, so if I could do something to change that then that would be great."