Alaska's most populous city, Anchorage, will vote on a ballot measure in April that seeks to mandate "intimate facilities" in municipal buildings, like restrooms and locker rooms, only be used by persons of the same "sex." The measure, Proposition 1, defines sex as an individual's "immutable biological condition of being male or female, as objectively determined by anatomy and genetics at the time of birth."
If passed, Proposition 1 would roll back aspects of Anchorage's 2015 nondiscrimination ordinance, which prohibits discrimination on the basis of gender identity, regardless of one's sex assigned at birth.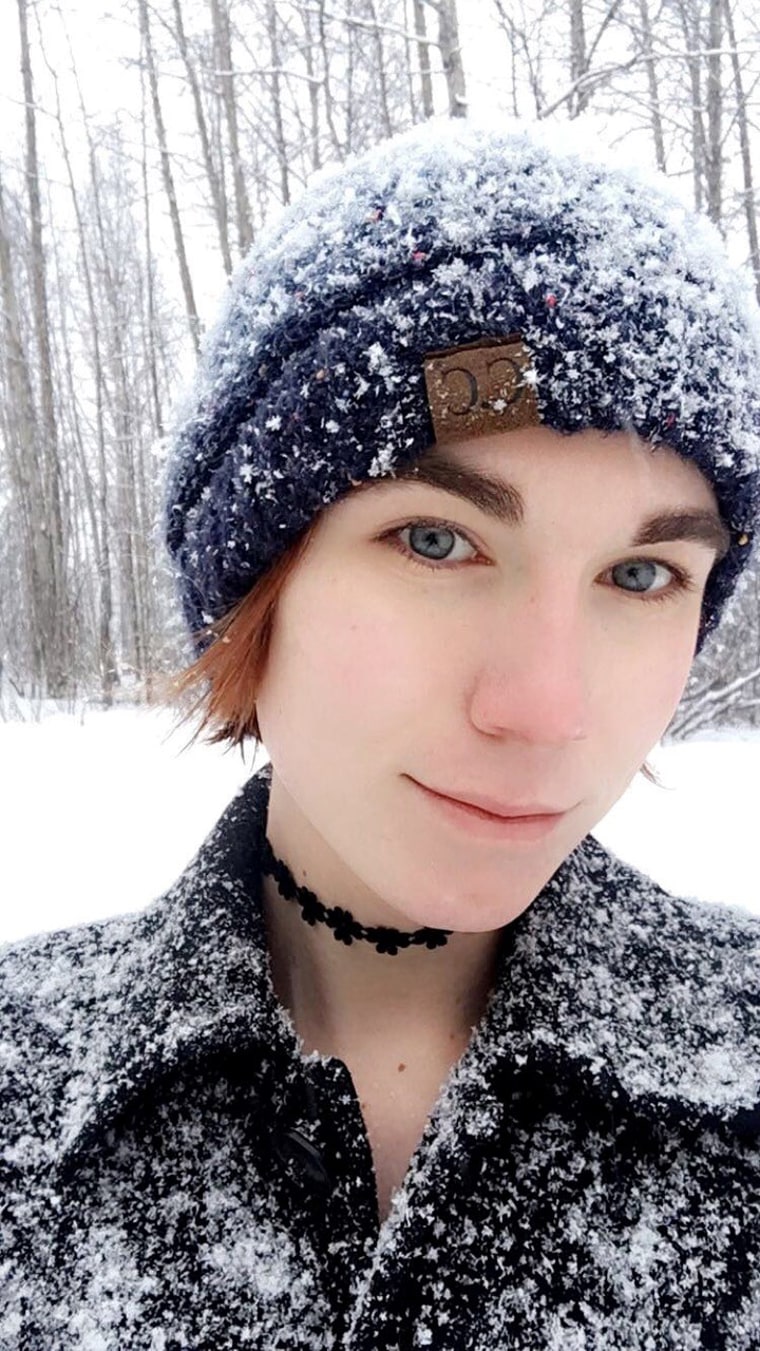 While proponents of the ballot measure say it was designed with public safety in mind, Lillian Lennon, a field organizer for Fair Anchorage, a bipartisan coalition aimed at defeating Proposition 1, said it would "effectively legalize discrimination against transgender citizens" and endanger trans Alaskans like herself.
"I live as a woman," Lennon said, "and being put into a men's restroom could put me at serious risk of harm."
Proposition 1 is just one of many state and local initiatives on the horizon this year that LGBTQ advocates say could be harmful to the lesbian, gay, bisexual, transgender and queer community.
"We are seeing a lot of anti-LGBT bills,"Chase Strangio, a staff attorney with the ACLU LGBT & HIV Project, said. He added that policy changes at the federal level have made it "easy to lose sight of what is happening in the state legislatures" and on the local level.
TRANS COMMUNITY TARGETED
Along with Proposition 1, the ACLU is watching ballot measures in Alabama, Montana and Massachusetts that target the transgender community.
In Massachusetts, a bill seeking to repeal the state's 2017 transgender anti-discrimination law secured enough signatures to make it on the ballot this year. If the Massachusetts Gender Identity Anti-Discrimination Veto Referendum is successful, it will scrap Senate Bill 2407, which prohibits discrimination based on gender identity in public places — such as hotels, restaurants and stores.
Unlike Alaska's Proposition 1, which is limited to the city of Anchorage, Massachusetts' referendum would be the first statewide vote on whether to maintain or scrap legislation that protects transgender people, according to the ACLU.
Strangio noted it's not just ballot initiatives that are targeting the trans community this year. He said there are several legislative efforts to restrict health coverage for transgender individuals.
"We started to really see this last fall in Pennsylvania," Strangio said, citing unsuccessful efforts by state lawmakers to bar transition-related health coverage under Pennsylvania's Children's Health Insurance Program (CHIP).
Currently in New Hampshire, lawmakers are considering a set of bills that would prohibit Medicaid from paying for transition-related care, prohibit minors from obtaining gender confirmation surgery and allow medical practitioners to decline to treat patients on the basis of "their religious, moral, or ethical convictions."
"PARODY MARRIAGES"
Following the 2015 landmark Supreme Court case, Obergefell v. Hodges, same-sex marriage became legal across the U.S. However, there are still some states in the union pushing back on gay marriage rights.
Republican lawmakers in both Wyoming and South Carolina introduced legislation last week referring to same-sex marriages as "parody marriages." The nearly identical bills, both titled the "Marriage and Constitution Restoration Act," call for their respective states to prohibit "respecting" or "endorsing" any marriage not between a man and a woman.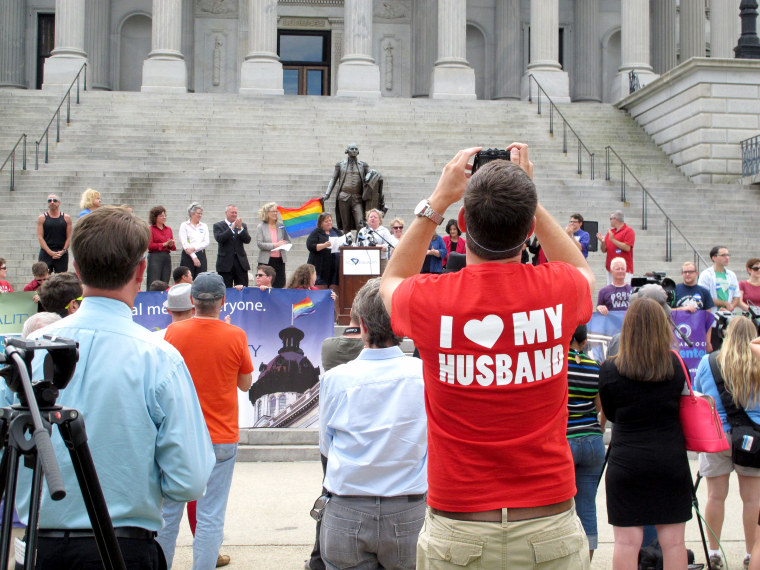 Shaundra Young Scott, executive director of the ACLU of South Carolina, called the bill introduced in her state "an absurd insult to the gay and lesbian families of South Carolina, and their children."
"The authors use a ridiculous legal argument in a blatant attempt to roll back the rights of LGBTQ citizens," Scott said in a statement sent to NBC News. "The real parody here is not marriages of same-sex couples, but the introduction of the 'Marriage and Constitution Restoration Act' as any kind of governing. This should die in committee, and we call on members of the South Carolina House to ensure that this bill never becomes law."
While the Wyoming bill appears to have died in committee, the South Carolina bill is still on the table. The exact ramifications of the bill, were it to be passed, are uncertain, but the text as written raises questions about the ability of same-sex married couples to retain rights conferred through marriage, such as access to health insurance, medical decisions and child custody.
NEW "NO PROMO HOMO" LAW?
Seven states in the U.S. currently have so-called "no promo homo" laws on the books — education laws that explicitly prohibit the positive portrayal of homosexuality in schools. While most of these laws were passed in the late 1980s and early 1990s, Strangio said Republican lawmakers in Indiana are looking to pass legislation with a similar goal in 2018.
Indiana's Senate Bill 65 would require parents to approve of any instructional material used in connection with teaching students about human sexuality. Strangio called the bill "incredibly broad" and said it could be used to restrict the ability of educators to discuss LGBTQ issues in the classroom. If passed, Strangio said SB65 could have "potentially devastating implications both for sexual health and the wellbeing of LGBTQ students."
While the latest version of the bill does not specifically mention sexual orientation or gender identity, the initial version did, stating, "A school may not provide a student with instruction on human sexuality, including sexual activity, sexual orientation, or gender identity, unless the parent of the student … has provided the school with written consent for the instruction."
"RELIGIOUS EXEMPTION" LAWS
Rose Saxe, a senior staff attorney with the ACLU LGBT & HIV Project, said we are continuing to see bills that "target LGBTQ people by expanding religious exemptions." These laws, Saxe said, "would insulate anybody with beliefs that are hostile to LGBTQ people."
In Kentucky, Saxe is watching a bill that claims to protect religious organizations by "preventing government interference with religious exercise." The bill would allow religious organizations to refuse any service related to a same-sex marriage or deny employment or housing to any individual "whose conduct or religious beliefs are inconsistent with those of the religious organization."
Saxe also has her eyes on proposed bills in Oklahoma and Colorado that she said would "expressly authorize foster parents to make decisions based on their faith, including that children go to conversion therapy." Conversion therapy refers to now defunct medical practices that attempt to alter one's sexual orientation or gender identity.
"The state would be powerless to intervene," Saxe said of these bills, regardless of how harmful the decisions were to the wellbeing of the child.
Broadly speaking, Saxe said her organization currently spends an "extraordinary amount of time" fighting state-level legislation that seeks to chip away at or rolls back hard-won gains for the LGBTQ community.
Human Rights Watch, an international human rights advocacy organization, issued a 41-page report earlier this week outlining the threats state laws pose to LGBTQ equality. The report focused on "religious exemption" laws and claimed they can embolden providers to deny service to LGBTQ people in areas such as adoption, foster care and medical care. It also found that these laws discourage LGBTQ people from seeking out services due to fear of discrimination and send a message that LGBTQ people are not equal members of their communities.
"Describing these laws as 'exemptions' is misleading," Ryan Thoreson, an LGBTQ researcher at Human Rights Watch, said in a statement sent to NBC News. "Given the dearth of laws that protect LGBT people from discrimination in the first place, legislators are getting it exactly backwards and creating exceptions before they've ever established the rule."
"DECREASED APPETITE" FOR ANTI-LGBTQ BILLS
Despite the slew of anti-LGBTQ initiatives on the horizon this year, Strangio said he believes there is a "decreased appetite" among lawmakers to pursue these bills, which he called "solutions without a problem." He said he is also optimistic that the American public will ultimately not support such initiatives. "I think the tides are turning in public opinion," he added.
Lillian Lennon of Fair Anchorage agreed, saying she is betting that an informed public in her city will vote against Proposition 1. She said most people "don't seem to know what Prop. 1 is," so she has undertaken a public education campaign to close the information gap.
In order to help combat anti-LGBTQ initiatives, advocates are working to expand federal and state-level discrimination protections. Currently, only 19 states and the District of Columbia explicitly prohibit discrimination based on sexual orientation and gender identity in employment, housing and public accommodations. An additional three states — New Hampshire, Wisconsin and Utah — provide partial protections.
The ACLU, according to a spokesperson for the organization, supports "nationwide protections from discrimination based on sexual orientation and gender identity," and Human Rights Watch, according to its new report, advocates for a series of measures, including passage of the Equality Act on the federal level and passage of state-level legislation "prohibiting discrimination based on sexual orientation and gender identity in employment, education, healthcare, housing, adoption and foster care, and public accommodations."