Many LGBTQ couples divorcing in states that did not previously recognize same-sex marriage are stuck in a legal mess. Due to inconsistent laws and misinformation, some who separated from their partners are discovering they are still married, and others are fighting for legal rights to children, lawyers say.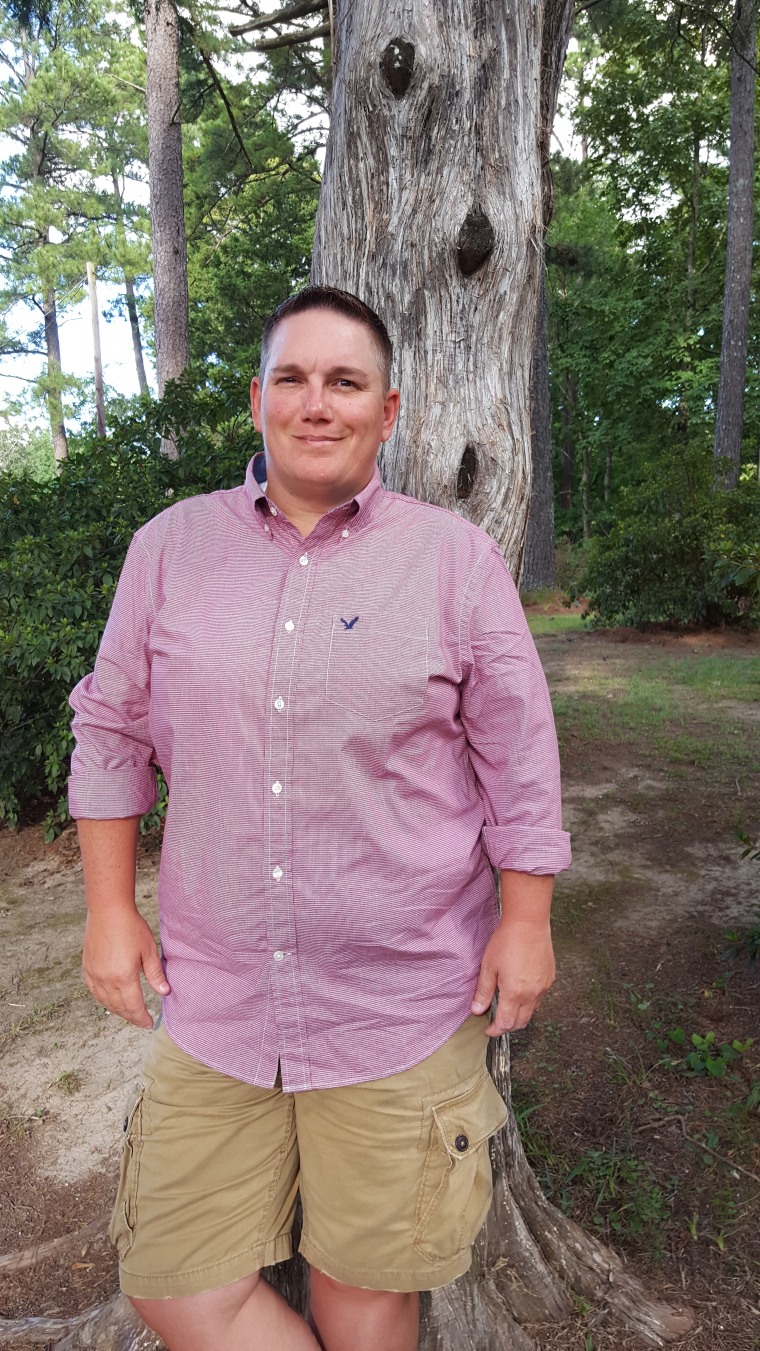 It's a situation Mississippi lesbian Chris Strickland knows all too well. The 43-year-old had no idea her marriage would end, or that the children she considers her own would be kept from her.
"Here we are in divorce court. And I'm trying to fight for my rights for the boys and get a divorce," Strickland told NBC OUT.
"I can't speak to my kids or hold my children," she said. "I'm very stressed out."
Strickland's story is a complicated one. She met her wife Kimberly Day in 1999 — a moment, for her, that was love at first sight. Now 17 years later, the two women are caught in a bitter divorce, with two children stuck in the middle.
Two years before they married, the couple decided to adopt a child. At that time, same-sex couples couldn't get married or adopt children in Mississippi. So Day adopted a 6-year-old boy on her own. Only she is listed as a parent on his adoption papers, though the boy, now a teenager, lived with both women until they separated. But as far as Strickland is concerned, he is her son.
"My favorite memory of [him] is getting him off the airplane … [I] handed him a baseball glove and [got] prepared for a new life with Kim [and him]," Strickland said.
But Strickland would have no legal rights to the boy even though, she said, "I was in his life from day one."
"Me personally, that's my child. A piece of paper doesn't mean anything to me," she said.
In 2009, the couple decided to get married, but they couldn't do so in Mississippi. So they flew 1,400 miles to get married in Massachusetts. Afterwards they returned to their home state.
Two years later, Day got pregnant through in vitro fertilization with a boy, now 5 years old. Since Mississippi did not recognize their marriage, the hospital would only allow Day's name on his birth certificate.
Strickland talked fondly of his birth.
"It was amazing to bring a child into the world with [Kimberly]. Being able to hold him for the first time and walk him to the room [to see the family] was amazing … He was in very good health and got to come home with us four days later. And the journey began with our little monkey man," she said.
The couple's marriage fell apart after several years, according to both women.
Day alleged that Strickland would not hold down a job, did not help take care of the children and was abusive. The 36-year-old said the two grew further and further apart and eventually occupied separate bedrooms.
"We fought every night. She was physically abusive to me in front of the kids … So when I got my chance to leave, I left," Day said.
Strickland denied all those claims.
"I am the last person that would ever hit anybody," she said.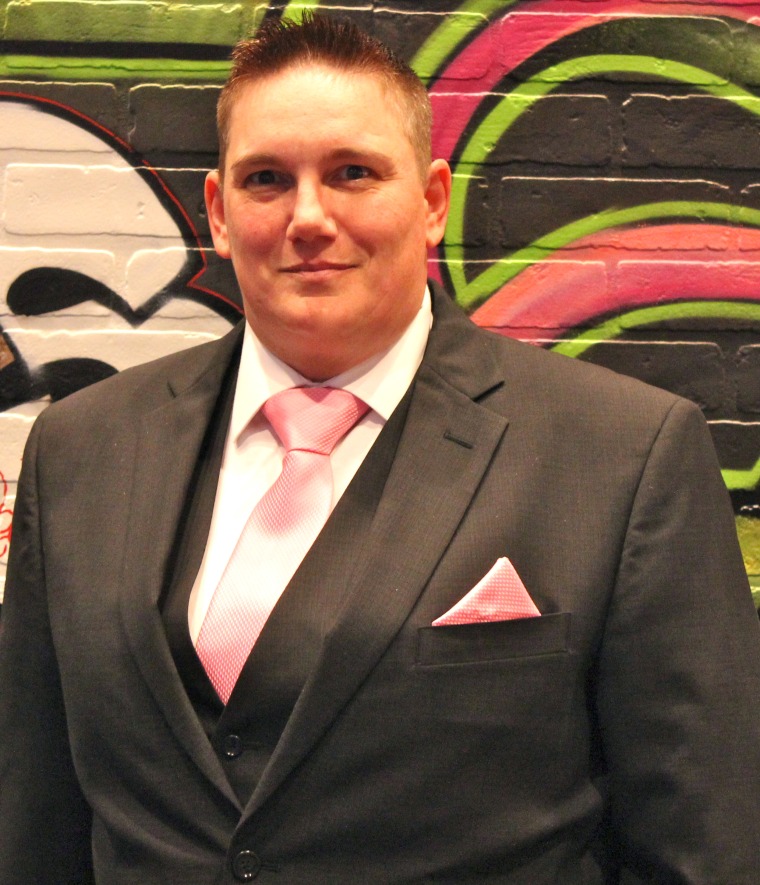 Strickland worked during most of the marriage, she said, but took a year off after the baby was born to stay home with him while Day worked. She said she helped take care of the children.
"We'd have our little spats and arguments, but I thought we loved each other … I didn't know anything was wrong until she handed me a letter saying she wanted to separate," Strickland said.
The couple moved into different homes in 2013. Day said she wanted to file for divorce. When she contacted officials in Massachusetts, she was told that either she or her wife would have to live there for a year first, which she could not afford. She said they could not get divorced in Mississippi, because the state did not recognize their marriage.
Things got even more complicated for Day, who had fallen in love with someone else — this time, a man. She wanted to marry him, but was not yet divorced from her wife.
Day said she called court officials to see if she could marry her boyfriend without getting a divorce first.
"I [asked], 'I'm not a bigamist if I get remarried?' And they're like, '[Your marriage] doesn't exist in Mississippi.' And I even asked, 'What happens if it becomes legal down the road?' And I was told it didn't matter because it wasn't valid in Mississippi at the time [Chris and I] got married," she explained.
Day married her boyfriend in 2013. But when the U.S. Supreme Court legalized same-sex marriage two years later, the validity of their marriage came into question.
Strickland said she served Day with divorce papers in August 2015. In May, a judge found that Day was still legally married to Strickland, and that her marriage to her husband was void. The women are now headed to divorce court in September. Strickland will also battle for joint custody of the boys.
Strickland said Day allowed her to see the children for two years after they separated. Day claimed there were several incidents at Strickland's home that caused her to stop visitation. Until that time, Strickland was sending money orders to Day for the children on her own volition.
"When I did allow Chris to see the kids, I told her that I am legally their parent. I'm their only parent. I'm responsible for them. So as long as you're responsible and the kids are not in danger, you can see them," Day said.
Day alleged Strickland's current girlfriend was abusive to Strickland in front of the children, and that her girlfriend caused a fire on a stove in the couple's home.
Prentiss Grant, an attorney representing Day, said Strickland has no rights to either child.
"Chris is not the parent to the children. Chris has shown herself to be unreliable," he said.
Strickland denied all those allegations. She said she is a good mother and that her current partner does not abuse her.
"These are just allegations they're trying to pull to keep me from my children," Strickland said.
Strickland has not seen the boys in more than a year. She said it gets harder every single day.
"It's a piece of your heart that's been ripped out that should have not been ripped out," she said.
Dianne Ellis, a lawyer representing Strickland, said Mississippi created a mess by not recognizing the marriage from the beginning.
"This child that was born during the marriage would have been a child of the marriage, and Chris would have been named on the birth certificate from the beginning. We would have handled custody and visitation at the time of the divorce," Ellis said.
The trial in September will establish whether Strickland's name will be added to the younger child's birth certificate, Ellis said, and whether she will be allowed custody and visitation rights to either child.
It will probably be difficult for Strickland to get joint custody of the adopted boy, Ellis said, because only Day is listed on his adoption papers, and they were not married when she adopted him. Ellis said Strickland may be entitled to visitation of him.
Strickland's case might seem unusual. But other LGBTQ couples have found themselves in difficult divorce and child custody battles before and after the Supreme Court legalized same-sex marriage, according to Brian Silva, Executive Director of Marriage Equality USA.
"While we all celebrated the Supreme Court ruling, we also knew there was still a lot of legal work that was going to need to be done. Some on the macro level and some on the micro individual level like in cases like this," Silva said.
Silva said he hasn't heard of a case exactly like Strickland's but knows they exist.
"We're talking about two women that raised two kids for 15 years. That's a definite intention of building a family, and it's an intention of two parents raising kids," Silva said.
"If both [women] wanted to be on the birth certificate at the time … and both raised the children as their parents, and the only thing that was [stopping that] was because Mississippi was enforcing an unconstitutional and discriminatory law, then I think it is important that both parents are able to be recognized," Silva explained. "Even if the law just caught up to the reality recently. And I think that goes for any case like this."
Strickland said she hopes the judge will rule in her favor and that she will be able to get joint custody of the boys.
"I can't wait to get my [arms] around them. I'm so ready to hug my kids it's unreal," Strickland said.