The over-the-top pop music extravaganza known as the Eurovision Song Contest has long been something of an annual holiday for European gays, one where camp reigns and flamboyance is queen, as the nations of Europe (and now Australia) battle it out for tuneful supremacy.
But in recent years, the pan-continental competition has increasingly also become more than that —openly showcasing a broad range of LGBTQ identities, and serving as a powerful beacon of equality to audiences across Europe and far beyond, while courting a fair bit of controversy in the process.
Eurovision 2018 is arguably the most broadly and unapologetically LGBTQ edition to date, with both the first-ever out lesbian contestant (Finland's Saara Aalto) and an on-stage gay romance (courtesy of Ireland's Ryan O'Shaughnessy).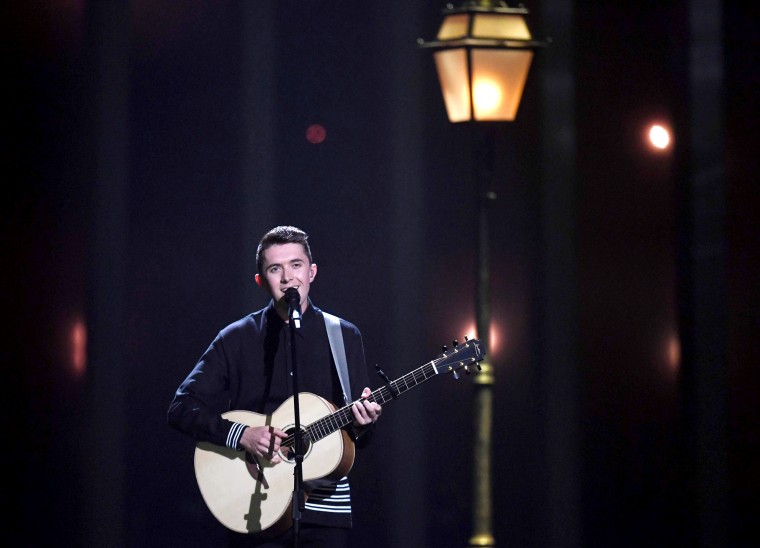 "Ryan's on-stage performance is the clearest depiction of gay love that we've ever seen at Eurovision," William Lee Adams, founder of popular Eurovision Song Contest website Wiwibloggs, told NBC News. "His two dancers, who hold hands and caress, perform opposite Ryan and a female pianist, whose romance is implied through the camera angles. He's allowing gay love and straight love to share the stage."
Earlier this week during the contest's semifinal round, the unabashedly queer staging of O'Shaughnessy's song "Together" was enough for the broadcaster of the competition in China, Mango TV, to censor it. Eurovision's producer, the European Broadcast Union, swiftly responded by terminating its relationship with the Chinese network.
Meanwhile Russia, no friend of LGBTQ visibility in recent years with its notorious "gay propaganda" laws, seems to have blinked in the face of openly queer representation at Eurovision this year. Though rumors circulated that it too might censor O'Shaughnessy's performance, it thus far has not.
Launched back in 1956, the Eurovision Song Contest has grown from just seven competing countries to this year's 43. Along the way, it's served as the international career springboard for the likes of Celine Dion and ABBA — and well more than a thousand also-rans, who, as they try to grab the audience's attention during their allotted three minutes per song, have used every showy stage trick in the book.
"Gay people — even if they aren't fully aware of their sexual orientation — can identify with the glitz and glam and flamboyance of Eurovision stars," Adams said. "Perhaps they represent a sense of freedom and emancipation that gay men and women crave. Eurovision is like gay pride — a safe place to let it all hang out."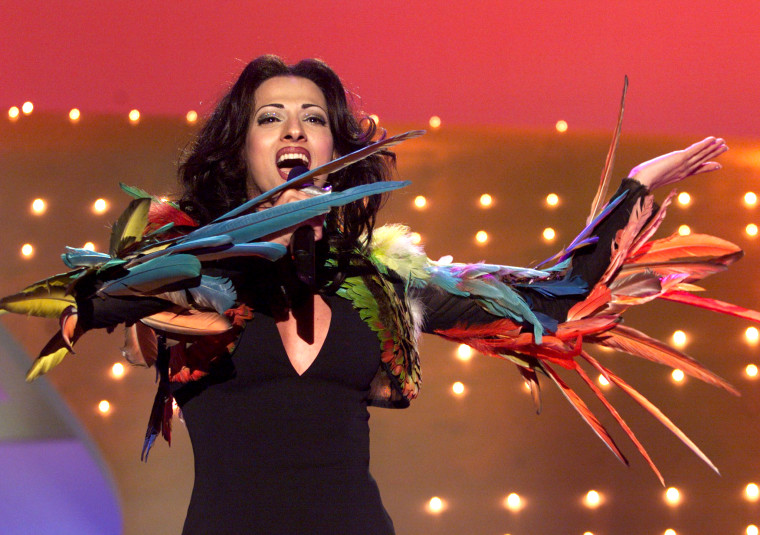 The contest's first real LGBTQ groundbreaker was Israel's Dana International, who, a full two decades ago in 1998, boldly became the contest's first trans entrant — and winner — with her song "Diva". In 2014, Austrian "bearded drag queen" Conchita Wurst was crowned Eurovision's second out LGBTQ champion with "Rise Like a Phoenix".
"Conchita was a target of abuse not only from straight people, but also gay people who said she presented a 'freakish' image of the LGBT community," said Adams. "Now people don't bat an eyelid when they see her. It's proof that having role models — from across the spectrum — can normalize supposedly strange or bizarre aspects of people. She's my favorite for making the gay community look at itself and what it considers normal."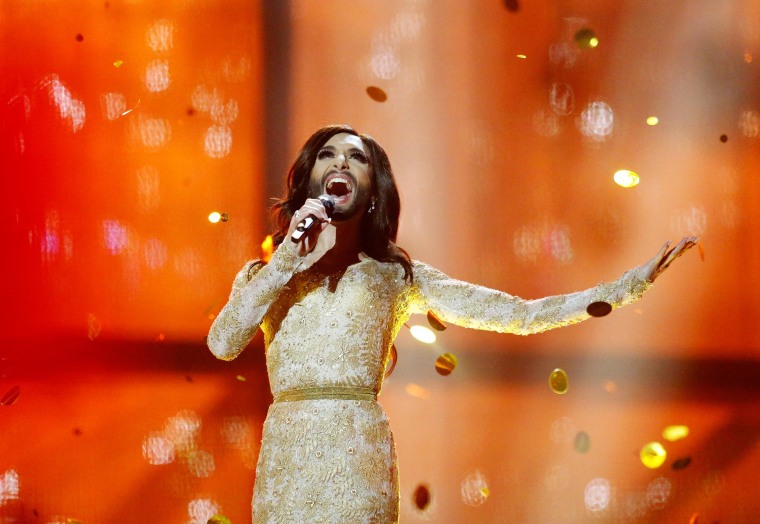 Marija Šerifović of Serbia won Eurovision in 2007 with her fairly obviously lesbian-themed performance of "Molitva" and has come out as a lesbian herself since her triumph — but Finland's Saara Aalto marks another queer milestone this year.
"Saara is perhaps the most 'out' lesbian at Eurovision ever," Adams said. "She speaks openly about her manager and fiancée [Meri Sopanen]. Her song 'Monsters' could be read as a reckoning with her own sexuality. Self-hatred, homophobia, the various bigots she's encountered in her life — she's dancing past them and tearing down the walls inside her head."
"Monsters" is actually Finland's second patently LGBTQ entry — in 2013, singer Krista Siegfrids stirred controversy by including a lesbian kiss in the performance of her song "Marry Me", which she said was to protest Finland's lack of marriage equality. The Finnish Parliament voted to allow same-sex marriages the following year.
Social undertones actually abound at this year's Eurovision, from Israel's #MeToo-esque entry "Toy" to France's refuge-crisis-themed "Mercy." But if the bookies are to be believed, Cyprus' sexy and completely apolitical "Fuego" may walk away as the winner.
Still, O'Shaughnessy is quickly gaining ground, having jumped to third place this week in pre-contest wagering. And Eurovision is nothing if not always full of surprises.
The 2018 Eurovision Song Contest final begins at 8 p.m. local time on Saturday in Lisbon, Portugal, and will be broadcast live in the U.S. on the Logo network at 3 p.m. EDT, 12 p.m. PDT.