For South African artist Kate Arthur, it took a long time for her to get personal with her own work.
"I never wanted to reveal anything about myself through my art," Arthur told NBC Out. "I never addressed my sexuality or gender, which for so long was a source of embarrassment and pain."
Today, Arthur openly embraces her identity as both an artist and a member of the LGBTQ community, and feels a greater responsibility to be political with her work. In fact, Arthur's ongoing depiction of queer bodies is proving an artist can make a political statement simply by being visible and increasing the visibility of others in the LGBTQ community.
"I see the work that I do as an act of love, and queer love is always political," Arthur said.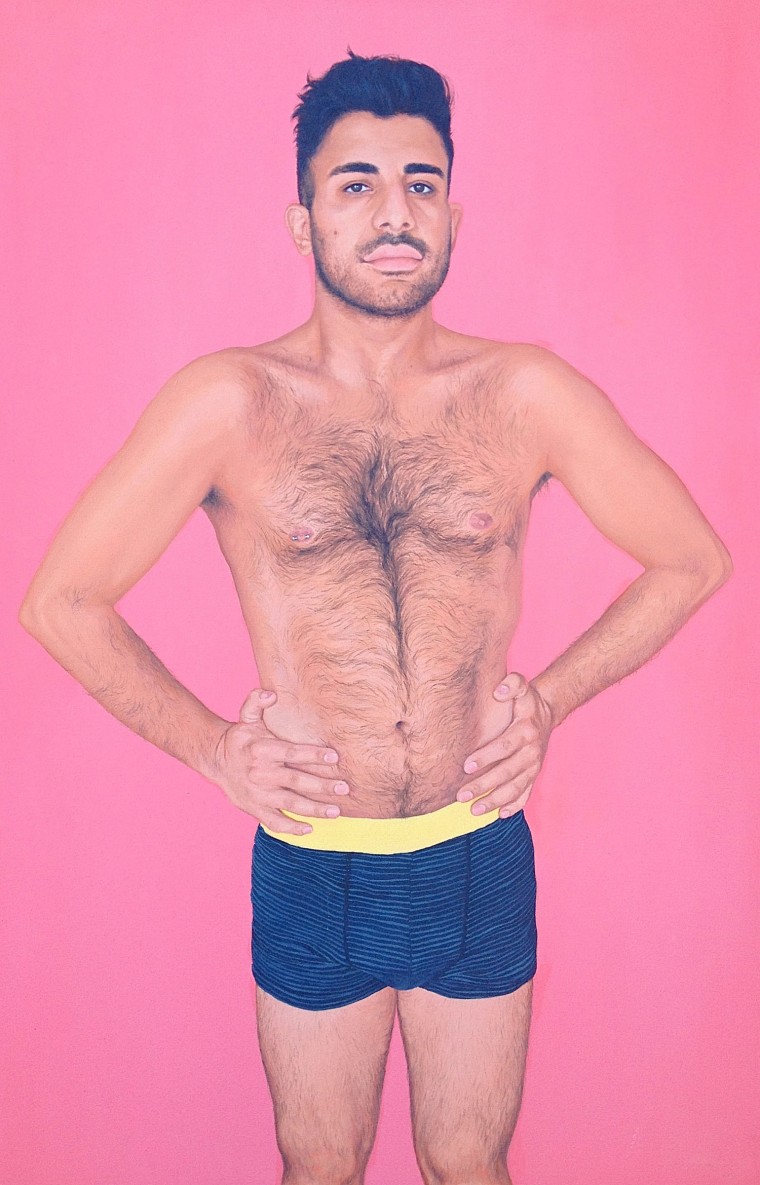 Through her "Body Portraits" series, Arthur explores different representations of the queer body, using details like shape, skin, hair, scars, piercings and tattoos to help depict the personal experience and history of each of her subjects. Sometimes the face of the subject is included, but according to Arthur, it is the body that she is most interested in.
"Acknowledging the body as a site of identity is particularly pertinent to queer people, whose bodies are often sites of ridicule, shame and persecution," Arthur said. "My portraits are in honor and celebration of these bodies and the people to whom they belong."
Arthur describes her own coming out experience as a complicated and continual process. "Coming out was not a once-off event for me," Arthur explained. "[It was] rather a more complicated and drawn out process of figuring it out, because I was queer, but I didn't have a word for it then. I was never comfortable with using the word lesbian for myself."
It was during these early years that Arthur was hesitant to claim her queer identity too forcefully in her art.
"Only in the last two years have I consciously embraced my own identity and employed LGBTQ politics as a factor in my work," she said. "In fact, it has become a prerequisite that the people I paint identify as queer."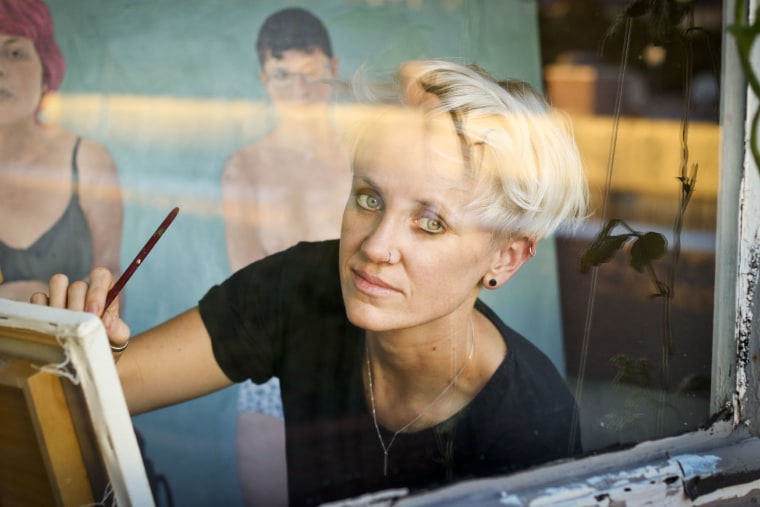 Arthur says that the lives of South Africa's LGBTQ communities are getting better in large cities like Cape Town and Johannesburg, but in smaller or more rural cities across the country life for a sexual and gender minority can still be difficult.
"It's even harder if you aren't white or economically privileged," Arthur said. "There is still a lot of conservatism, ignorance and intolerance … even in the cities."
Indeed, a recent study of LGBTQ individuals done for the Love Not Hate Campaign in South Africa showed that 55 percent of those surveyed live in fear of discrimination due to their sexual orientation or gender identity. Perhaps even more troubling, 41 percent of respondents to the study said they knew of someone who had been murdered because of their sexual orientation.
Violence against the LGBTQ community is not unheard of in the country, including corrective rape, a term used to describe the hate crime of raping a person with the belief that the act will "correct" or "cure" the victim's sexual orientation. In most cases, the victims are queer or lesbian women.
Though not specific to South Africa, such acts of violence stand in stark contrast to the country's progressive constitution, which is one of the most progressive in the world when it comes to the rights of LGBTQ individuals.
In 1996, South Africa became the first country in the world to explicitly outlaw in its constitution discrimination based on sexual orientation, and in 2006 the country became the first country in Africa and the fifth in the world to legalize same-sex marriage.
"South Africa's constitution is progressive, but people's lived experiences do not generally reflect that," Arthur explained.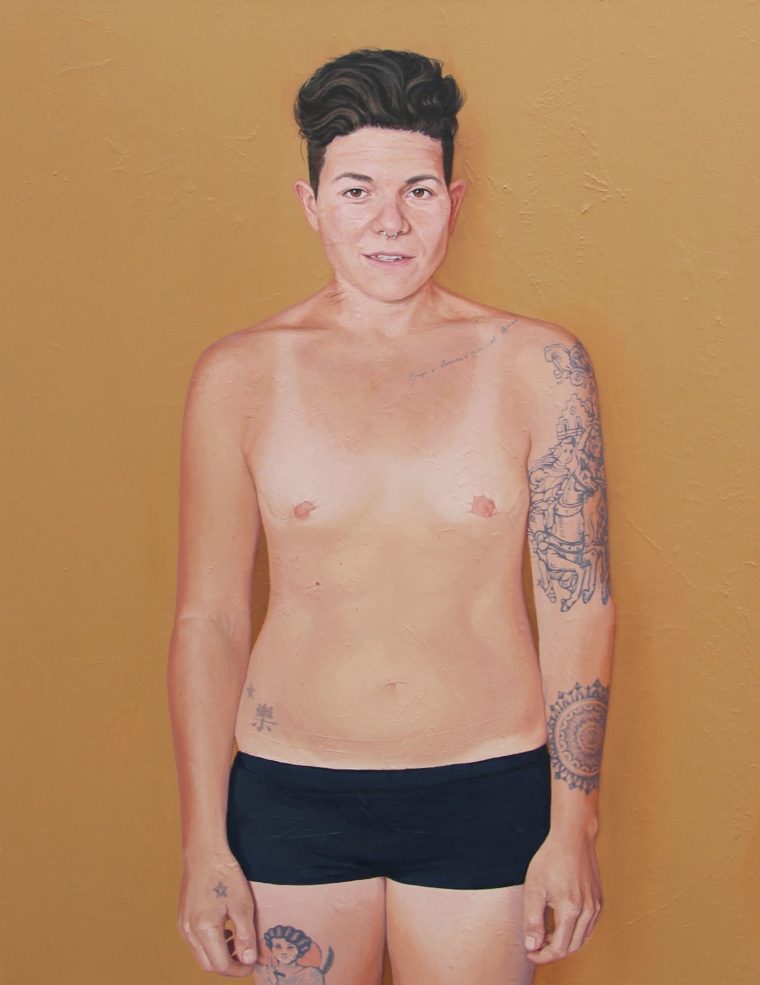 It is this reality that makes Arthur's work all the more important, as she hopes to help fight the discrimination, homophobia and transphobia that still exists within the country.
"I do think artists have a responsibility to be political, especially in the face of prejudice, adversity and injustice," she said. "If I believe in the importance of LGBTQ visibility, then I need to be visible in my work."
As Arthur continues to show her work across the country, most recently at the Cape Town Art fair this past week, she has been heartened by the response people are giving to her art. " There were, of course, people who expressed discomfort about the subject matter, but for the most part I was overwhelmed by how well the work was received," she said.
The response has only helped to reinforce Arthur's own belief in her role as an artist.
"Politicians, teachers and community leaders have a very important function in society, and art should reinforce that—or criticize and undermine it, should that power be corrupt or abused," Arthur said. "Art can be very powerful in this way, and has a responsibility to be so."