Dylan Daniels, 25, lives in Vermillion, South Dakota, where he is finishing a nursing degree and raising two kids with his partner. He's busy, to say the least, and though he wanted to get involved in state politics this session, he wasn't sure if he had the time.
That was until state Republican lawmakers introduced HB 1057 on Jan. 15, which would imprison doctors who provide trans health care, including puberty blockers and cross-sex hormones, to minors.
Lawmakers also introduced two more bills, both of which have now died, which would have effectively forced school counselors to out trans kids to their parents and prevented the state from intervening if a parent refuses to consent to treatment for their trans kid.
Daniels is trans, and the legislation, which he described as "triggering," picked up enough steam that he felt like he couldn't sit out anymore, despite his other responsibilities.
"I got to the point of just being extremely pissed off," he said.
HB 1057, the South Dakota bill that has garnered the most attention, moved one step closer to becoming a reality Jan. 29, when it passed the House 46-23. If it becomes law, physicians, nurses and medical assistants in the state could face jail time for providing gender-transition treatment to a minor. Republican Rep. Fred Deutsch, the chiropractor and legislator who introduced the bill, compared the doctors who provide trans kids affirming care to Nazis. He later apologized for the remarks.
Daniels called the legislation "dehumanizing," and said it feels like a "blatant attack on trans kids." He's not alone. On Saturday Feb. 1, hundreds of South Dakotans rallied in Sioux Falls, the state's largest city, to protest the slew of bills introduced in the Statehouse.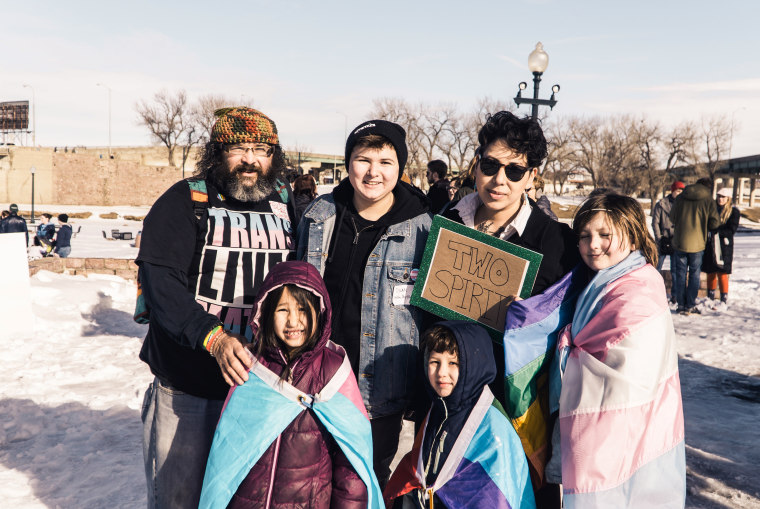 Among the protesters was Daniels' dad, Mark Daniels, who works with trans people of different ages as a clinical psychologist, and facilitates support groups for trans youth and their parents.
Since the bills were introduced last month, he's seen teens go into crisis mode, feeling attacked by the people meant to represent them and worried that they won't be able to get puberty blockers. A couple of children have been hospitalized with suicidal ideations, he said.
"The kids are hurting," Mark Daniels said. "They're amazing, resilient and creative young people, just full of life, but they're so vulnerable."
Aerin Geary, 15, a nonbinary teenager in South Dakota, who has been following HB 1057 closely, described the bill as scary.
"Transitioning is something that I've been hoping to get and been yearning for," Aerin said. "I recently managed to convince my family to allow me to start transitioning, and I'm so close to getting there. To take it away from me when I'm so close would be a huge blow to my hope."
Aerin worries that if the legislation goes through, it will put a stop to their plan to take puberty blockers, a process that in South Dakota and throughout the country isn't particularly simple.
Daniels started hormone-replacement therapy about 15 months ago. For that, he was ready to go to Fargo, 300 miles away from his town of Vermillion, where he could get care through an informed consent model, meaning he wouldn't need to first get a mental health professional's approval. He ultimately got care in Sioux Falls, about an hour away from his home, but said he knows people who drive to Fargo, Omaha or Minneapolis to get hormones.
Access to trans-affirming health care in the state is limited, and was already regulated, especially for people under 18. The legislators proposing these new laws, people say, seem to fundamentally misunderstand what trans health care is.
"You hear things like, 'They're putting testosterone injections into our 12-year-old South Dakota daughters and cutting off their breasts.'" Dylan said. "Like, first of all, they're boys, and, second of all, nobody is doing that. The level of misinformation is so upsetting. People often hate things they don't understand."
Surgery is rare for trans minors, and experts in trans health care say some of the procedures HB 1057 aims to ban aren't even performed on minors, many of whom only "socially transition" when they are 16 or older.
"This bill actively contradicts evidence-based medical recommendations," Dr. Alexis Chaves, medical director for the LBGTQ nonprofit The Trevor Project, said in a statement. "Medical decisions should be made between doctors and their families — politicians have no role in this intensely personal process"
Even more, many trans people and their loved ones in the state feel like lawmakers aren't open to learning about the care they actually receive and what it entails.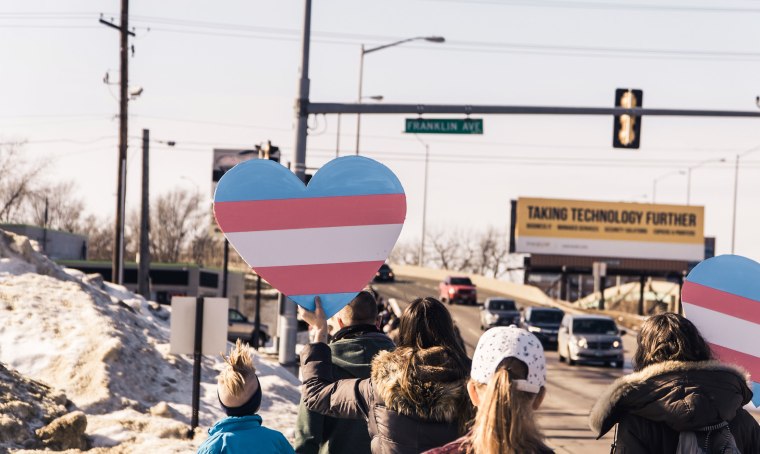 For Rob, a father of a 13-year-old trans girl on puberty blockers in Sioux Falls, this aspect of the legislation feels particularly upsetting. Rob asked to be identified by only his first name.
He admits he didn't know a lot about trans people and wasn't aware of the treatment options for his daughter when she told him she is trans. He did the research on his own, trying to understand what his daughter was going through.
What he found was troubling: an increased suicide rates among trans people who don't get access to puberty blockers. He knew he had to do something to help and protect his kid.
"I'm a man's man. I love to hunt. I love to fish. Having a son was one of the most exciting days of my life," Rob, who describes himself as a "die-hard Republican," said. "But the difference is, I never really had a son."
Rob said he wasn't going to let his daughter suffer when he could get her affirming care, but the process to getting the care was long. Rob's daughter had to first go to a counselor to get a diagnosis. Then she was referred to a physician, who did extensive testing to make sure she was healthy enough to receive the puberty blocking injection.
"If you think for a minute that it wasn't a hard-thought-out decision to proceed medically with these treatments, think again." But, Rob's kid is young, and while he doesn't think she will change her mind about her identity, if she does, the treatment isn't permanent.
"If you stop the injections, guess what happens? Natural puberty," he said. But letting his daughter go through puberty without blockers wouldn't be reversible."What's the harm? There's only one harm, and that's the bill getting pushed through."
Rob, like many parents in South Dakota with a trans kid, said he is imploring his representatives to reconsider. "I beg they do some research to understand how detrimental not being able to get these treatments is to young people."
Even more, he's saddened to see his daughter caught up in a culture war and be used as a pawn to further political agendas. He feels like trans kids are being targeted because an election year is coming up and legislators are "trying to find an extreme agenda to establish."
And it's not just happening in South Dakota. One advocacy group, Equality Federation, said it's currently tracking over 200 anti-LGBTQ bills. An increasing number of these bills is focused on trans youth. After a bathroom bill in South Dakota failed, state lawmakers seem to have shifted their focus to health care access for trans kids.
"There's a reason they aren't going after trans adults as hard: We can stand up for ourselves," Dylan Daniels said.
Samson Mettler, 22, a trans man living in Sioux Falls, says as lawmakers mount their attacks, they are creating roadblocks to prevent the community from being heard.
"We drive to hearings, in Pierre, it's two, three hours away, and once we get there, they push it back to another day," he said. "People drive out there, only for them to move the hearings so that they can't say anything."
Mettler loves South Dakota, where he was born and raised, but said living in a state where his rights are constantly attacked is exhausting.
"We just want to exist in our country in peace with protections," he said. "All we are asking for is medical care and peace."