Colorado's federal district court granted Navy veteran Dana Zzyym's request to reopen their lawsuit against the State Department on Tuesday. The case is part of Zzyym's ongoing effort to get a passport with a new gender marker.
Zzyym was born intersex, with both male and female sex characteristics, and uses gender-neutral pronouns like "they" and "their."
Some intersex babies are born with mixed genitalia, while others have mixed chromosomes, hormones or other features that blur the lines of gender. According to Organization Intersex International (OII), somewhere between 3 million and 5 million intersex people are thought to be living in the United States based on population estimates.
Not one of those people can get a passport that reflects their non-binary gender.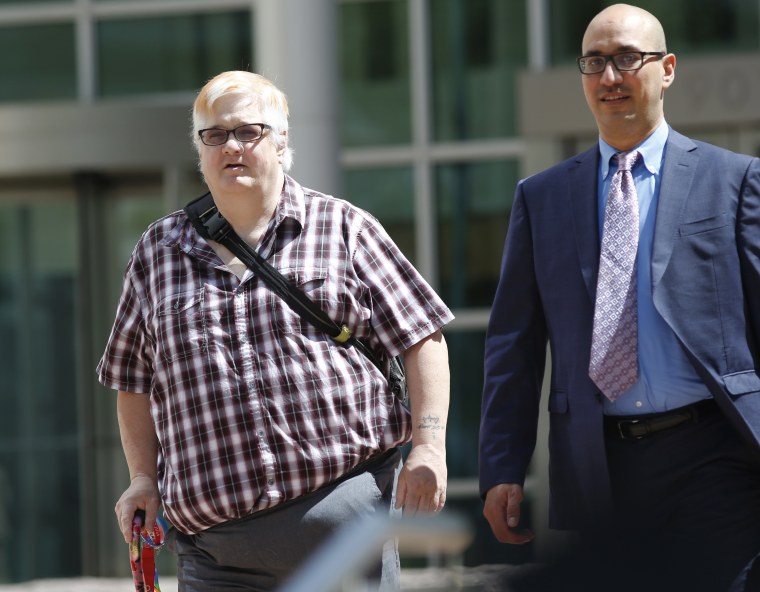 According to a court brief filed on Monday, Zzyym has asked the State Department for a passport that says "intersex" several times, starting in 2014. While the State Department uses birth certificates to prove citizenship and driver's licenses to prove identity, the only document needed to change one's gender is a doctor's note.
Zzyym has presented multiple letters to the State Department from physicians at the Department of Veteran's Affairs that confirm Zzyym is intersex, according to the brief, but the State Department has not acknowledged those letters as valid. Last November, after a federal judge told the State Department to reconsider, the agency sent Zzyym another refusal instead, which is copied in the brief.
"The Department is unaware of generally accepted medical standards for diagnosing and evaluating a transition to any sex other than male or female," reads the State Department refusal letter dated May 1. "Thus, the Department does not accept a medical certification that specifies transition to a sex other than male or female as evidence for the issuance of a passport."
NBC Out contacted the State Department for further comment but did not receive an immediate response.
Being intersex is often a patchwork affair when it comes to legal documents. Zzyym was raised as a boy and forced to undergo painful, irreversible surgeries designed to make their body appear more male. As an adult, Zzyym learned they were born with mixed-sex characteristics and briefly transitioned to female before embracing the intersex gender identity.
Now, Zzyym has a birth certificate that reads "unknown," a driver's license that reads "female" and multiple letters from doctors that certify Zzyym is intersex. All the while, Zzyym is unable to leave the country — despite being invited to speak at conferences around the world.
"My work as an advocate for the intersex community is incredibly important to me, and I'm unable to do my job because I don't have a passport," Zzyym said in a statement. "The State Department is in effect forcing me to lie about who I am, and I'm not going to do that. No one should be forced to lie about who they are."
Zzyym's lawsuit was filed in 2015. In the two years since, much has changed: Namely, courts began granting people the right to opt out of the gender binary, changing their legal status to non-binary or agender.
"This isn't that hard. Several countries issue passports with gender markers other than 'F' or 'M,'" Paul Castillo, Zzyym's Lambda Legal attorney, said. "And just this past month, Oregon officials unanimously voted to allow state residents to select 'X' as a gender marker for their driver's licenses and state IDs. And it looks like other states will soon follow suit. If Oregon can do it, why can't the U.S. State Department?"
On Tuesday, Washington D.C. began issuing driver's licenses with the "X" marker, and Oregon will begin to issue ID's with three sex options on July 3. If pending legislation passes, New York and California will follow suit.