A rainbow flag hangs among Halloween decorations and framed movie stills in Julius' bar, a divey haunt in Manhattan's West Village. Light floods in through the window on a brisk October morning, warming the area where Dick Leitsch, 82, sits on a stool.
It's hard to believe this place, which today caters to a largely gay clientele, is the same place where decades ago in 1966, Leitsch was denied service for being gay.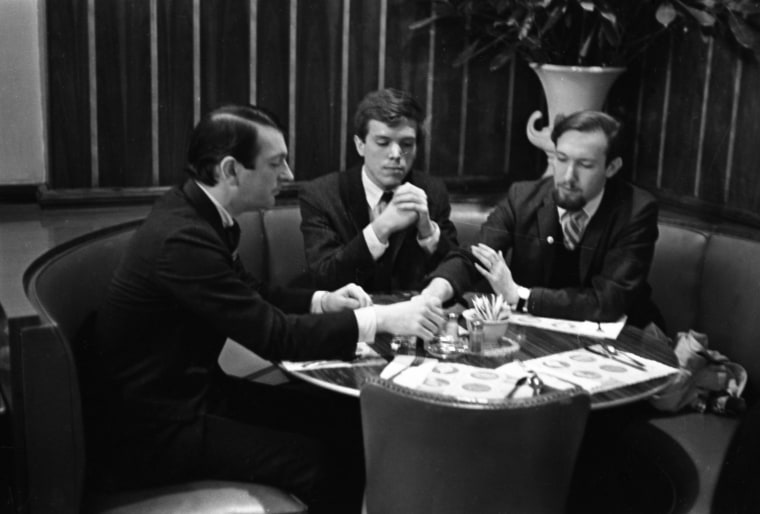 "People are in such a hurry these days to settled down and get married," Leitsch said. "No one has any fun anymore."
Leitsch was the head of the New York City chapter of the Mattachine Society, one of the oldest gay rights organizations in the country, when he came up with the idea of the "sip-ins," inspired by the black civil rights lunch-counter sit-ins.
Leitsch, accompanied by two other men, went from one watering hole to the next, waiting to be turned way in what is now perhaps the most famous bar crawl in gay history.
After visiting some establishments that were closed, the three were served at two bars — Howard Johnson's, then known to be a local gay hookup spot, and a mafia-owned Tiki bar called Waikiki.
It wasn't until they arrived at Julius' that Leitsch announced to the bartender, who had already placed a glass in front of Leitsch, that he was a homosexual. The bartender's hand rushed to cover the glass, a photo was snapped and history was made.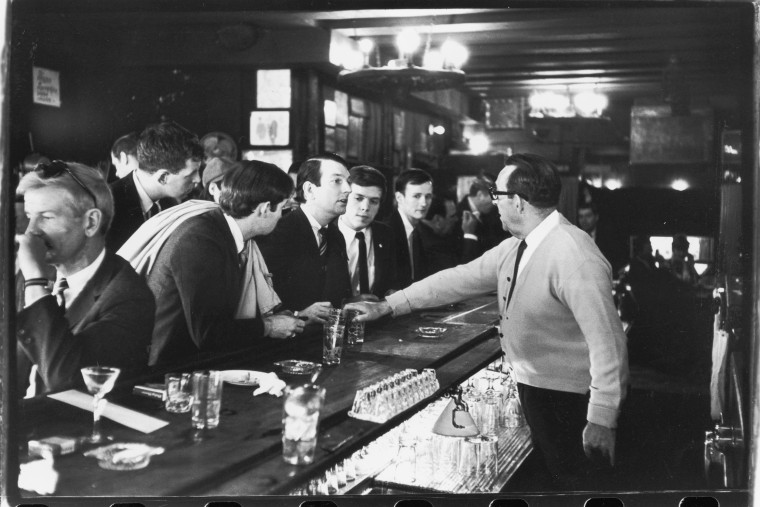 NBC News sat down with Leitsch and Ken Lustbader, the co-director of NYC LGBT Historic Sites Project, a preservationist group cataloging LGBTQ historic areas across the five boroughs, to discuss that infamous day.
Leitsch described a turbulent time when gay men were frequently harassed by the vice squad, plainclothes policemen who also targeted prostitutes and gamblers.
It was for this reason that Leitsch and other members of the Mattachine Society wore crisp, pressed suits and ties.
"The Mattachine society tried desperately to get people to accept homosexuality," Leitsch said. "We wanted people to see who we are, what we are."
Leitsch went on to say that in those days when everyone was in hiding, he wished for something that would reveal whether or not someone was gay just by looking at them, like different colored hair. What happened instead, however, was something Leitsch never wanted.
"AIDS came," he said. "And all of the sudden, everyone in the world found out that they knew homosexuals."
Leitsch recalled these stories of heartbreak, as well as some victories, with passion and energy. As he spoke, it wasn't hard to imagine the old bar, which has maintained much of its original architecture, playing host to the events Leitsch described.
"You're in the oldest continually operating gay bar in New York City," Lustbader said. "Not only is it a gay bar, it's a historic site. It's important to know there's a pre-Stonewall history of activism, of rich life in New York City."
As the conversation drew to an end, the bartender approached Leitsch where he sat. "What'll you have?" he asked.
Leitsch laughed. "How about gin?"
The bartender poured Leitsch his drink, and Leitsch took a sip.