Oliver, now 22, headed to the polls for the very first time in 2014. The Maryland resident said he was excited to cast his ballot and perform his civic duty, but the excitement was short-lived.
Oliver, who identifies as trans masculine, said he was met with resistance when he presented his identification — which is required of some first-time voters in Maryland — to a poll worker in the "pretty liberal" suburb of Washington, D.C.
"This isn't your ID," the poll worker said, according to Oliver. "It has an 'F' on it."
While Oliver, who requested his surname not be published because he's not out as transgender to everyone, said most people perceived him as male at the time, he had only legally changed his name, not the gender marker on his identification, which he said is "a really expensive process."
But despite this "misalignment," as Oliver put it, having a gender presentation that matches the gender marker on an ID is not a legal requirement to vote in Maryland.
"I already knew I had the proper ID," Oliver said. "They were looking for an excuse to turn me down," he claimed, "but I had come prepared."
Poll workers, he said, told him to "stand aside" while they considered whether he would be permitted to vote. After more than an hour, he was able to cast his ballot, but the experience, which he perceived as "complete bigotry," was a "humiliating" one.
As a result of that first voting experience, Oliver has since decided to vote by absentee ballot. Going to the polls, he said, is simply too "anxiety-provoking."
Obstacles similar to those that Oliver faced may not be uncommon for transgender voters — especially those who live in states with strict voter ID laws. Less than 90 days ahead of the midterm elections, a new report from the Williams Institute, a think tank at UCLA School of Law, shines a spotlight on the "substantial barriers" that trans voters may face.
Currently, 34 states have laws that require voters to produce some form of ID to prove their identities at the polls. In eight of these states — Alabama, Georgia, Indiana, Kansas, Mississippi, Tennessee, Virginia and Wisconsin — laws require a government-issued photo ID like a driver's license or passport. According to the Williams Institute report, it is then up to poll workers to determine "whether a voter's identification accurately identifies the voter and matches the information listed in the voter registration rolls."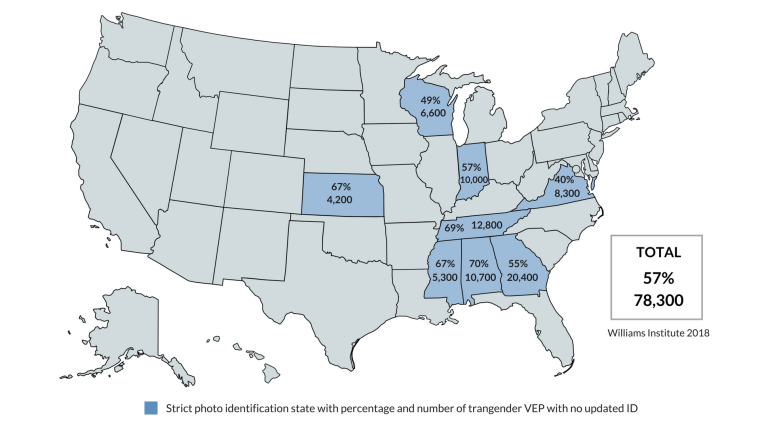 In these eight states alone, the Williams Institute estimates "about 78,000 voting-eligible transgender people may face substantial barriers to voting at the polls and possible disenfranchisement in the November 2018 general election."
This estimation is based in part on the 2015 U.S. Transgender Survey, which found that only 11 percent of the nearly 28,000 survey respondents reported that all of their IDs and records listed both their preferred name and gender. By contrast, more than two-thirds (68 percent) of respondents said they did not have a single piece of identification reflective of both their preferred name and gender.
"Transgender people who have transitioned often face substantial challenges to obtaining accurate identification," said lead author Jody L. Herman, a public policy scholar at the Williams Institute. "Requirements for updating the name and gender on official IDs that could be used for voting vary widely by state and federal agency, and the process can be difficult and expensive."
The report found strict voter ID laws are most likely to affect the most marginalized people within the transgender community, namely people of color, young adults, students, people with low incomes and people with disabilities.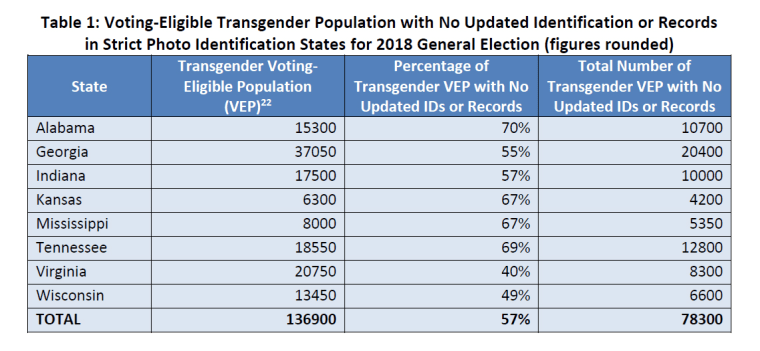 In states with strict voter ID requirements, government election officials and poll workers will decide whether someone's ID passes muster. The report states that there is "no way to predict" how they will treat transgender voters if they present an ID that does not accurately reflect their gender presentation, though there is reason to believe these voters may encounter prejudice.
According to the U.S. Transgender Survey, 32 percent of trans respondents reported having negative experiences after presenting an ID that did not match their gender presentation. Respondents reported being verbally harassed (25 percent), denied services or benefits (16 percent), asked to leave a venue (9 percent), and assaulted or attacked (2 percent) after presenting an ID that did not match their gender presentation.
Indiana in 2006 became the first state to pass a strict photo ID requirement to vote, a measure that was upheld by the Supreme Court in 2008. And since 2016, four states — Arkansas, Iowa, Missouri and North Dakota — have passed voter ID laws that have become subjects of ongoing litigation.
President Donald Trump has advocated for more extensive voter ID laws. At a recent rally in Tampa, Florida, he told a cheering crowd, "The time has come for voter ID, like everything else." He did, however, go on to falsely claim in that speech that, "If you go out and want to buy groceries, you need a picture on a card; you need ID."
Herman said given that strict voter ID laws could deny tens of thousands of eligible trans voters an opportunity to participate in the democratic process, "lawmakers, election officials and government agencies must work to ensure that transgender people have equal access to vote."
Knowing your rights is also crucial, according to Oliver, who credited his ability to vote back in 2014 to his knowledge of his state's voter ID requirements.
The National Center for Transgender Equality provides a voting checklist to help would-be voters cast their ballots. If denied the right to vote at the polls, NCTE recommends calling the National Election Protection Hotline at 1-866-OUR-VOTE (1-866-687-8683).