Decisions made by the U.S. Supreme Court certainly impact the law, but can they change an individual American's perception of social norms? A new study suggests the answer is yes.
Margaret Tankard, a researcher at the Rand Corporation, and Elizabeth Levy Paluck, a psychology and public affairs professor at Princeton, ran an experiment prior to the 2015 Obergefell v. Hodges ruling that legalized same-sex marriage to see if reading that a pro-gay marriage decision was likely on the horizon influenced support for it. They also surveyed 1,063 people about their perceptions of social norms around same-sex marriage both before and after the Obergefell ruling.
What they found is that the Supreme Court ruling helped to shift Americans' perception of social norms in support of same-sex marriage. There was, however, "mixed evidence on whether institutions shape individuals' personal opinions."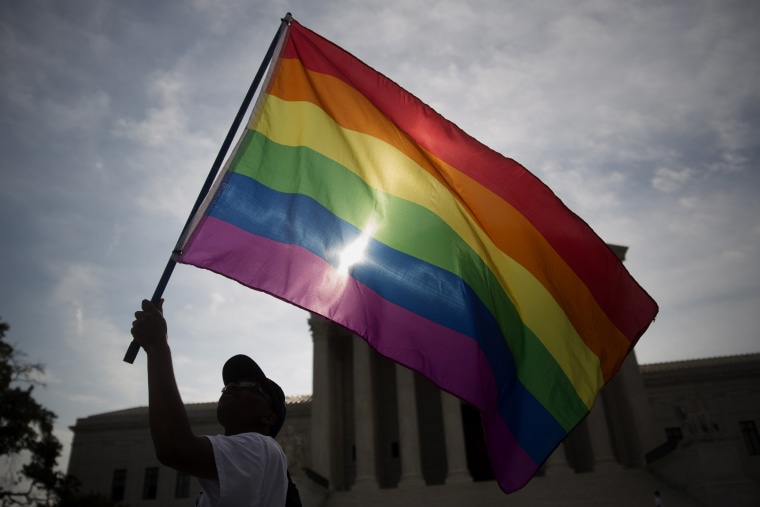 "What we are seeing is evidence that people interpreted the Supreme Court decision as signaling widespread change in society — increasing support for same-sex marriage," Tankard said. The study "shows us that development in society at the institutional or policy level affects how we think about an issue. It affects the political climate, what we understand to be common, normal or accepted."
Changing what people understand society to accept is "one piece of how social change happens," Tankard added.
The question of whether an institutional decision matters for LGBTQ acceptance has come up repeatedly in recent months as the Trump administration has rolled back or reversed Obama-era policies with regard to LGBTQ rights.
Related: Justice Department Ordered to Release 1950s Gay 'Purge' Documents
This fall, the Supreme Court may hear several cases related to anti-LGBTQ discrimination, which makes this new research even more relevant.
Jon Davidson, legal director at Lambda Legal, explained there are four cases to keep an eye on. The first, Masterpiece Cakeshop, Ltd. v. Colorado Civil Rights Commission, is already on the Supreme Court's docket. The case involves a bakery that refused to serve a gay couple on the basis of religious objection. The Colorado Human Rights Commission said the bakery was in violation of the law and issued a fine against them. The bakery subsequently sued.
Davidson said the case speaks to the larger issue "of whether or not people can raise religious objections as a defense to discrimination law — or more generally to any kind of law."
If the Supreme Court sides with the bakery, Davidson said, it could cut into LGBTQ Americans' de facto right to marry. If LGBTQ people face discrimination as a result of their relationships, "How much did we really win? Will people really want to get married?" Davidson said.
The second case deals with the question of whether Title VII of the Civil Rights Act of 1964, which "prohibits employment discrimination based on race, color, religion, sex and national origin," covers discrimination based on sexual orientation. In the case of Evans v. Georgia Regional Hospital, the U.S. Court of Appeals for the Eleventh Circuit declined to revisit precedent and upheld the idea that sexual orientation is not covered by Title VII.
"We will be filing a cert petition after Labor Day to ask the Supreme Court to hear that," Davidson said of the Evans case. He believes the plaintiff and Lambda Legal have "a good chance" of winning that case.
The Department of Justice weighed in on the issue last week, filing an amicus brief in another case involving Title VII. In that case, Zarda v. Altitude Express, the Justice Department urged the U.S. Court of Appeals for the Second Circuit Court not to protect lesbians, gays and bisexuals under Title VII.
In another case dealing with Title IX, which prohibits sex discrimination by schools receiving federal financial assistance, school administrators barred transgender high school student Ashton Whitaker from using the restroom that corresponded to his gender identity. The U.S. Court of Appeals for the Seventh Circuit sided with Whitaker. However, "the school district is going to seek Supreme Court review in that case," Davidson said.
Related: Despite Trump Tweets, Trans Army Sergeant Keeps Proudly Serving
A final case, currently at the U.S. Court of Appeals for the Fifth Circuit, is the case of Barber v. Bryant. This case is about Mississippi law HB 1523, which says "the state of Mississippi cannot take any action against any person in the state who discriminates against someone based on a religious or moral conviction that marriage should be man and woman and that sex should only take place within such a marriage and people are born either male or female and that can never change," Davidson explained.
The law, according to Davidson, authorizes discrimination without consequence under Mississippi law. "It is likely that the Fifth Circuit will ask the Supreme Court to hear that case as well," Davidson said.
The outcomes of these cases are vital, not only for LGBTQ people, but any historically marginalized group, according to Davidson.
"It doesn't really help much to have anti-discrimination laws if anyone can say that discrimination is a necessary part of their religious beliefs," Davidson said. "It means that anyone can really violate those laws. Those laws really cease to provide protection."
Davidson said Supreme Court rulings "frequently tell stories that people take moral lessons from." The question is, he added, "What kind of lesson is it going to be?"