Move over London! There are a surprising number of off-the-beaten-path attractions of LGBTQ interest on offer in Northern England. Here are a few highlights for those traveling across the pond.
Shibden Hall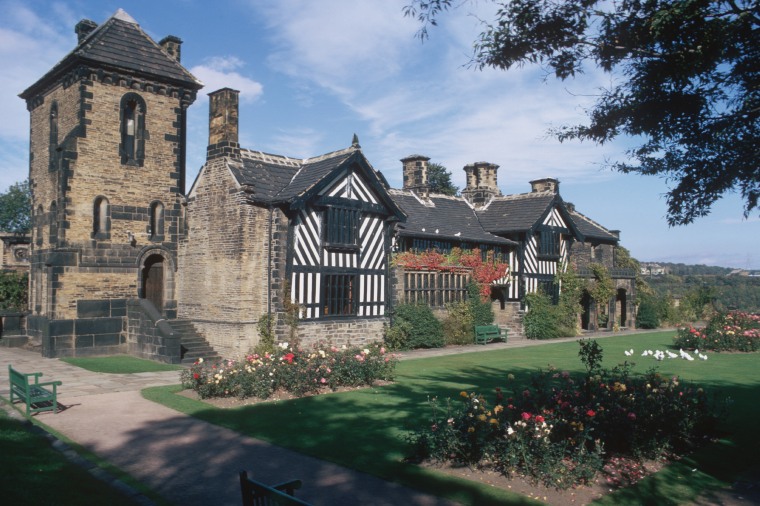 This handsome, old, half-timbered house in West Yorkshire, set on 80 beautiful acres just outside the town of Halifax, is suddenly one of the buzziest queer sights in the UK. Here at Shibden Hall two centuries ago, wealthy landowner Anne Lister had the courage to lead a fairly active lesbian life, as well as — fortunately for us — the penchant to record all of the salacious details within carefully coded diaries. Finally deciphered in the last few decades, these diaries inspired a 2010 BBC Two film called "The Secret Diaries of Miss Anne Lister," and will now serve as the source material for a just-announced eight-part miniseries about Lister's life, to be co-produced by BBC One and HBO, and written by Sally Wainwright, creator of the popular British crime drama "Happy Valley."
As a tourist attraction, Shibden Hall has been a family-friendly park and museum for decades, but it's now also wearing its queer history proudly on its sleeve. Though the house actually dates to 1420 and was the Lister family home for more than 300 years, its most famous resident by far was Anne — who, as estate tour guides will eagerly tell you, butchly strutted about Yorkshire, ardently romanced numerous local ladies, and was affectionately known in contemporary circles as "Gentleman Jack." On Easter Sunday 1834, she even "married" partner Ann Walker in a clandestine ceremony at the city of York's Holy Trinity Church. Today, Shibden Hall itself is available as a wedding venue, and it's naturally quite popular for same-sex nuptials — its wedding brochure even features a beaming lesbian couple in its opening spread.
Salts Mill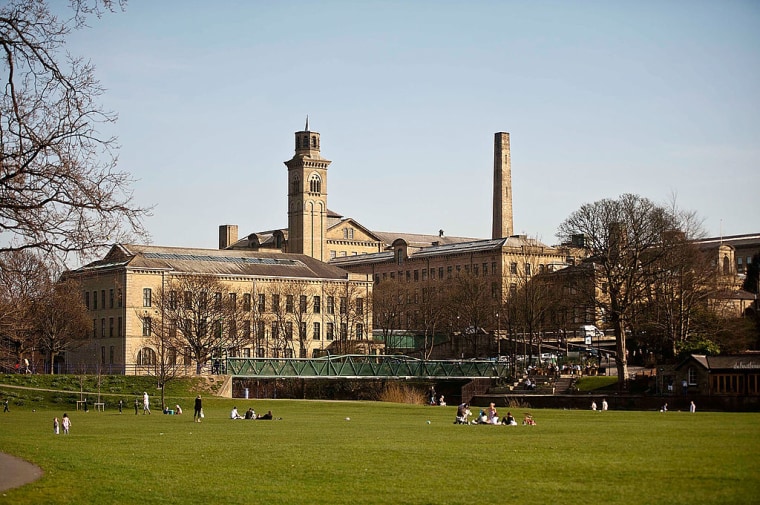 Just 10 miles from Shibden, in the adorable little town of Saltaire, the enormous Salts Mill arts complex holds the world's largest permanent collection of works by David Hockney, arguably the world's most esteemed living gay artist. Hockney, who grew up just down the road in Bradford, turns 80 this year, and is being feted in major retrospectives from Los Angeles to London. But it's here at Salts Mill, a converted textile factory, that you'll see a great number of his most recent works — including a 2011 series of 49 beautifully colorful pieces called The Arrival of Spring, inspired by the lovely local West Yorkshire countryside and created on his iPad.
Brontë Parsonage Museum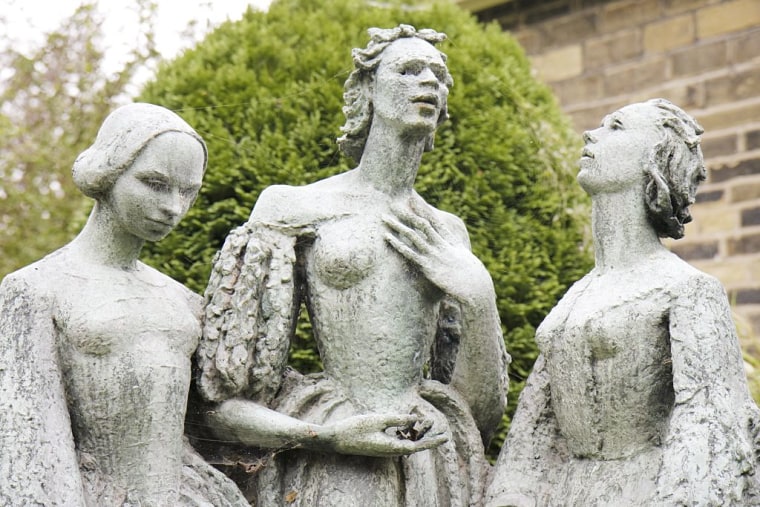 Just a few miles away — and forming an almost perfect little geographic triangle with Shibden Hall and Salts Mill — is a less overtly queer attraction, but one of undeniable intrigue and interest: the Brontë Parsonage Museum in Haworth, where famed 19th century author sisters Charlotte, Emily and Anne Brontë quietly lived and wrote for virtually their entire lives. Both Charlotte and Emily have been subjects of hushed lesbian conjecture over the years, and the title character of Charlotte's novel "Shirley," it's been speculated, may have at least partially been inspired by none other than Anne Lister herself. You likely won't hear any of this mentioned as you tour the Brontë Parsonage Museum today, but with Shibden Hall's growing fame in the area, that could soon change.
Blackpool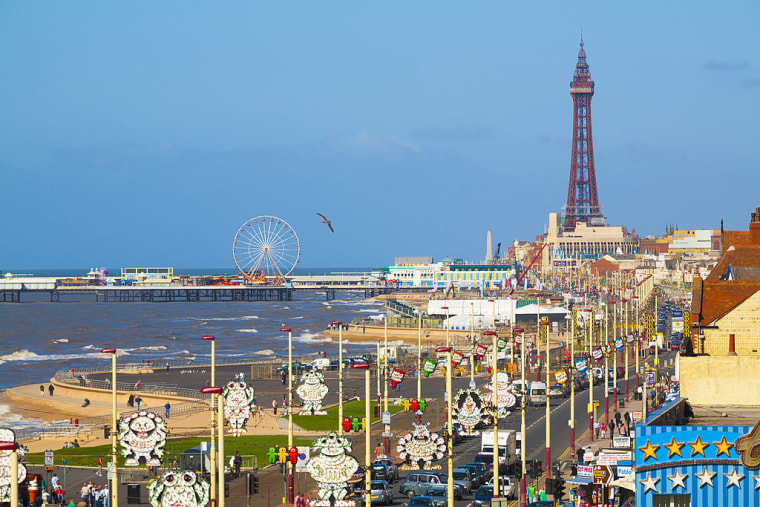 Back on the more established LGBTQ traveler track, due west of Haworth about 60 miles on the Irish Sea coast is Blackpool, a Vegas-esque resort town that's long been a getaway favorite for English gays thanks to its assortment of bars, drag shows and queer-run B&Bs.
Manchester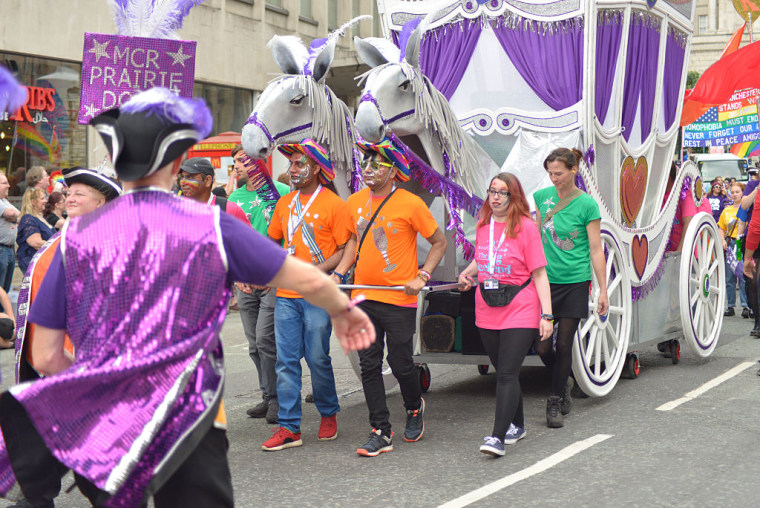 Far more popular as Northern England's LGBTQ hub in recent years has been Manchester, which first gained international gay attention in the late 1990s when the original UK version of "Queer as Folk" was set in the city's gay village along Canal Street. Today, Manchester hosts one of the UK's largest Pride celebrations, with this year's Big Weekend (as it's known) slated for August 25 to 27. Meanwhile, the city's People's History Museum just opened Never Going Underground: The Fight for LGBT+ Rights, part of the cross-England celebration this year of the 50th anniversary of the partial decriminalization of homosexuality in 1967. The show, which runs through September 3, highlights the country's different political approaches to equality, and puts the struggle into broader historical and social contexts.
Walker Art Gallery
In nearby Liverpool (just 35 miles away from Manchester), the esteemed Walker Art Gallery will get in on the decriminalization anniversary action this year, too, with a show opening on July 25 called Coming Out that will highlight British artists who've explored sexuality and gender identity in their work during the past half century. David Hockney, Steve McQueen and Sarah Lucas are just a few who'll be represented in the exhibition, which runs through November 5. November will also usher in Liverpool's annual Homotopia festival, a diverse month-long program of LGBTQ-themed theatre, dance, film, cabaret and art.