Millennials are significantly more likely than older generations to identify as LGBTQ and to be allies of the community, according to a survey published by GLAAD.
GLAAD's third annual Accelerating Acceptance report surveyed 2,037 U.S. adults ages 18 and over last November in partnership with Harris Poll. The report revealed 20 percent of the youngest respondents (18-34) identify as LGBTQ, a notable increase from 12 percent of Generation X (ages 35-53) and 7 percent of the baby boomer generation (52-71). The survey also found that acceptance and understanding of the community has reached historic levels, particularly among young people.
An additional finding was that millennials are moving away from identifying within traditional binaries such as "man/woman" and "gay/straight." According to the report, 12 percent of millennials identify as either transgender or gender-nonconforming, compared to 6 percent in Generation X. And while more young people are identifying as LGBTQ, non-LGBTQ millennial respondents were actually less likely than their older counterparts to know someone who identifies as "gay" or lesbian." According to GLAAD's report, this indicates that their LGBTQ peers are opting to describe themselves in words outside of more traditional labels.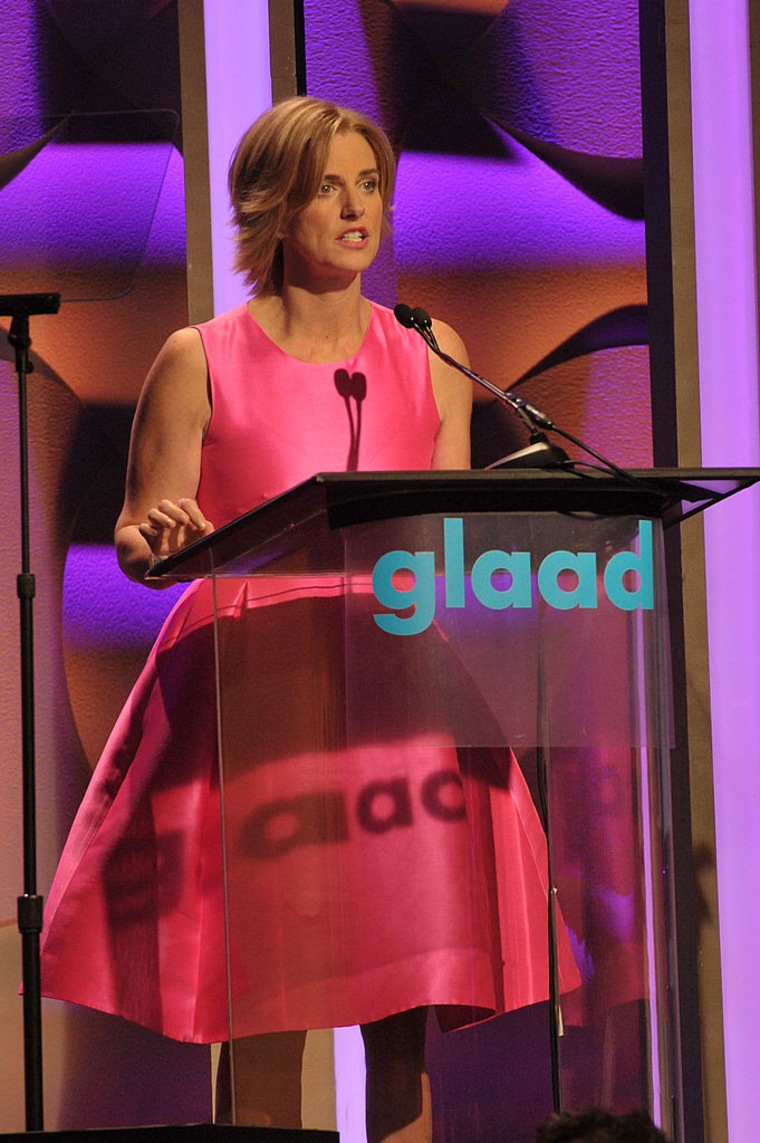 "More young people identifying outside of binaries means that we are at a place in our culture where youth today feel free and open to live their lives as their authentic selves," GLAAD President and CEO Sarah Kate Ellis told NBC Out in an email. "It is heartening to see the future of this country loosen the shackles of traditional identities and unapologetically embrace who they are."
When asked whether she expects the percentage of people who identify as LGBTQ to continue to rise in future generations, Ellis said "absolutely."
"People are complex, diverse and can't just be looped into two groups. The more that our society begins to learn and understand that, the more people are going to feel free to openly express themselves," she said.
The survey further found that young people are much more likely to be allies of the LGBTQ community, with 63 percent of millennial respondents identifying themselves as allies. Older generations were still mostly accepting, with 53 percent of Generation X and 51 percent of baby boomers also considering themselves allies.
"The key takeaway here is that the current leadership of this country is incredibly out of step with both the general public's acceptance of LGBTQ people and where the next generation of this country is headed," Ellis said of the results.
The results of the survey weren't all good news for the LGBTQ community: While acceptance of LGBTQ people remains high, the study found that progress has slowed since 2015's historic Supreme Court ruling on marriage equality, with rates of discomfort declining on average by 3 percent from 2014-2015 but going unchanged from 2015-2016.
The study attributed this mostly to the unprecedented amount of coverage the 2015 ruling attracted to stories of "loving same-sex couples and their families." This, the GLAAD report notes, "underlines the media's impact on hearts and minds."
Ellis also speculated that the slower pace of progress signifies the "growing level of complacency surrounding the LGBTQ community," which she said is "dangerous," considering the community "still does not have equal rights in this country."