TAIPEI — Taiwan same-sex couple Daphne Chiang and Kenny Jhuang are getting married at the end of the year -- even if the government won't legalize their union.
Self-ruled Taiwan's constitutional court will rule on Wednesday whether same-sex couples can tie the knot under existing law, in a decision the island's lesbian, gay, bisexual and transgender groups widely expect to be favorable. Such an outcome would be a first in Asia, where socially conservative attitudes mostly hold sway, but regardless of the decision, Daphne and Kenny plan their wedding banquet in December, with more than 100 guests attending.
"You still have to live your life," said Daphne, vowing not to let an unfavorable ruling derail the plan. "Marriage is about whether the people around you, your friends around you, know, or not."
But even a favorable decision by the court, or Judicial Yuan, as it is known, could take a year or two to translate into laws allowing gay and lesbian couples to marry, experts say.
This is because the court is expected to give lawmakers time to frame relevant measures, said one lawyer who frequently appears before it.
"It makes sense that they would give a grace period to allow legislation to be passed," he said, speaking on condition of anonymity, due to the sensitivity of the matter.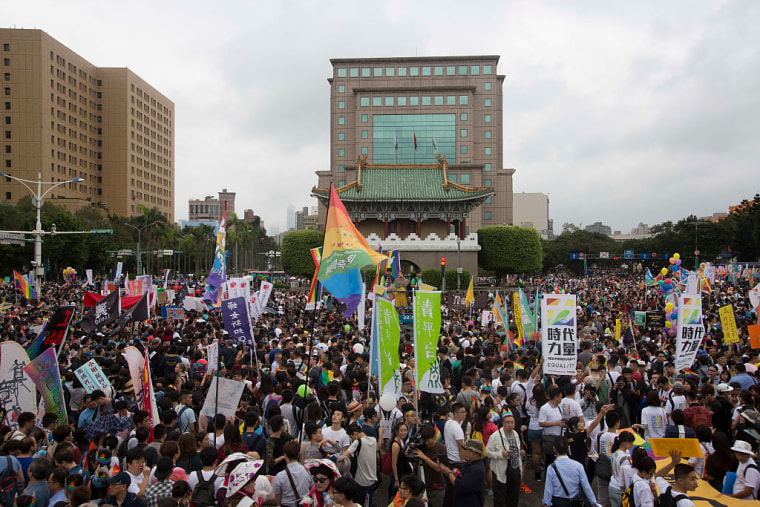 Democratic Taiwan is famed for an annual gay pride parade that showcases the vibrancy of its lesbian, gay, bisexual and transgender community.
The community has high expectations its years-long effort to legalize same-sex marriage will win the court's backing, because of support for gay rights by the ruling Democratic Progressive Party (DPP) that swept national elections last year.
"If it passes (Wednesday), we will be the first in line Thursday morning," said Chin Tsai, who wants legal recognition of a four-year-long relationship so he can join his partner in the United States.
His partner, a ship captain, will move to New York for his job, but Tsai cannot follow as a spouse, unless Taiwan deems their union legal.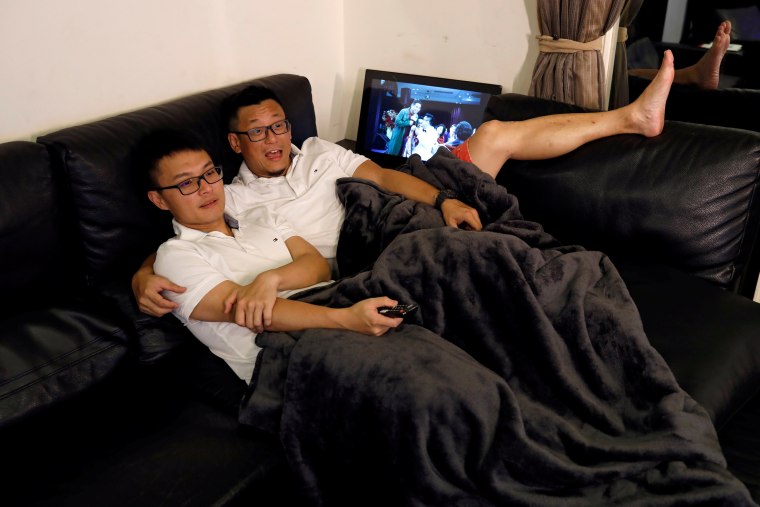 If the court decides current law does not permit same-sex marriage, it is expected to rule whether such denial violates Taiwan citizens' freedom to marry and constitutional rights.
"Resolving differences is a start - more dialogue and understanding are needed," President Tsai Ing-wen, whose cabinet includes the island's first transgender minister, said on social network Twitter after a February meeting with representatives of both sides of the same-sex marriage issue.
The court held a public hearing in March, after years of refusal to take up the issue, prompted by petitions from a gay rights activist and a city government facing growing requests for same-sex marriages.
"I think they have their own answers in their hearts," said Victoria Hsu, the lawyer for one petitioner, referring to the judges.
"It cannot be that you make your decision the day you have the public hearing. They probably wanted to clarify some points in their minds."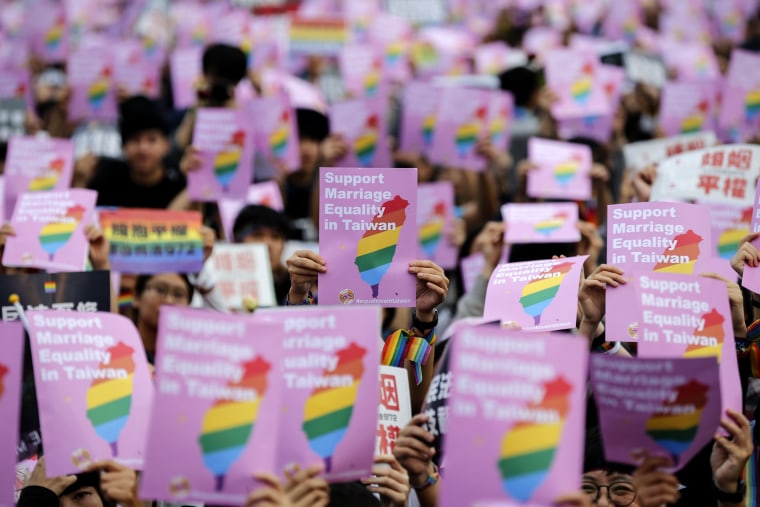 Legal experts say the 15 judges on the court form the most liberal such group ever, with seven appointed by Tsai after becoming president. One of the 15 has recused himself from the case, as he is married to a lawmaker who backs gay rights.
Five months after Kenny went on her knees to propose to Daphne at a rally of thousands of lesbian, gay, bisexual and transgender couples on Taipei's largest boulevard, the women, both in their early 30s, were trying on wedding outfits.
They were considering a white suit for Kenny, to match a dreamy white wedding dress Daphne favored. But work will keep them from joining a rally timed to coincide with Wednesday's decision.
"Once it passes we'll have everything, further protection," said Daphne. "But before that, we have to make the most of what we have."